From terror to triumphalism
"Group of terror." That's how El Pais -- Uruguay's biggest newspaper and the periodical which at the end of every December announces South America's player of the year award -- summed up the news that their country had been drawn alongside Italy, England and Costa Rica. Not every country in the continent was so gloomy about their chances -- of course, not every country had reason to be.

The mood across the Rio de la Plata in Buenos Aires, for instance, was as far removed from the Uruguayan prognosis as could be. "From the semis onwards," ran the confident headline on the website of sports daily Ole, implying that Argentina's World Cup would begin there. The pan-continental broadcaster on which I watched the draw had a largely Argentine team (most of South America's major sports broadcasters have their headquarters in Buenos Aires), and anchor Juan Pablo Varsky asked his fellow presenters post-draw, "What would you change about that draw, for Argentina? It's ideal. We've even got the cities we'd have wanted to play in."

Argentina start against Bosnia-Herzegovina in Rio de Janeiro, play their second match, against Iran, in Belo Horizonte -- where they'll be based throughout the tournament, staying at Copa Libertadores holders Atletico Mineiro's training complex -- and play their final match, against Nigeria, in Porto Alegre, the closest host city to their own border, so are optimistic of good support.

Chile's La Tercera called their nation's group -- Spain, the Netherlands and Australia is the group most seem to have settled on as the group of death -- "complicated." The Chilean edition of El Grafico called it, "the worst scenario imaginable for Chile," though some tempered optimism is perhaps present in the same brief reaction piece, with the thought that, "considering the significant rise in standards Chilean football has experienced at both an individual and collective level recently, the group becomes a little easier to digest."

Over the weekend, Brazil manager Luiz Felipe Scolari's announcement that "I'd prefer to face one of the European sides rather than Chile," in the round of sixteen (Brazil will play one of the teams from Chile's group in the second phase) was taken as an added sign that Chile might just be able to spring a surprise.

I hope I don't upset anyone in saying this, but Ecuador is probably the South American country whose fans entertain the fewest dreams of lifting the trophy. Some hopes have been raised of a respectable showing, though, by what El Universo considers "one of the more even groups" in the draw. Recognising that Switzerland and France will be the favourites for the group, El Universo point out that Honduras are managed by Luis Fernando Suarez, the Colombian who took Ecuador themselves to the 2006 World Cup, which they exited in the second round at the hands of England.

Ecuador's Andean neighbours, of course, have higher hopes after a very impressive qualifying campaign. Optimism hasn't been tempered by what El Deportivo of Bogota calls a "lucky" draw alongside Greece, Cote d'Ivoire and Japan. As well as their opponents, "none of whom are unplayable," according to El Tiempo, "Colombia won't have to travel enormous distances ... in comparison with Switzerland for example, who as top seeds in Group E will have to cover roughly twice as much ground."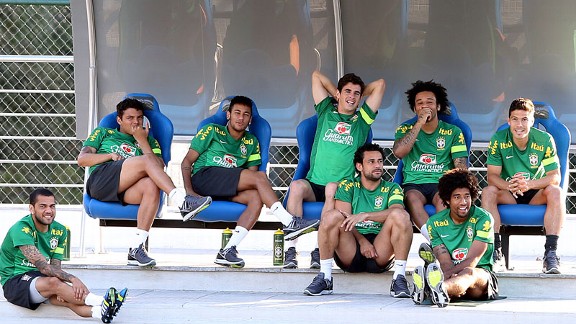 APHosts Brazil surely have enough depth of talent to go deep into the tournament.
Readers with a good grasp of South American geography might have noticed that I've worked my way round clockwise from Uruguay, and that leaves just one participant: the hosts. Croatia, Mexico and Cameroon is a group Brazilians are happy enough with -- tough enough to ensure the side will have to iron out mistakes early on, but "without any great fears for the national team," in the eyes of Globo. They continue, though, to point out that "the road to a possible World Cup final might prove pretty complicated. Brazil could have to play only former champions in each of the knockout stages." The proposed route is Spain in the second round, Italy in the quarters, France in the semis and a possible final against Argentina. That does, indeed, sound like a tough route, although hilariously, Globo elect to call England a potential alternative to Argentina in the final, rather than a possible quarterfinal rival. Of course, they haven't forgotten the ghostly possibility of another decisive match against Uruguay.

That takes us full circle back to where we started, because Puma, who make Uruguay's kits, have already started sharing videos online of "the ghost of 1950," with a person in a bedsheet popping up in various Brazilian locales (including the new Maracana, suggesting that at least one Brazilian has a sense of humour about the idea too) to spook the local fans.

Broadly speaking, I agree with each nation's press in terms of their chances, though certainly Ecuador will be the side with the most to prove when it comes to performances in the group stage alone. They've been relatively fortunate in terms of the draw, but their qualification for the World Cup was on the back of fine form at the altitude of Quito -- their away record was really poor. The quality of their wide men, Antonio Valencia and Jefferson Montero, will make them dangerous, but they'll surely need to improve on their sea-level showings.

Argentina's passage to the quarterfinals at least looks secure, as long as they don't get ahead of themselves, and the form Colombia hit in the group stage could have a lot to do with how they get on in the second round. An all-South American tie in the last sixteen against Uruguay would be intriguing (during the qualifiers, matches between those sides ended in one home win apiece). I think Uruguay can get out of that "group of terror"; maybe it's the cynical expat in me, but England look third-best in that one. Chile are justified in feeling unlucky, but are well-equipped to spring a surprise.

There are varying degrees of hope around the continent, then, but the truth is that the draw has only increased enthusiasm for the tournament's return to South America. Now we can really let the countdown begin.