World Cup draw offers mixed fortunes for Asia
Australia joining Asia in 2006 was supposed to be about raising standards all across the board to help the nation compete on the world stage. The draws have not gone too well, though: Germany, Ghana and Serbia in 2010, and now an even more difficult group. Apart from the men in the green and gold, Iran, South Korea and Japan were either quietly satisfied or actively delighted with their lots.

Australia (Spain, Netherlands, Chile)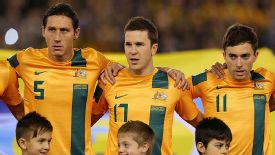 GettyImagesThe Socceroos have drawn Spain, the Netherlands and Chile.
When you have the two finalists from last time around as well as a talented South American team tipped to go far, then you know you're in trouble. It is tough to imagine a harder group for new coach Ange Postecoglou to deal with. If the Greek-born football philosopher with a penchant for the beautiful side of the beautiful game lacks international experience, then Brazil 2014 is a baptism of the hottest red and orange fire. Reaction ranged from shock and horror at the prospect of three defeats to excitement at the promise of three amazing games against top-class opposition.

Who knows? Australians love a sporting underdog and are under no pressure at all. Nobody, at home or abroad, expects anything. The Socceroos were the lowest-ranked team before the draw and have got the toughest group imaginable. Yet glory waits for an unfancied team that can even give the impression that it can get out of this group. An opening-game win against Chile, which would be an excellent result, with the possibility of a final game against an already-through Spain after a game with a Dutch team that lost to the Socceroos at home in 2008 means that the way to the second round is visible, even if not entirely accessible.

Japan (Colombia, Ivory Coast, Greece)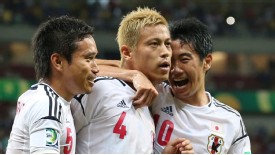 APKeisuke Honda will be one of Japan's main attacking threats.
"Could have been better, could have been worse" said Japan coach Alberto Zaccheroni in typical succinct fashion. The Samurai Blue are happy with this draw. It's not so easy as to massively raise expectations and pressure but manageable enough that the Asian champions will be looking to finish first with some challenging game time under their belts.

Japan like to play African nations and an opener against Ivory Coast will hold no fears for the likes of Keisuke Honda and Shinji Kagawa. Such talent can keep the ball away from their opponents, while a second game in the relative proximity of Natal against Greece has to bring three points. The trickiest comes last with a long journey to Cuiaba to face Colombia. Zaccheroni's men have what it takes to do the necessary.

The East Asians have been purposely testing themselves of late against teams that are superior in quality to those that will be faced in Group C and while results have been mixed, the vision is clear. By the time June comes around, the coach wants his talented team to be battle-hardened and at the peak of their powers.

All in all, the plan is to get through against decent opposition that does not drain too much but keeps the team nicely on the boil for the knockout stage and, when there, anything can happen.

Iran (Argentina, Nigeria and Bosnia)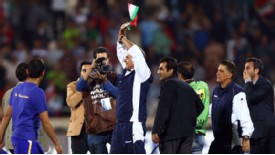 GettyImagesCan Carlos Queiroz lead Iran out of Group F?
At first look it reminds one of South Korea's lot in 2010 with Bosnia playing the part of Greece. In Iran the reaction went along the lines that it could have been a good deal worse, and it really could. Not even the most optimistic Iranian fans, and there are plenty of such folk, would expect Argentina to finish anything other than top, but with this new version of Team Melli under Carlos Queiroz, a draw against La Albiceleste is unlikely but not impossible, especially if the South Americans underestimate the spirit of their opponents.

The games either side of that test are the ones that matter. Iran were optimistic going into the 2006 World Cup but those dreams were torn by dressing rooms splits and a disastrous second half against Mexico in the opening game on a warm Nuremburg Sunday. It can become tiresomely obvious to point to certain games being crucial in the biggest tournament in the world, but the opener against Nigeria really is. A well-organised Iran could take points from the Super Eagles and keep themselves in contention for a final-game showdown with debutants Bosnia. It could be very tight.

South Korea (Belgium, Algeria, Russia)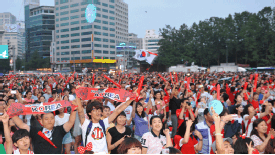 GettyImagesSouth Korean fans will be hoping for a long run in the competition.
If Iran's group is reminiscent of Korea's in 2010 then Korea's group has a taste of Japan in 2002, containing both Belgium and Russia with Algeria replacing Tunisia as the North African representative. There may be an absence of glamour here but the Taeguk Warriors are delighted by the opposition and the entirely southern-based fixture list.

Coach Hong Myung-Bo really wanted to avoid the strong South American teams that the Koreans tend to lose to in favour of Africans and the non-elite European sides that the 2002 World Cup semifinalists are confident of beating.

Of course, if the East Asians are pleased, the same can be said for all in the group, meaning that two are going to be disappointed. Korea -- who have reached the knockout stage in two of the last three World Cups and came very close to doing so in all three -- recently lost 2-1 to opening-game opponents Russia. That, however, was a sloppy performance from a youthful side who can be pleased that their new coach -– who spent six months as assistant at Anzhi Makhachkala earlier this year before taking the Korean job -- is seemingly taking the team in the right direction. How far they can travel will be apparent to all next June.