World Cup draw musings: Travel plans, Dyke's 'doh' and happy Fab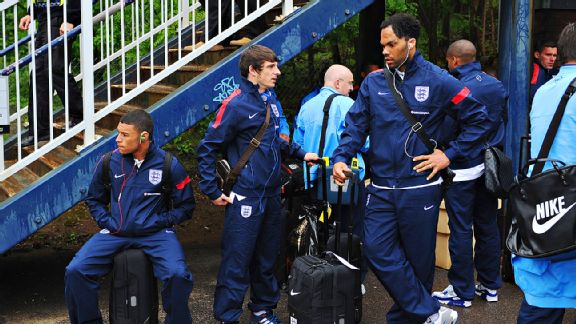 Michael Regan/Getty ImagesThe last thing national team managers will want to have happen at the World Cup is for players to endure travel delays.
Shortly after the World Cup draw, the national team coaches and FA officials are herded into what's known as the "mixed zone". It's basically a giant tent, with eight barricades, one for each group. The coaches stand behind the fence, with the media scrum on the other side, microphones and notebooks in hand.

How much a manager talks depends on several factors. First and foremost is his personality and how in demand he is. Then there is something as basic as how many languages he can speak: if you're comfortable in English and Spanish, you can go a very long time.

It's part of the ritual and it can also be frightfully dull. At this stage, nobody will talk down their opponents -- it has happened before and those who have made that mistake endure never-ending ridicule -- but then neither must you show excessive fear or worry. Because, of course, that makes you look weak.

Everybody involved figured out a long time ago that you will get, at best, platitudes. It's nobody's fault. It's not as if a coach will show his hand at this point. And, even if he did, with more than seven months to go, it would be pointless.

And so you get Brazil coach Luiz Felipe Scolari, asked about the possibility of a tough Round of 16 game against Spain, Holland or Chile, saying "I'm not thinking ahead to the knockout stage, I'm only thinking of the opponents in our group who are very tough."

Or Oliver Bierhoff, general manager of the German FA, opining that, "There are no easy groups at the World Cup and our group is no different."

With folks having realized this a long time ago, much of the conversation turned to two factors that will impact this World Cup: travel and climate. The competition will be held during the Brazilian winter and that means different things depending where you are. In the south, Porto Alegre or Curitiba, it can be brisk, with the thermometer in the low fifties. Up north, in the Amazonian town of Manaus, or on the coast in Natal, Recife, Fortaleza and Salvador, it will likely be in the high eighties, with humidity levels way up.

And then there are the travel times. There are no regional groupings at this World Cup, teams will play all over the map. So teams will choose a "base camp" as their training facility, remain there for as long as they stay in the World Cup and travel from there to play their games.

It's a tough call to make. You need to consider training facilities, comfort, climate, proximity to airports (and the possibility of using secondary ones to charter flights) and location within the country. Oh, and there's budget as well. Just as some Brazilian hoteliers have already started price-gouging tourists and fans, so too have the folks who run these types of facilities. Money may not be an issue for the bigger FAs, but you can bet it's a consideration for the likes of Greece, Algeria, Cameroon and others.

Footballers are creatures of habit. They are hard-wired to the routines of the club game: a day of proper training, followed by travel and a walk-through, followed by the match and return travel, followed by a day off. The "base camp" idea is meant to mimic what they are used to at club level. It's like preparing for a Champions League game, except, odds are, all your games will be away from home.

I spoke to one official who asked for anonymity. He had been tasked with scouting base camp locations for his country. He told me thought he had found the perfect one: Nice hotel, quiet surroundings, gorgeous training grounds, somewhat reasonable price, just fifty miles from the airport.

"But then, to test it out, I drove to the airport," he said. "It took me two hours. I thought I was just unlucky with the traffic, so I drove back. This time it was two and a half hours. I made the trip the next day and the day after that. Each time it was between two and three hours. So we decided to go in a different direction."

Why? Because depending on what draw his team got, it could be as much as eight or nine hours travel time door to door on the eve of a game. And that much again on the way back afterwards, which means effectively losing three days of training in a row: the eve of the game, match-day and the day after.

Some nations have made their choice and plunked down their deposits. Others preferred to wait until after the draw. Either way, it could be as important a decision as the composition of the squad picked by the manager. Which is why, platitudes and climate aside, it was one of the biggest talking points in the mixed zone.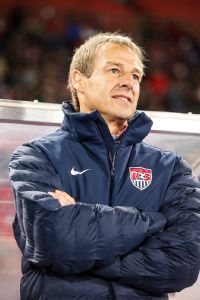 Christian Hofer/Getty ImagesU.S. fans should not be surprised when they see their head coach Jurgen Klinsmann singing the "Deutschlandlied" when they meet Germany in Recife.
To sing or not to sing

Jurgen Klinsmann says he will sing the German anthem when his United States team face Germany in Recife in the third and final group game. I can't even conceive what kind of a genius would have asked him that question.

Klinsmann may be the U.S. coach. He may work every hour of every day to help the U.S. succeed in the World Cup and beat Germany along the way, but he's still German.

Why wouldn't he sing the anthem? It's not as if when you sign a contract to coach a different country you sign away your heritage.

O ye of little faith

When England were drawn in a tough group containing Uruguay and Italy, Greg Dyke, chairman of the Football Association grimaced and made a gesture where he pretended to slit his own throat. Naturally, it was caught on camera and, naturally, the English media went wild with it.

The implication was that their own leader had so little faith in Roy Hodgson's chances of getting England out of the group that he would make such a crass gesture on live television.

(There's another implication here: that Dyke isn't particularly self-aware. That he didn't realize the cameras would be on him to record his reaction. Given that the guy is a self-professed football fan and a former director general of the BBC, you'd think he might have had an inkling of how the media works in these situations.)


As a gesture, it was ill-advised and unnecessary. Coming on the back of earlier statements that England should focus on reaching the semifinal of Euro 2020 and winning the 2022 World Cup in Qatar -- as if 2014, 2016 and 2018 were all foregone conclusions -- it simply compounds the apparent lack of belief in this team.

He may be right. England may not be good enough to win anything before 2022. But his role is to make Hodgson's job as easy as possible and to support him as best he can. Pretending to slit your throat simply because you got a tough draw doesn't help. Not when you, supposedly, know how the English media works.

Rested Russia

Four years ago Fabio Capello was England coach and among the favorites to win the World Cup. When the draw came out, one newspaper titled: (E)ngland, (A)lgeria, (S)lovenia, (Y)anks. EASY, in case you missed it.

We know it wasn't quite that easy. England limped through the group and then were beaten up by Germany in the Round of 16. Capello reflected on the differences between then and now.

"We went in to that World Cup expecting to win it," he said. "We could have won it; we didn't because we were simply physically and mentally worn out after a long season. With Russia it's different; we have different levels of expectation."

Capello cited the fact that all his players play domestically and with seven foreigners per team in the Russian Premier League, he has only sixty-four players to choose from.

"If the wrong guys get injured, we'll have a problem," he said. "Plus, we lack international experience because all our guys play in Russia."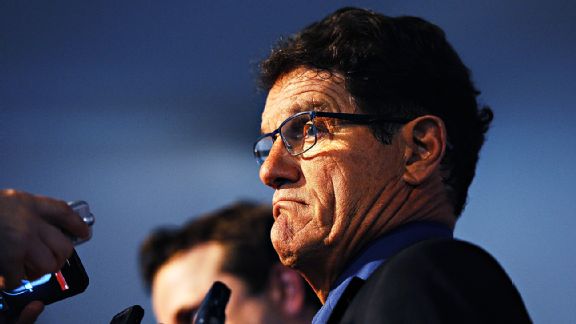 Buda Mendes/Getty ImagesFabio Capello's Russia should benefit from the Russian Premier League's December-March offseason.
On the flip-side though, fatigue and mental exhaustion won't be an alibi. Because of that nasty Russian winter, the league takes three months off in the middle of the season, from December 8 to March 8.

Capello's eyes twinkled when that point was put to him.

"Yeah, let's just say that won't hurt, will it?"

No bark from underdog

When your resume includes Portugal, Real Madrid and Manchester United (the latter as a number two) and you now coach Iran, obviously your expectations will be a little bit tempered. Humility is the word of the day.

Carlos Queiroz though may have taken it to a bit of an extreme in reacting to the draw.

"For us even to have qualified, it's fantastic," he said. "We are going to enjoy it, every minute of it. We'll do our best. And it will be a great honour for the country of Iran to play against someone like Lionel Messi."

Granted, Iran are the underdog's underdog. But maybe a tiny shred of self-belief beyond the "we're just happy to be here" trope might have been a good idea?