Is this a tournament too far for Spain?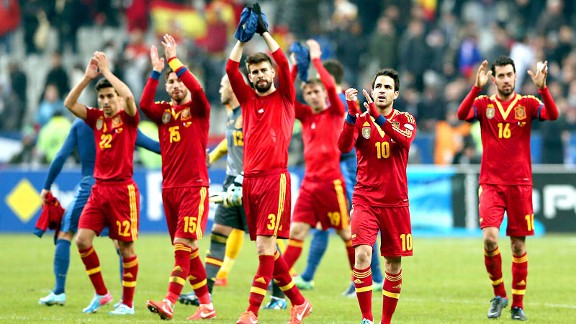 Scott Heavey/Getty ImagesFor the first time in this generation, Spain appears vulnerable. Can it regroup and win another World Cup?
Sergio Ramos was, perhaps understandably, in a defiant mood. Not for the first time, this special generation of Spanish players had just responded to the most demanding questions with a win of deep significance.

"We should be given a lot of credit in a game where there is a very small margin for error," he said. He wasn't the only player to mention the "margins." Many others did, from Santi Cazorla to Pedro Rodriguez. It is the ever-decreasing size of those margins, though, that leaves one of the great unanswered questions for Spain in the build-up to both the Confederations Cup and next year's World Cup.

Although Ramos's comments could have come after virtually any high-profile Spanish victory since June 2010, he was this time speaking after the resilient 1-0 win away to France in March of 2013. The result was made all the more impressive by its backstory: Just the week before, all of the lingering issues from the past three years of Spanish success finally came to the boil.

First of all, there was the fatigue. An apparently jaded side had just been overtaken at the top of World Cup qualification group I by a fresher, younger France.

Second, there were the factions. The build-up to the fixture in Paris had seen a report from El Confidencial in which the squad's alienation of Xabi Alonso and Alvaro Arbeloa was revealed. After three years of Xavi and Iker Casillas working very hard to keep peace amid a worsening Clasico rivalry, the former Liverpool duo had apparently threatened that entente by aligning themselves more closely -- than anyone else to Jose Mourinho's rancorous approach.

The January cup game between Barcelona and Real was said to be a tipping point as both Arbeloa and Alonso were conspicuously involved in an incident with Leo Messi. After it, the majority of the Spanish squad turned against them. Even Ramos aligned himself with the Barca players. Only Pepe Reina and Raul Albiol were understood to be talking to Alonso and Arbeloa, with the big problem being they both occupied important roles in the national team.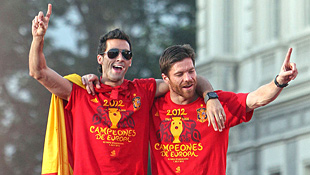 Europa Press/Europa Press/Getty Images onsoAlvaro Arbeloa and Xabi Alonso have been at the core of some well-reported team issues but nothing that has derailed Spain's prospects yet.

Finally, there was the Spanish team's philosophy. After three years in which La Roja had gradually adapted in order to overcome some extremely defensive opponents, the previous two matches had seen something they simply weren't accustomed to. In successive home fixtures, the opposition side had actually equalized en route to ultimately preventing a Spanish victory. The world champions went ahead against both France in October and Finland in March only to come away with two 1-1 draws.

To put those results into their proper context, it was the first time they had taken the lead in a competitive game and then didn't win since a 3-2 defeat away to Northern Ireland on September 6, 2006. Once Spain went ahead, their possession generally meant they stayed ahead. And while the 1-1 at home to France could initially be written off as the kind of result that was eventually going to happen, the draw against Finland was much more worrying. It meant that unless Spain won in Paris, they would have to face up to finishing second in something for the first time since the 2006 World Cup qualifiers.

Except, in the end, the side did something that has become even more natural to them than passing: they won a big game as Pedro's goal undid France.

Given all the chaos and concern in the build-up to that game, it was a champions' victory.

But was it a champions' performance? That is the biggest question. As impressive as it is that Spain continuously step up when the stakes are highest, at what point will the concerns get too close to the qualities? How sustainable is it to so frequently play on the margins?

After all, the win in Paris didn't quite feature the assurance of the 2010 World Cup win over Chile, the patience of the final against the Netherlands or the brilliance of that Euro 2012 showpiece against Italy. It was much fraught than any of those games. To a greater degree than pretty much any Spanish win of the last five years, the three points in Paris were a consequence of luck rather than something naturally conditioned -- and expected -- by their controlling style of play.

We've recently seen another historic team that is intimately enmeshed with Spain live on a similar edge. Barcelona managed two Champions League comebacks against Milan and Paris Saint-German that appeared to prove their lasting strength, only to have their relative decline brutally exposed by Bayern Munich.

The parallels don't stop there. Just as Barca's players seemed to have their advantage removed by a half-decade of historic success, their German opponents were only sharpened by a desire to emulate what the Catalans did. Now after winning the Champions League, Bastian Schweinsteiger and Philipp Lahm are new standard-bearers in an exhilarating young national side. The average age of the squad for Germany's last qualifier was just over 25.

For Spain's Confederations Cup campaign, by contrast, it is 28. What's more, while Jogi Loew's main players have a full summer off and have even been rested for Germany's recent friendlies in the United States, Vicente Del Bosque's must endure another grueling trek. By the time of next year's World Cup, the core of the Spanish squad will have played the equivalent of an extra season more over the past four years than its German counterparts: almost 60 club/international games a season compared to 48.

It's the kind of difference that starts to tell and also begs the question as to why Del Bosque picked such a squad for the Confederations Cup.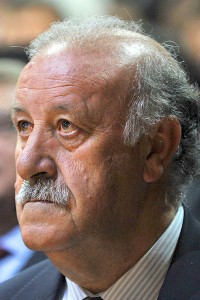 Gal Schweizer/LatinContent/Getty ImagesVicente Del Bosque has shown flexibility with Spain's tactics and personnel in recent months, something that's vital to La Roja's future success.

As much as this Spanish generation might justifiably want to win the one trophy it lacks, the pursuit could very well cost them the much more significant feat of becoming the first ever side to win four major tournaments in a row, as well as being the first in 52 years to retain the World Cup.

Given the season that's just finished, the Spanish squad is also somewhat disconcerting in its staleness. The main players are all around 30 years old -- Xavi, for example, is 33 and David Villa is 31. The only real new additions have been Cesar Azpilicueta and Nacho Monreal while potential impact players such as Michu and Ruben Castro have been left out.


---
World Cup 2014 Coverage
- Bennett: Shadow of '70s looms over Brazil
- Macintosh: Brazucas, Belgians, and Brazilians at Barca
- Gab Marcotti: World Cup favorites
- England: Hodgson faces a history of failure
- Is this a tournament too far for Spain?
- World Cup no-hopers
- How good are the U.S.?
- SPI: World Cup interactive map
- Top up-and-coming players
- The dark horses in Brazil
---
The one big positive for Spain, however, is that the Confederations Cup isn't this summer's only barometer for their future. There's also the Under-21 European Championships in Israel -- an exceptional Spanish squad are clear favourites -- that will help shape the likes of Real Sociedad's Inigo Martinez and Malaga's Isco for next summer's World Cup too. In a curious way, Spain's young players have greatly benefited from the league's economic problems due to clubs having no option other than to place great trust in them immediately.

Plus, for all the obvious links between Barcelona and Spain, there are nowhere near the same parallels between international and club football. Ultimately, Del Bosque's side don't have anything like the same concentration of competition. While a select clutch of super clubs wear each other down in the Champions League, Spain and Germany remain the only two countries currently prospering due to deeper infrastructural approaches to youth coaching. It has created a situation whereby they are also the only two sides with anything like the cohesion of a top club team -- as well as the complete absence of a proper response to Spain's pressing-passing game.

Spain's opponents still haven't learned to develop anything more successful than sitting back as deep as possible and hoping for luck. Even Germany are less muscular and more frantic than Bayern, who themselves also adopted the Barcelona approach. No other international side is as sophisticated. It is that extra level of control that has seen fortune generally falling Spain's way -- as it did against Croatia, Portugal and then France in the past year along.

Even the Confederations Cup may provide a positive quirk of luck. Alonso's groin injury has not only temporarily removed a potential personality clash, it could allow Del Bosque to introduce a more fluid option and remove some of the rigidness that has occasionally afflicted the team since 2010. Prior to that, Spain had only played one holding midfielder behind Xavi and Iniesta, thereby keeping both in their best positions. A return to something similar may allow Spain to play slightly more expansive football.

That possible element of evolution leads to the final question about this summer: Is the Confederations Cup squad a swan song for this generation, or will it merely ensure the status quo for the next World Cup?

Some change is obviously needed in order to give the team that extra edge to make history, but does too much change mess with a chemistry that may still be just enough to succeed?

Once again, it's all a question of margins.