Brazil's draw adds to the Selecao's confidence
COSTA DO SAUIPE, Brazil -- In the end, fears of a nightmare group for the Selecao were avoided, at least in theory. Brazil sidestepped the unseeded big guns and will play their 2014 World Cup group-stage games against teams that have not really set the football world alight the past few months.

While the whole "respect our opponents" discourse was omnipresent after Friday's draw ceremony, the atmosphere in the country was defined by a heady mixture of confidence and relief.

Manager Luiz Felipe Scolari experienced that attitude up close, spending more time dismissing questions about a possible locking of horns with Spain or the Netherlands in the knockout stages than analyzing Croatia, Mexico and Cameroon.

"I really don't think you guys should jump the gun. I am preparing my players to play three group-stage matches and only then should they worry about X or Y," he said after the ceremony.


Never a man to gloat, Scolari seems pretty aware that Brazil, in Group A, shouldn't have much trouble advancing to the next round. However, he has often reminded fans and media that a World Cup is an overwhelming experience for players and technical staff, especially one at home. A bad game against Croatia on June 12, for example, could put some serious pressure on the Selecao ahead of their encounter with Mexico five days later. After losing to the Mexicans in six of their past 10 games, including the gold-medal match at the 2012 London Olympics, the Brazilians certainly would prefer to face them in a more comfortable state of mind.

"Our games against Mexico have become quite tough over the past decade. Croatia are a team that always played in a very similar style to Brazil. As for Cameroon, they are a established African nation who has already played a few tricks on top sides," said Scolari, with a half-smile that could only refer to the Cameroonians' famous triumph over world champion Argentina in the opening game of the 1990 World Cup in Italy.

Cameroon also have played tricks on Brazil, sending home an Olympic team from Sydney 14 years ago -- then-team leader Ronaldinho's future Barcelona teammate, Samuel Eto'o, was in the Indomitable Lions' lineup that day. Most of the reaction took into account the need to follow the events on Group B, alongside some open envy surrounding Argentina's perceived easy draw in Group F.

"I see Brazil cruising through their group and Argentina should also do it easily. The problem for the Selecao is what comes next," 2002 World Cup winner Gilberto Silva said.

Far from being pushovers -- despite eating Belgium's dust in the qualifiers -- Croatia will play Brazil in Sao Paulo, a city that has a love-hate relationship with the Selecao. Niko Kovac is not expecting the local crowd to turn against the hosts, but certainly won't complain in case they fail to roar like their northeastern counterparts.

"It is difficult enough to play Brazil in the opening round of a World Cup, let alone at home. At least we can try to give them a hard time, just like in 2006," said Kovac, who was on the pitch when Brazil narrowly beat the Croatians 1-0 in Germany.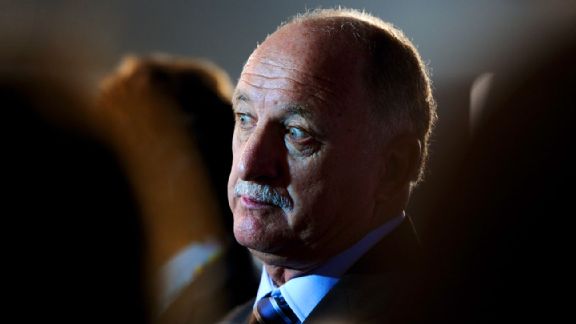 Buda Mendes/Getty ImagesLuiz Felipe Scolari was in bullish, but guarded, form after Brazil received a reasonable group in Friday's World Cup draw.

The fact is that Brazilians are not usually worried about early exits. One has to go back to 1966 to find the previous World Cup where the Selecao drowned in the group stage, a tournament in which shambolic organization was just as much to blame as the quality of Hungarian, Portuguese and Bulgarian opposition.

In the entire history of the World Cup, 1930 and 1934 were the only other times when Brazil crashed early. Adding to the nation's confidence: Brazil didn't lose a single opening-round match in a World Cup between 1966 and 1998.

"Football has a hierarchy and it should prevail, as much as none of 32 teams playing the World Cup are to be underestimated, given they needed to clear a qualifying campaign. But a good start could get things going pretty fast," said Carlos Alberto Parreira, the 1994 World Cup-winning manager, who works these days as Scolari's technical assistant.

So after fearing a cluster of world champions in their group, Brazilians now will feel much less anxious. At least until the opening kickoff.