Five World Cup matches that have us excited
The riddle wrapped in an enigma tied with a cloak of mystery that is the FIFA World Cup draw is over.

The event had all the panache of a Brazilian soccer-themed bar mitzvah held in New Jersey. The 90-minute extravaganza featured its controversial "Pot X," scantily clad maidens, 45-mile security cordons, and a self-satisfied Sepp Blatter who oversaw proceedings with the cloaked menace of President Snow maneuvering around his tributes in the Hunger Games. Once it was over, the draw it produced has left fans of host Brazil and rivals Argentina elated, and those of USA and England reeling.

An aching chasm of 187 days must be crossed until the tournament kicks off.

Here are five games from today's draw that I can barely wait to watch:

June 15: Brazil-Croatia in Sao Paulo
While the 2010 World Cup ended with the scene of Nelson Mandela taking to the field in South Africa, which will never be beaten, this game in Sao Paulo is guaranteed to offer a moment of poetic emotion all its own. At the Confederations Cup, FIFA cut off Brazil's national anthem after the first verse, leaving a patriotic home crowd to sing the second a capella with such a crescendo of passion and gusto, their emotionally overwhelmed team had to stifle their tears. Expect those scenes times 10 in Sao Paulo. The fans will have plenty of reasons to sing come June. After being gifted with a relatively kind draw against recovering Mexico, unfavored Cameroon and middling Croatia, Brazil's odds as tournament favorites rose to 3-1.

June 26: U.S.-Germany in Recife
Ahead of the draw, U.S. coach Jurgen Klinsmann expressed his disdain for the event, suggesting FIFA should just send out the groups via press release or email. He may wish that all the more in the wake of a brutal draw that left the USMNT in Group G -- less a group of death, more a "group of mutually assured mass destruction." The U.S. were handed games against Klinsmann's nation of birth, Germany, World Cup nemesis Ghana and Cristiano Ronaldo's Portugal.

If it sounds like things could not get worse, they could. The slot the U.S. were drawn in hands them a grueling sequence of travel between Natal, Manaus and Recife -- a distance not only of 8,866 miles but also between ecosystems. The team must prepare to play in the humidity of a rain forest and the sapping heat in the northeast, where temperatures can max out at 95 degrees.


A cynic would say the only bright side of this draw is that the U.S. players will be able to swap jerseys with some world superstars, but Klinsmann will not see it that way. He will relish the challenge of grappling with his German successor, Jogi Low, the Riddler to his adopted nation's Batman. With Germany in 2006, Klinsmann developed a reputation as a "motivation meister." His ethos with the USMNT has been to instill in his players a belief that they can go toe-to-toe with any team. That belief, and Klinsmann's motivational abilities, will surely stretched to their limits come June.

This will be their goal: Beat Ghana, tie Portugal, lose or tie to Germany, who will have wrapped up the group by then, and pray to the god of goal difference.

June 13: Spain-Netherlands in Salvador
For the first time in history, a group stage will begin with a replay of a final -- 2010's abrasive Spain-Netherlands finale will be replayed in the heat of Salvador. With the fierce counterattack of Chile also lurking in Group B, neither team will want to lose. The upside for defending champion Spain is, if they win the group, they cannot play host Brazil until the final.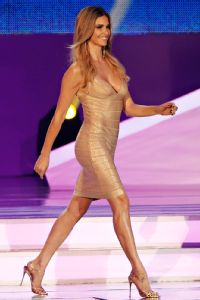 AP Photo/Silvia IzquierdoBrazilian actress Fernanda Lima added to the glitz of the World Cup draw,
June 14: England-Italy in Manaus
England open their campaign in Group D against Italy. England manager Roy Hodgson had told the press he feared only one thing -- to be drawn in the Amazonian city of Manaus, to which the mayor of the rain-forest city retorted, "We'd rather host well-mannered teams who play better football." Neither man got their wish. The English will play the team that eliminated them from Euro 2012 with a rumble in the jungle played under humid rain-forest conditions. They follow that with a clash against Uruguay in Sao Paolo, a game which will feel like the English Tabloid media versus Luis Suarez.

Attempting to sound buoyant ahead of the draw, Hodgson told the English media to "put a tenner on England to win the World Cup." After the draw, giving that money to charity or putting it in a garbage can and setting it on fire may seem like an infinitely better investment.

June 15: Argentina-Bosnia Herzegovina in Rio
Of all the favored teams, Argentina will feel most encouraged by the gods of the draw. They ended up in Group F alongside World Cup rookie Bosnia, Nigeria (a team they have played and beaten three times since 1994) and outsider Iran. The Argentinian media were quick to point out the team could face a relatively easy path of Bosnia, Iran, Nigeria, Ecuador and Belgium on a run to the semifinals. Yet in qualifying, the Bosnians unfurled an unrelenting counterattack, Nigeria are the pick of Africa's challengers, and coach Carlos Queiroz has the Iranian Lions playing courageous collective football. Could this be a group of deception that surprises Lionel Messi's side as much as England were shocked in 2010?