Cooling breaks help, but schedule still a problem
The question came in a way that was innocent, almost child-like. Not that the journalist asking it was a child -- he wasn't -- but rather that kids sometimes have the capacity to cut through the B.S. and expose what should be obvious, but isn't.

"Mr. President, I am from Fortaleza," the journalist said. "There will be a game played in Fortaleza at 1 o'clock. But we never play football in Fortaleza at 1 o'clock. It's too hot. Why are we playing now?"

Fortaleza is a major city in the north of Brazil. It lies some 250 miles from the equator. I'm not a meteorologist but the folks here are and they say June in Fortaleza is "characterized by essentially constant daily high temperatures" with an average high of 86 degrees (30 degrees Celsius). The humidity ranges from 58 percent to 94 percent.

So the folks who live there have a pretty good reason not to go out and chase a ball in the middle of the day. It's a stupid thing to do. You get fatigued more easily, you struggle to breathe, you run more slowly and you're generally less sharp. In other words, you don't play as well.

And it's less fun to watch.

FIFA general secretary Jerome Valcke fielded that question and, because the man from Fortaleza had asked about the health and safety of spectators in those conditions, he was able to avoid the obvious issue (why are we playing at this time?) and deal with the one that's easier to answer.

Valcke said players would be allowed to take water breaks in conformance with FIFA protocol (more on this later). Then he gave the kind of answer which, with hindsight, he would probably want to take back.

"We've focused on the well-being of the players because it's less difficult for the public to escape their seats and go have a drink of water when they need it than it is for the players who can't run off the pitch," he said.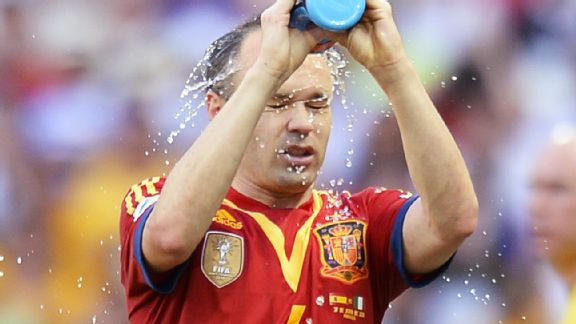 Lluis Gene/AFP/Getty ImagesPlayers like Spain's Andres Iniesta can expect to have a "cooling break" during World Cup matches next summer in steamy Fortaleza.
OK, so you expect a fan in the midst of -- hopefully -- an exciting game to have the wherewithal to get up out of his seat, make everybody else in his row stand up, as well, and wander off to cool down? Even the elderly? Even the differently abled?

The main point, though, is that a fan shouldn't have to get up out of his or her seat because it's too hot or dangerous for him or her to continue sitting there. The point is that you should try to stage games in conditions where spectators can simply sit and enjoy the match. And a match where players can run and move in as close to peak condition as possible will likely be more exciting.

This doesn't mean you should only play in temperate conditions. But, where possible, use common sense and adapt to the local customs. They've been playing the game for a long time in Fortaleza and they've been doing it in the evenings and late afternoons for a reason.

In any case, FIFA have a heat protocol in place now and that can only be a good thing. The referee, match delegate and independent doctor on site will all have the power to stop a match for a "cooling break." They will meet before the game, assess the condition and decide whether to have cooling breaks and, if so, how many to have. And if conditions degenerate during a game, they can decide to have more.

There are two round of 16 games scheduled for June 29 and both are in places that are virtually guaranteed to be hot and sticky: Fortaleza (1 o'clock) and Recife (5 o'clock). Was there really no way to flip those venues and dates around with others where it might be less unpleasant in the middle of the day?

Either way, what's done is done. The "cooling breaks" are a way to help alleviate -- though not fully remedy -- the problem. Not least because ultimately the number of breaks will be determined subjectively by real, live human beings.

Perhaps a better solution might be the one put forward by Italy coach Cesare Prandelli. Simply have two-minute breaks midway through the half in all games, regardless of the weather. That way everyone would be on a level playing field and you wouldn't have to debate whether a cooling break was needed or not.

-----------------

World Cups and major sporting events are about "legacy," as organizing committees like to remind us. You build facilities and upgrade infrastructure for the competition and these improvements are left behind for the enjoyment and benefit of future generations. At least that's the idea; there are enough white elephants out there to remind us that this isn't always the case.

FIFA's critics point out that it's not as if FIFA pays for these "legacy" projects. Taxpayers do. It's true that hosting major sporting events brings revenue to a nation -- though the economics of just how much and whether it's worth it is remarkably fuzzy -- but past World Cups and Olympics have left behind such a landscape of under-utilized concrete crapola that folks are legitimately annoyed.

South Africa was an extreme example of this. And it's not a coincidence that, after that World Cup, FIFA president Sepp Blatter announced that his organization was contributing $100 million out of its profits to set up a trust to benefit all South Africans. He made a similar pledge last year at the Confederations Cup and, on Thursday, FIFA announced that it had already chipped in $20M, with "hopefully, another $100M or more to come after the World Cup when we have our final figures."

The funds will go into a trust or foundation that will the channel them toward football-related projects linked to health, grassroots sports and education in Brazil. Officials from FIFA and the Brazilian FA will determine how they are used on a project-by-project basis.

Given how profitable the World Cup is to FIFA, it's easy to say that it's the least it can do. But the fact that for years FIFA made plenty off of the World Cup (except for when it squandered it on things like the ISL collapse) and did not cut big checks back to the host nations and now FIFA does cut checks can only be a good thing. And, perhaps, it is also a sign that public pressure and lobbying can influence the way the organization behaves.