Everything you need to know about the World Cup draw
The World Cup draw is like a rack shot in a movie where the picture starts out as a blur, then suddenly clicks into sharp focus. After the global scrum of qualifying -- 824 games played by 203 teams over the course of 904 days -- the draw will take 90 minutes to neatly bundle the surviving 32 nations into eight groups of four. In so doing, the tournament's opening round will be revealed: 15 days of games and locations in which footballing fate meets free will, leaving every nation with a realistic sense of whether they have a chance of emerging from group play unscathed or if, as Scottish fans used to sing, they will "be home before their postcards."

Yet this will be a draw with a difference. The slate of participating teams is a veritable Murderers' Row of footballing talent. The average FIFA draw ranking of the qualifiers for 2010 was 26 (SPI 20.3). In 2014 it will be 21.1 (SPI 20.3) There is only one debutant in Bosnia & Herzegovina in a field which contains 31 squads that can genuinely boast of being among the best teams in their region, plus England. World Cup 2014 promises to be a tournament so suffocatingly competitive that the traditional clichéd "Group of Death" will feel redundant.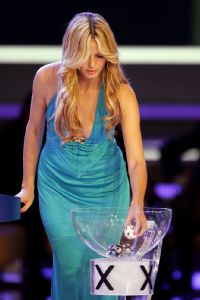 Marcus Brandt/AFP/Getty ImagesThe 2006 World Cup draw included celebrities such as Pele and supermodel Heidi Klum.
Only one thing about the draw, which takes place in Costa do Sauipe on Brazil's Coconut Coast, is certain: As seems dictated by tradition, the entertainment will be offered by an eclectic ensemble of performers including Olodum, a Brazilian band which peaked in the 1990s that some of you might recognize from Michael Jackson's "They Don't Care About Us" video. Olodum will provide the chintzy Reno, Nev., casino meets Dirty Old Man vibe such a big event as the draw evidently requires. A gaggle of World Cup heroes (Cafu! Kempes! Zidane!) will woodenly assist with the draw alongside a clutter of FIFA officials attempting to generate excitement by shamelessly vamping it up.

They need not bother. Even if the velour is scraped away from this event, the draw could not be more riveting. Ronaldo, Lionel Messi, Neymar, Mario Balotelli, Radamel Falcao, Kun Aguero and Luis Suarez will all feature in Brazil 2014, making it one of the greatest above-the-line casts seen outside of a Robert Altman movie.

U.S. coach Jurgen Klinsmann will be amongst a posse of managers in attendance to stare down their fate in person. If Klinsmann is to meet his stated goal of slaying the sense of inferiority which has traditionally doomed his squad early in the elimination rounds, he must first navigate a way out of the group stage. The German, a World Cup winner as a player, will hold his breath as one pot of seeds containing hosts Brazil and the seven highest-seeded nations in October's idiosyncratic FIFA rankings is drawn alongside three pots based on the geography of the other qualifiers.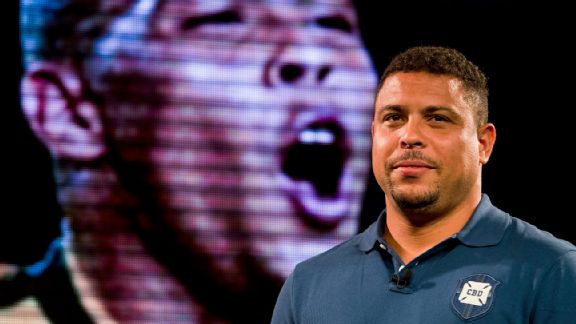 Buda Mendes/Getty ImagesThe draw is all about larger-than-life personalities such as Ronaldo, who was in Rio last month to unveil Brazil's new kit.
The Favorites
Pot 1 holds all of the favorites: hosts Brazil, along with the seven top seeds, Spain, Germany, Argentina, Colombia, Belgium, Uruguay and the one team the rest of the field would love to be drawn against, Switzerland, who have been rewarded for their consistency by FIFA's curious algorithm.

Brazil, led by the enigmatic Neymar and captain Thiago Silva (aka the "Messi of defenders"), are tournament favorites. Judged on their resurgent performance in the Confederations Cup, one of their opponents' greatest tactical challenges may be to neutralize the stirring emotion of their pregame national anthem, a psychic release for the nation, which superpowers the team with an adrenaline-flowing frenzy.

Regional rivals Argentina may be Brazil's greatest threat. Messi has assumed the captain's armband, responding to the honor by netting 10 goals in 14 qualifying games alongside such peerless talent as Sergio Aguero and Angel di Maria. His team finished first in South American qualification, appearing organized, balanced and, perhaps most surprisingly, controversy-free.

European favorites and defending champions Spain seek an unprecedented fourth consecutive major tournament triumph. Their kaleidoscopic passing game may be undone only by the fatigue generated by the air miles they have racked up globetrotting through lucrative showcase games in footballing backwaters from Equatorial Guinea to Puerto Rico. Germany are also heavily favored. Jogi Low's squad features Philipp Lahm, Manuel Neuer and Bastian Schweinsteiger from an ascendant Bayern Munich, yet the national team have not won a major tournament since Euro 1996.

The Challengers
As both Spanish and German fans are, without a doubt, painstakingly aware, no European team has ever won a World Cup in South or Central America. Among the South American challengers who will draw strength from that startling statistic are Colombia. Los Cafeteros will hope to emulate their qualifying form, counterattacking with fury through the likes of Radamel Falcao, Teofilo Gutierrez and James Rodriguez to emerge from the group stage for the first time in team history. Alexis Sanchez's Chile are another tactically whip-smart squad that defend robustly and snap forward with intelligent vibrancy.



Of the European teams, the seeded Belgians are perhaps the most talent-stocked on paper. A veritable Premier League All-Star team could be carved out of their squad with the likes of Chelsea's Eden Hazard, Manchester City's inspirational Vincent Kompany and Everton's rampant loanee Romelu Lukaku. But their one weakness may prove substantial: lack of major tournament experience. England and France toiled in qualification like powers defanged, but 2010's losing finalists Netherlands, Euro 2012 runners-up Italy, and Portugal, which could field Ronaldo plus 10, will fancy their chances no matter whom they encounter.

The Field
Japan are the pick of the Asian representatives, with their inventive, resourceful play propelled by Shinji Kagawa and the coveted Keisuke Honda. South Korea will provide robust, technical opposition, yet Iran, managed by Sir Alex Ferguson's one-time assistant Carlos Queiroz, with their collective, spirited displays may make a fascinating outside run. All appear better equipped to play the role of spoiler than true threat.

The African challenge is entirely West African with Algeria, Ivory Coast, Cameroon, Ghana and Nigeria. Four of the five experienced damp squib performances in 2010, with only U.S. nemesis Ghana shining. Ghana qualified courtesy of a 7-3 two-leg shellacking of Bob Bradley's Egypt, yet morale is perhaps highest in Nigeria, the reigning Africa Cup of Nations champions, where coach Stephen Keshi has fostered a sense of self-confidence.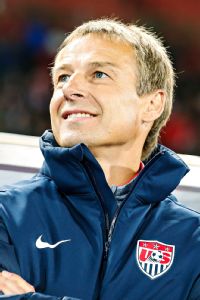 Christian Hofer/Getty ImagesJurgen Klinsmann might not be smiling if he read this SPI stat: In the U.S.'s worst-case draw scenario, they have a 15.1 percent chance of advancing.
From CONCACAF, Mexico will have much to prove after the prolonged humiliation of a qualifying process in which El Tri jettisoned coaches like Spinal Tap lost drummers. In 2013, Klinsmann's U.S. experienced their most successful calendar year in their history. With CONCACAF placed in the same pot along with the Asian representatives, both the U.S. and Mexico will be braced for a brutal outcome. ESPN's SPI analysis suggests the United States' best-case draw scenario -- a group containing Switzerland, Algeria and Croatia -- offers them a 72.7 percent chance of advancing. Their worst-case scenario -- Spain, Chile, France -- will see that percentage slip to 15.1 percent. Either way, they will discover whether their regional dominance counts for anything outside of the parallel universe of CONCACAF.

Every team's fear: Brazil itself
The teams will be battling not only their peers. Brazil is more a continent than a country. Traversing it through the group stage may necessitate an epic odyssey, with teams traveling up to 2,720 km between games. Though the tournament theoretically takes place during Brazil's winter, games in the southern cities of Rio, Sao Paulo and Belo Horizonte will be played in comfortable conditions of between 60 and 70 degrees. But the heat which swamps the nation's northeastern cities of Recife, Salvador and Fortaleza can see humidity touch an energy-sapping 98 percent.

Every team will pray to avoid being drawn in the Amazonian city of Manaus, which would grant them the dubious honor of becoming the first nations to play a World Cup game in the middle of a rain forest. After watching his side struggle through the unforgiving afternoon heat in the Confederations Cup, Italian coach Cesare Prandelli declared he would call up his "23 best athletes" as opposed to his best players.

The draw remains unknown. Yet once the pingpong balls emerge from their pots in whichever order they tumble, each nation's fate will be set and the drumbeat toward the final will start in earnest. One hundred eighty-seven days and counting.