Five things we want to see from the draw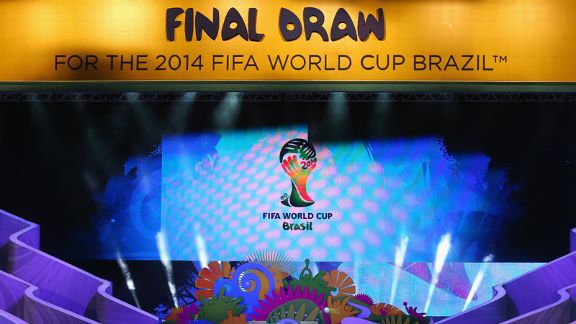 GettyImagesAll eyes will be on the World Cup draw on Friday, but what will happen?
You will know what has happened by now. You will have seen the news. You will, no doubt, still be reeling at the breath-taking shamelessness of it all. Once again, just as they do every four years, the dark forces of world football have got together and concocted a flagrant plan to prevent England winning the World Cup.

Or, at least, that is how FIFA's planned draw format has been greeted in England: with a gravity and fury that suggests it means Roy Hodgson's team will have to face Mordor, Narnia and the Ghosts of the Dervishes of Omdurman, rather than a 1-in-9 chance that they'll get to Brazil.

Now, there is no question that FIFA has a habit of making these things rather more complicated than they need to be.

What should be a relatively simple affair -- four pots, eight teams -- has been confused by the introduction of such concepts as a floating European team, a pre-draw Pot X and the Super Sudden Death Ball, which will eliminate whichever side is drawn 13th (OK, that's not actually true). And there is no questioning the fact that Michel Platini, the president of UEFA, seems to have been behind the draw format -- which, coincidentally, appears to benefit France and lends itself to a certain degree of suspicion from some quarters.

But that does not change the inherent absurdity of much of the coverage. England's chances of a Group of Death have marginally increased (although as Miguel Delaney reveals, that might not be a bad thing). Roy Hodgson's brave warriors could (but probably won't) now find themselves in a group with Brazil, Italy and the United States, instead of in a group with Spain, Ivory Coast and the United States. The difference is a slender one, particularly from England's point of view, where a group of Switzerland, Iran and Algeria could prove just as lethal.

No, the reason for the hysteria is simple. "Random draw remains quite random" and "England could face selection of teams in a variety of combinations" do not make good headlines. This is a shame, because World Cup draws are fascinating things, and part of the fun is wondering what quirks of fate and accidents of history they might throw up. The randomness is the glory. So, in no particular order, here is what I would like to see on Friday.


1. England to be placed in Pot 2 and drawn with Uruguay and the USA in Group D

If this seems an oddly specific wish, it is anything but. It throws up two wondrous prospects. The first is England facing Liverpool forward Luis Suarez -- perhaps in the opening group game in Fortaleza if Roy's boys are placed in position two.

Suarez occupies a special place in the English national consciousness. He is, perhaps, the first football player to be grouped -- along with Piers Morgan and the French -- as a genuine enemy of the state, loathed in equal measure by north and south, rich and poor. He has done more to bring the disparate communities of England together than any amount of political policy-making. It would be wonderful to see him score the winner against Hodgson's team. Preferably with his hand.

But that is not all. Oh no. If the U.S. are drawn into position three they would find themselves facing off with England in the final group game in Belo Horizonte. This would be a beautiful echo of history, a replay of that famous match from the 1950 tournament, when Joe Gaetjens' goal gave the rebellious colonists a victory that reverberated around the world. Such a draw, of course, would make it worth Jurgen Klinsmann's time to include a Haitian dishwasher in his squad, just in case -- Jozy Altidore's Haitian heritage would certainly be mentioned by scriptwriters everywhere were this match to materialise.

2. Argentina and Portugal to be drawn in Group F

The days when World Cups were the only stage on which an individual player could write his name in legend are long gone. They belong to an era of flickering black-and-white screens and Pathe news reports from far-flung lands. They do not fit quite so easily in the Champions League age, when the elite meet each other every fortnight between February and May.

It is a matter of some personal fury that there are still those who claim Lionel Messi and Cristiano Ronaldo will only be worthy of consideration as the equals of Pele, Johan Cruyff and Diego Maradona when they have made a World Cup their own. It is a specious logic, an anachronistic argument, and it is -- to use the technical term -- utter twaddle.

That said, it does exist, so this is as good an occasion as any to put an end to it. It would be fitting if they came up against each other at some point in the tournament, so why not in the group stage, just as their attempts to carve a place in history are getting underway? And why not in Group F, even more so if they meet in the last, potentially decisive game, and in Porto Alegre, not far from the Argentine border?

3. A kind fate for the dark horses

In recent weeks, I've had the good fortune to canvas the views of a number of ex-professionals as to who their outside selection for the World Cup might be. One selected Brazil. "They could do it, with a bit of luck and a settled side," he said, of the five-time winners and hosts. Yes, indeed they could.

Another selected Italy, who won the tournament in 2006 and made the final of the European championship. Germany, who always get to the semifinals, and Netherlands, who have been nominated as dark horses every year since 1974 and are widely established as one of the game's powerhouse nations, were also mentioned in dispatches.

These are not dark horses. These are the favourites. A dark horse is South Korea in 2002, or Romania and Bulgaria in 1994, or Croatia in 1998. It is a team that you would be genuinely surprised to see in the final, or the semifinals. If you would be shocked that Netherlands or Italy pitched up in the last four, then I would respectfully suggest you need to pay more attention.

This year, Colombia and Belgium are the approved dark horses. Indeed, they are so approved that they're not really dark any more -- everyone knows they have wonderful sides and could prove a genuine threat to anyone, if the draw is favourable. Chile and Ghana are probably better examples of actual dark horses. All four would improve the latter stages of the competition. It would be nice to see them start off relatively easily.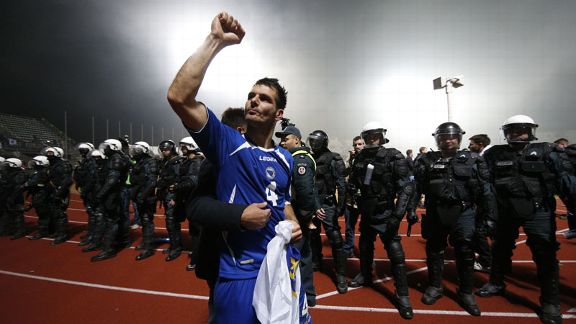 AssociatedEmir Spahic celebrates after Bosnia claimed a victory that takes them to Brazil.
4. Switzerland, Ecuador, Japan, Bosnia-Herzegovina

On paper, that is a group that is unlikely to coax millions of fans to their television screens. It looks like the group that the television stations will do all they can not to cover. That would be a terrible shame, because these four nations are the countries that every neutral should be supporting, and such a draw would give each of them a chance of making the last 16.

Bosnia-Herzegovina, of course, are the story of the tournament. This is their first tournament since independence, and comes less than 20 years after the end of the savage, brutal war that tore through the country. It is an opportunity for healing, and for celebration, and to show a better way. Ecuador, too, have a particular inspiration: the death of Christian Benitez earlier this year at the age of just 27. It will be a poignant summer for his former teammates.

Switzerland are managed by Ottmar Hitzfeld, the grand old man of the tournament, and can also call on three players -- Xherdan Shaqiri, Granit Xhaka and Valon Behrami -- who may see their international future with their homeland, Kosovo (not currently recognised by FIFA), rather than their adopted country.

Japan, meanwhile, add a nice symmetry: Ivica Osim, the father of Bosnian football, is also widely admired there, while their young generation of players -- including Shinji Kagawa and Hiroshi Kiyotake -- have enough ability to catch a few of the more established powers out.

5. Spain to be placed in Group H

Only twice in history have a side retained the World Cup -- Italy in 1938 and Brazil in 1962 -- and never before has a team won four major tournaments in a row. The general feeling might be that Spain are not quite as invincible as they once were, but the calibre of players at their disposal is such that they should not be discounted so easily.

By placing them at the very foot of the draw, they would simply have to win their group to avoid Brazil -- already placed in Group A -- until the final, provided the hosts did the same. That would be a fitting climax to the tournament.

On a side note: it would also be deeply enjoyable to see Uruguay (in Group F, remember) finish second in their pool, so as to set up the possibility of a semifinal with Brazil. Admittedly it would be in Belo Horizonte, not in Rio de Janeiro, but still. That would be worth seeing.