Five things we learned from CONMEBOL's latest rounds of qualifiers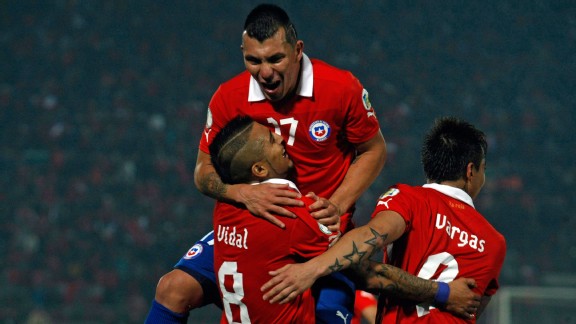 APChile players celebrate a goal against Bolivia.
ESPN's South American correspondent Tim Vickery examines the latest round of CONMEBOL qualifiers and highlights five key areas on the road to Brazil.

1 - THE TOP THREE HAVE BECOME THE TOP FOUR

Argentina, Colombia and Ecuador were already looking good value for three of the continent's four automatic qualifying slots. Indeed, with 26 points Argentina could lose their remaining games and probably still make it. Three points behind them, Colombia are also close. And two more wins will certainly be good enough for Ecuador - a win and a draw might even do it.

But the story of these two rounds was that Chile have crashed the party. The second game, Tuesday's 3-1 win over Bolivia, was their home banker. The key match, then, was last Friday's visit to Paraguay - who, as their coach Gerardo Pelusso said, were desperately trying to catch the last train bound for Brazil. But the Paraguayans were left standing on the platform, wistfully watching Chile pull away with a 2-1 win.

The Chileans were the only side to record two wins in the two rounds - indeed, they have now won their last three matches and would seem to have saved their once-stricken campaign. Early signs of life under electric little Argentine coach Jorge Sampaoli are very encouraging, not least for the neutral. As in the last World Cup, Chile seek to drive forward attractively, but have enough defensive deficiencies to keep the opponents in with a chance - and keep the neutral on the edge of his seat.

2 - URUGUAY ARE NEVER MORE DANGEROUS THAN WHEN THEY ARE DOWN

Tuesday's visit to Venezuela was a vital game for the Uruguayans. In the six rounds they have played this season, they had acquired two home draws, and suffered four heavy away defeats, which had left them down in seventh place. The limit of their ambitions would now seem to be finishing fifth and grabbing the play-off spot, which almost seems theirs by right - they have claimed it in each of the three previous campaigns.

But it was looking a long way off when the Venezuela game kicked off. Luis Suarez, Uruguay's star player, was suspended. Defeat would leave the team six points off the play-off position with just four rounds to go. It was make or break time.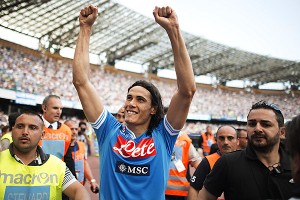 Roberto Salomone/AFP/Getty ImagesEdinson Cavani captured the winner for Uruguay.


Over recent months, coach Oscar Washington Tabarez has looked a little like a fly caught in a bottle, going round in frantic circles as he tinkered in search of a solution. Last week's 1-0 win over France in a friendly seems to have convinced him that Uruguay operate best on the counter–attack, lying deep with midfield and defence close together, and springing out to launch their dangerous strikers in plenty of space.

Against Venezuela it worked to perfection. The hosts had the early pressure and the half chances, while Uruguay raced away to take the lead from their first opportunity. And that is the way it finished - 1-0 to Uruguay, who love winning their matches with a dose of suffering along the way.

3 - SEPTEMBER WILL STAGE A BATTLE ROYALE FOR FIFTH PLACE

As well as Uruguay and Venezuela - now level on points - Peru are also in the hunt. And they can put themselves in the driving seat when the campaign resumes in September. A mini-championship will take place.

First, Peru are at home to Uruguay. Then they travel to Venezuela. The second match might well be the key one. Peru are strong at home - they won their last two games in Lima to haul themselves back into contention. But their away record is a disaster. Their last win on the road in World Cup qualification came nine years and 21 games ago. Venezuela have managed just four goals in their six home games - this is Peru's big chance.

4 - THE TENSION IS SHOWING

Only 15 goals were scored in the eight games of the two rounds - comfortably the lowest total in all seven of the double headers staged so far. As the finish line approaches, some of the nerves show themselves as caution.

5 - TROLLEY DRIVERS ARE PEOPLE TOO

They may earn a mere tiny fraction of a top class footballer's wages, but that is no reason to mistreat those who drive in the little carts that trundle injured players off the field.

Argentina's Javier Mascherano may have thought he was having a bumpy ride when he was wheeled off towards the end of his side's visit to Ecuador. Perhaps it was the draining effects of playing 2,800 metres up the Andes in Ecuador's mountain stronghold of Quito. But Mascherano only added to the turbulence by aiming a sly little kick in the back of the trolley driver. The Argentina midfielder went wild when he was shown the red card. But had he kicked out at an opponent, there could have been no arguments. Why should it be different with a trolley driver?