Holders hoping for the best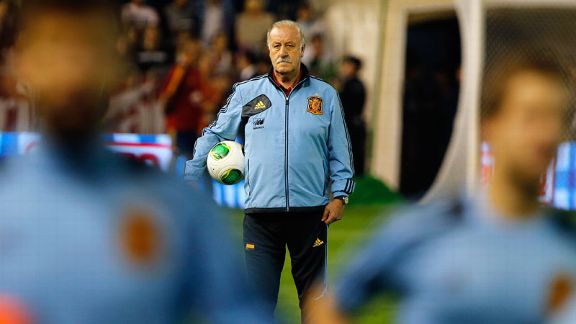 GettyImagesVincente del Bosque looks likely to camp in Curitiba.
A numerically small, but hierarchically remarkable contingent of four people will represent the Spanish FA this Friday during the 2014 World Cup draw in Costa de Sauipe (Bahia, Brazil). Coach Vicente del Bosque and Spanish FA president Angel Maria Villar, both of whom will participate in various tournament-related activities in the following days, lead the expedition, probably wondering what the future holds for the world champions in the shape of their three rivals and the venues of the group stage.

As one would expect given their usually polite manner, diplomacy has been present in almost every sentence the Spaniards have uttered regarding the World Cup draw so far. Last Friday, during a presentation in Madrid's Ciudad del Futbol, del Bosque offered his respectful view of any potential opponent, although he could not resist the urge to include a subtle reminder of Spain's accomplishments in international football since 2008: "I can't see any easy opponent among the other 31 teams that will play in Brazil. In fact, several top [football] countries have not been successful for a while and really want to win now."

Indeed, remembering of Spain's loss to Switzerland in their opening match of the tournament, he added: "We have great players to defend our 2010 title, but we must stay humble. Some thought our group was easy in the last World Cup, and I don't need to remind you of our suffering to make it to the knockout stages."

Last Saturday, while accepting his nomination as Adoptive Son of Fuentealbilla (Albacete, Spain), del Bosque had already stated a key point regarding the draw: "We have no preference for any specific opponent, but the draw is not only important because of our potential rivals, but also because of the venues. We need to know our group and its matches in order to choose the location of our base camp." The continental dimensions of Brazil, together with its five climatic subtypes and FIFA's stubborn decision to maintain several early kickoff times -- as early as 1300 -- mean that the draw will make a bigger difference than usual in this type of tournaments.

In the case of the titleholders, seeded in Pot 1, they could be extremely lucky and fall in Group H, the best one in terms of travelling, climate and kickoff times. That would mean matches in Belo Horizonte, Rio de Janeiro and Sao Paulo, all of them close in distance, with quite mild winter temperatures and decent playing times.

With less fortune, they could have a nightmarish travel experience in Group D -- huge distances between Fortaleza, Sao Paulo and Natal -- or, even worse, three climatically challenging matches in Group G -- Salvador, Fortaleza and Recife, all in the hottest and most humid region of the country, spiced with early afternoon kickoff times.

Del Bosque also admitted that his technical team already have been to Brazil more than once looking for the best location for their base camp. According to Spanish FA sources, and even though don Vicente publically voiced his intention to make a decision only once the draw finishes, Curitiba is the preferred option by his technical staff and should be the chosen city.

Parana's capital impressed Del Bosque's right-hand man, Toni Grande, in a visit last month. Grande loved Clube Atletico Paranaense's training centre and was attracted by the city's reputation as the most organised Brazilian capital in terms of traffic, always a point of concern in the country, as the team would avoid potentially unpleasant surprises going to and from its airport.

On top of that, and based on the experience of the last Confederations Cup, the Spaniards prefer to spend most of their time in Curitiba's cool climate -- the coldest of all Brazilian capitals -- and relatively high location (almost 1,000 metres above sea level). They would travel to the hot and humid North and Northeast regions only to play whatever match the draw determines. When asked whether this decision would change if Spain were to play all their three matches in those regions, one Spanish FA source was adamant: "If that happens, we'll still only go there to play our matches. The less time we spend there, the better for the team."

The upcoming draw and the location of Spain's base camp are not the only points of concern in del Bosque's head. The Spanish coach and his team also worry about the weeks of preparation before the tournament starts. The different finishing dates of La Liga versus both Bundesliga and Premier League -- the Spanish league will only conclude a fortnight after their European equivalents, where at least eight Spanish internationals ply their trade -- and the possibility of a two-week preparation camp in Australia, desired by the Spanish FA but not ideal from the coach's point of view, demand careful consideration to come up with a reasonable training schedule for the squad.

Only a couple of days before the draw, the feeling on the Spanish camp is one of cautious optimism. "First, we are here. Second, we made it to Pot 1. That means that we did our homework," Villar, already in Costa de Sauipe, said. "Now we can only hope for the best, but even the best won't be easy."