The real cost of hosting a World Cup
You don't often see people consciously building a white elephant, but that's what I witnessed in Brasilia last year. Smack in downtown, on the main avenue of Brazil's tropical capital, workers were finishing off a stadium for 70,000 people.

The Estadio Nacional Mane Garrincha is one of 12 stadiums for next year's World Cup. And even before the tournament ends, it will be redundant. No club from Brasilia plays in the two divisions of the Brazilian national league. Even what passes for the local powerhouse, Brasilia Futebol Clube, plays only in the local state league, in which the average game draws fewer than 1,000 fans. Nor will the Rolling Stones regularly visit this city in the middle of nowhere to fill the Nacional. Brasilia might as well tear down the stadium after the last World Cup game and save itself maintenance costs. So could other host cities such as Manaus, Cuiaba and Natal.

It's this kind of waste that brought Brazilians onto the streets this past June, demonstrating against their country's hosting of the World Cup and the Rio Olympics of 2016.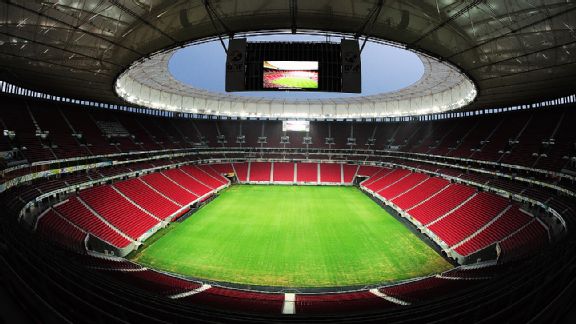 Shaun Botterill/Getty ImagesEstadio Nacional Mane Garrincha in Brasilia is a crowning achievement, but it will be useless after the 2014 World Cup.

"We have world-class stadiums -- now we need a country to go around them," read one protest banner. Worldwide, from Atlanta to the International Olympic Committee's headquarters in Lausanne, Switzerland, people are reaching the same conclusion: Hosting sports events doesn't make you rich. That spreading insight will probably influence how FIFA awards future world cups.

Whenever a country hosts the tournament, its politicians and leaders promise economic bonanza: hordes of shopaholic visitors, transformative new infrastructure and free advertising of host cities on global TV. Over breakfast in Johannesburg during the last World Cup, in 2010, Brazil's then-sports minister Orlando Silva Junior told me: "I guess the Cup has served as a stimulus for development and infrastructure here, and we will follow the same path in Brazil."

Regrettably, Silva later had to resign in a corruption scandal. But in any case, his claim was wrong. Almost every academic economist agrees that, if anything, the reverse is true: Hosting big sporting events hampers rather than benefits your economy.

Look at South Africa, where all politicians promised that the World Cup would transform the economy. In the event, only 309,000 foreign visitors came for the finals -- or less than half the number of visitors the country received in the average month in 2010. South African economic growth actually slowed during the tournament. John Saker, chief operating officer of KPMG Africa, said: "The big boost didn't happen."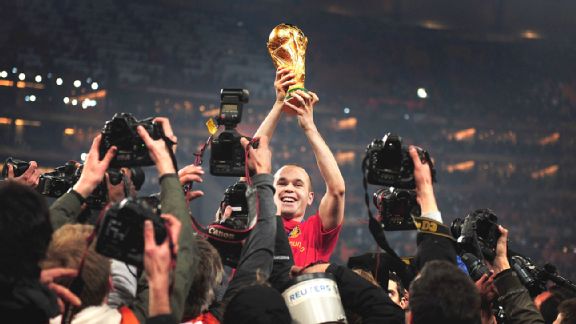 Clive Mason/Getty ImagesThe 2010 World Cup did wonders for Andres Iniesta and Spain but had little tangible carry-over for host nation, South Africa.

There is a vignette of the national disappointment in an email sent by a professor at the University of the Western Cape in August 2010. This man, formerly a very senior government official, wrote that his university had reserved 92,000 "bed-nights" for visitors to the World Cup. But shortly before the tournament began, FIFA's booking agency, Match, had returned 91,000 nights unused. "We are still trying to sell off the additional linen we had to purchase," the professor complained.

Predictably, most of the stadiums that South Africa built for the tournament are now white elephants. The country never had any need for them. The larger hosting cities -- Cape Town, Johannesburg, Durban and Pretoria -- have for decades possessed large, very decent rugby grounds that can serve the modest needs of local soccer, too. Johannesburg also had the original Soccer City, a stadium rightly touted as the best in Africa when South Africa was bidding for the World Cup. Very few domestic games outside the Johannesburg region draw more than about 10,000 spectators. And so most of the glittering stadiums built for the tournament now eat fortunes in maintenance.

Saker said that South Africa would benefit from "word of mouth and goodwill for years to come." Well, perhaps.


Academic economists struggle to find evidence that hosts of sports events grow faster than places that don't host. And it doesn't always boost your brand. Sometimes it damages it.

That was the experience of Olympic hosts such as Munich in 1972 (whose Games were overshadowed by the Israeli-Palestinian hostage drama), Atlanta in 1996 (a bomb, over-commercialism and an unenchanting city) and Athens in 2004 (the literally last-minute rush to finish the venues on time remains the abiding memory of the Games).

The World Cup might transform foreign perceptions of Brazil as a crime-ridden country with poor infrastructure. Or it might cement those perceptions.

Nor is the new infrastructure going to transform Brazil's economy. The country's original budget for stadiums was less than $1 billion, which was supposed to be entirely funded by private business. But they didn't come through as planned. The current budget (which will rise) is about $3.5 billion, almost entirely funded by Brazilian taxpayers, who are angry to find themselves on the hook. Other World Cup-related infrastructure -- such as approach roads to the stadiums, security and some attempts to beef up weak, local public transport -- will cost about three times that figure.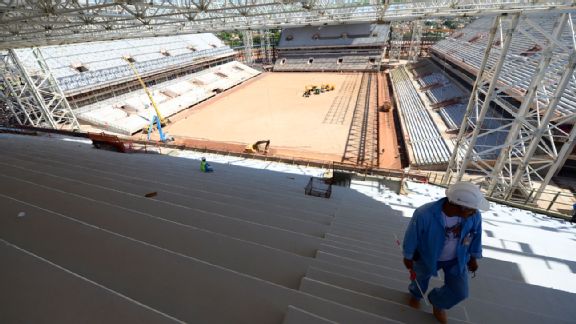 Christophe Simon/Getty ImagesSeveral stadiums are as yet unfinished, including the Arena Pantanal in Cuiaba. But is it a waste to even build them given how unused they'll be after the tournament?

Admittedly, these are small sums within the grand scheme of things. Over the next few years, Brazil plans to spend more than $400 billion on improving its ageing infrastructure, unrelated to the World Cup. This money will mostly be spent on mammoth projects such as building new airports, roads and ports and expanding subway systems that are way too small for overgrown cities like Sao Paulo and Rio de Janeiro. Still, the spend on the World Cup is mostly a write-off. That's because the things you need for a soccer tournament are almost never the things you need for daily life.

General Electric is building much of the infrastructure for Brazil's World Cup, yet even a senior GE executive admitted at the New Cities Summit in Sao Paulo in June that certain stadiums, in Natal or Manaus for instance, "may not have such a positive legacy." Nor will the roads built to service those stadiums. That money could have been better spent on boring but necessary things -- better ports, highways, schools and hospitals.

Rather than an economic bonanza, Brazil's World Cup is more like a series of transfers: from Brazilian taxpayers to the world's soccer fans; and from taxpayers to Brazilian soccer clubs.

The clubs will do well out of the tournament. Currently, they play in ancient, rundown, dangerous venues -- few fans now risk taking their families to games. According to the consultancy Stochos, the average attendance in Brazil's top division fell 8 percent this season to less than 13,000. However, the shiny, new taxpayer-funded stadiums could draw millions of middle-class Brazilians to league games. (That's what happened in England after it renewed its stadiums in the early 1990s.) More middle-class fans would make Brazilian clubs richer. It might even make them competitive with European clubs. But that's not a serious economic stimulus.

The Brazilian World Cup is best understood as a party. You don't host a party to get rich. You do it to have fun, and Brazilians will have fun. Yet there's something obscene about hosting an extravagant party in a country where millions of people need houses, electricity, doctors. That's what bothered the protestors.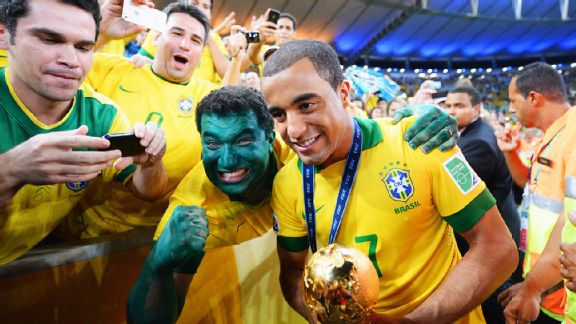 Stuart Franklin/FIFA/Getty ImagesHosting the World Cup is simply hosting a party for fans all over the world. But there should still be money invested outside of that purpose.

Everywhere, people are cottoning on to the fact that building stadiums doesn't bring wealth. For decades, American taxpayers voted to fund stadiums for billionaire franchise owners. In New Orleans, for instance, taxpayers forked out several hundred million for the Superdome, including at least $471 million after Hurricane Katrina struck in 2005, but they didn't pay for better levees.

However, the economic crisis changed attitudes. Now the Atlanta Braves and Minnesota Vikings, in cahoots with local politicians, don't want locals to vote on funding their planned new stadiums -- because they suspect the locals would vote against. When Insider Advantage-Fox 5 polled 1,698 registered voters in Cobb County, Ga., this month, 56 percent opposed spending local tax dollars on the Braves' stadium.

The IOC doesn't want to anger taxpayers like FIFA has in Brazil. That's partly why it gave the 2020 Olympics to Tokyo: The city could better afford the Games than its rivals, Istanbul and Madrid. Europe's soccer association, UEFA, went one step further: It didn't choose a host at all for the Euro 2020 championship. The burden would have been too great, explained UEFA's general secretary Gianni Infantino, especially in hard economic times. Instead, several countries (yet to be chosen) will share the hosting.

In the end, FIFA will have learned from its Brazilian experience. To ask a democratic country to fund white elephants is to ask for protests. Much easier to give the World Cup to dictatorships such as Russia or Qatar, where dissent is discouraged.

Alternatively, you could choose a host country that doesn't need to build world-class stadiums because it already has dozens. Step forward, USA, for 2026.