World Cup draw brings social impact to the fore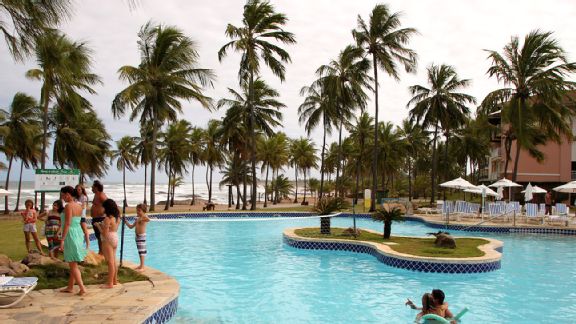 Eduardo Maia/Globo/Getty ImagesThe choice of ritzy Costa do Sauipe for the World Cup draw not only offers FIFA some glamour, but isolation from dissenting Brazilians.
COSTA DO SAUIPE, Brazil -- Flash back to 2007. Picture the scene at FIFA's futuristic headquarters in Zurich on a cold October afternoon, one that was warmed by the posse of Brazilian legends, directors and politicians who were all smiles and posing for pictures just after Joseph Blatter had confirmed Brazil's second World Cup hosting gig. (Their first? 1950.) Even then, even the least skeptical sectors of the Brazilian media knew a huge task awaited despite having seven years to get ready.

Now, with the final draw just days away, time has proved their fears are far from unfounded. Itaquerao Stadium, the venue where the first kick of the 2014 tournament will take place June 12, is in question following the construction accident Nov. 27 that killed two men.

Stadiums, however, were never the main reason for concern. When saluting the return of the World Cup, newspaper O Globo published headlines saying that all the country needed were "roads, airports, hotels, trains ..."

- Report: WC draw pots, modifications announced
- Darke: Counting down to the draw
- Delaney: Groups of Death make teams stronger
- Vickery: Stadium tragedy shows peril of WC rush

It still does. An analysis of the most recent official report on the state of the urban mobility works by Brazilian news portal UOL.com.br shows that 19 out of 55 projects will not be ready in time for the tournament. That's almost 35 percent of the main matrix of legacy projects. Brasilia, one of the cities that will host more games during the tournament, will have to manage its busy roads without the help of a proposed special "light railway" service from the airport to its hotel cluster.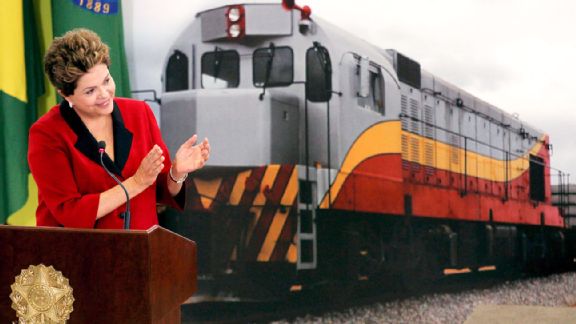 Gustavo Miranda/Globo via Getty ImagesSeveral high-profile infrastructure projects, like the train expansions in Brasilia as proposed by President Dilma Rousseff, might go incomplete.

These urban mobility projects were paraded by Brazilian authorities to sugarcoat and justify the expenditure of public money for the World Cup, currently estimated at $12.5 billion, but a significant chunk of the projects won't see the light of day before the June deadline.

"It's a missed opportunity to make a few things better for the Brazilian public. I am in no doubt the tournament will be a huge party, but the improvements to infrastructure are not going well," said 1970 World Cup champion Carlos Alberto, never shy to speak his mind even when working as a World Cup ambassador.


As Friday's draw approaches, FIFA and the organizing committee are hoping that the sporting agenda will start gaining some momentum, instead of the social one currently in the spotlight. It's wishful thinking -- last week, a simple briefing on Friday's ceremony included questions on how the recent decision to name a pair of white presenters was interpreted by some sectors of the Brazilian population as a form of racism.

There also are more worrying news on further stadium delays: the southern city of Curitiba, scheduled to host four group games, is struggling to meet the Dec. 31 deadline established by FIFA. So, too, are Cuiaba and Manaus. That prompted an announcement by the governing body that an intervention could be declared, which would mean pressure to ensure longer working hours, just as was done in South Africa for the 2010 World Cup. It didn't go unnoticed by the media in Brazil that those on the bottom of the pyramid would shoulder the burden.

But while few people in Brazil doubt the arenas will be ready, the feeling that the World Cup will fail to deliver on its promises is getting stronger. It didn't help that the vortex of rage that consumed the streets of several big Brazilian cities in May and June sucked up the event as a target, right in time for the Confederations Cup. Costa do Sauipe, a secluded luxury resort some 50 miles from Salvador (and one of the protest hot spots this past summer), had been chosen as the draw venue long before trouble hit the streets, but given its location, it could not be a more appropriate "fortress" for the last big, public event before the tournament itself.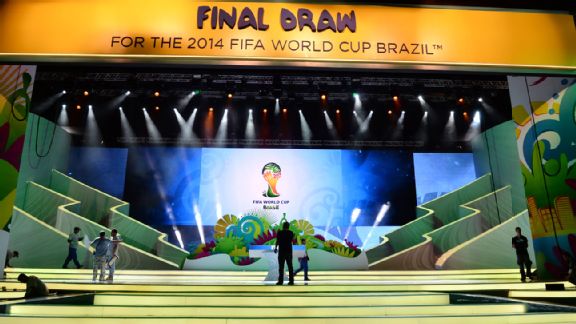 VANDERLEI ALMEIDA/AFP/Getty ImagesThe impending World Cup draw has once again shed light on Brazil's struggles to be ready by the start of the tournament.

In reality, all of this is an example of the political forces at work. Politics and sports have historically been tangled up in Brazil, and the World Cup did not escape that. The original plan to limit the impact of Brazil's continental dimensions on team and fan travels was trumped by the desire of cities and authorities to be part of the party. FIFA's original plan to have nine host cities gave way to a group of 12, and while it limited the distances people would need to travel, it has also created some awkward transitions. Brazil's opponents in the opening game will have to immediately go from mild temperatures in Sao Paulo to the tropical and suffocating Amazonian climate of Manaus for their next match.

Manaus is also an example of how politics can trump logic in Brazilian football. The city has no professional football clubs in the top two divisions. Neither does Cuiaba, another host. If Brasilia's Mane Garrincha stadium is compensating for its own absence by becoming a thriving traveling ground for mass-supported Brazilian clubs such as Flamengo, the building cost of $718 million still has left a lot of people unhappy. But not as much as accusations of embezzlement in public projects. Corruption in the public sector is an old enemy in Brazil, but people's patience is running short.

Just as are the concerns of the heat and even the exploitation of workers' rights in Qatar, Brazil's dimensions and infrastructural challenges should not be shocking news to anybody directly involved with the World Cup. After all, the logistical challenges were mentioned in Brazil's bid for the tournament, but thanks to the now defunct World Cup host rotation system, voters were mindful but lenient. Now, with these problems piling up, it all adds extra pressure on both FIFA and the organizing committee.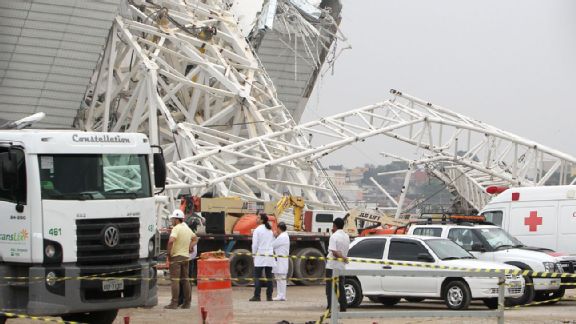 Ricardo Bufolin/Getty ImagesLast week's stadium collapse in Sao Paulo claimed two lives, while work remains far from finished in several other cities.

The two parties also face a problem they can't directly address: a wave of price hikes for hotel rooms and airfares that have led to a threat of investigations from consumer watchdogs in Brazil. The Justice Ministry has formally warned airlines and hotel groups that they are under scrutiny. The air travel issue was even more contentious, given that Brazilian airports are already running against time to adjust to the increase in domestic demand. The latter is another example of how the tournament is failing to deliver on its off-pitch legacy -- though let's not forget that Brazilian football has needed a stadium boost for quite some time.

As for overall reaction? Brazilian social media networks the past few weeks have been flooded with comments on how some people plan to escape the bad side of World Cup fever, even though local authorities have discussed declaring holidays during World Cup games in a bid to ease congestion on the streets.

Brazilian fans at least had reasons to cheer when it came to tickets: They have grabbed more than 71 percent of the 889,305 sold so far, almost 10 times more than U.S. fans, the second-most successful nation in applications. In total, there were more than 6 million requests for tickets. Part of the success in sales must be attributed to a flexible price structure that included tickets as low as $15 that are available only to Brazilian fans.

It's one good piece of news to a very gloomy end of year.