Countdown to the World Cup draw
As excitement mounts ahead of Friday's World Cup draw, England manager Roy Hodgson summed it all up nicely: "It's like Forrest Gump and the box of chocolates. We open it up and see what we get."

Of course, like Tom Hanks some of the coaches might want to run and keep on running when they see the strength of the opposition. This looks to be one of the toughest World Cups to win with all of the game's heavy hitters present and accounted for.

Hosts Brazil have not lost a competitive home game since 1975, so they rightly start as favourites. Their performance in June's Confederations Cup final, which was played in a fevered atmosphere after the weeks of civil unrest, told us how difficult they will be to beat on home soil.

Reigning World Cup and European champions Spain were brushed aside 3-0 by this modern Brazil's blend of flair, laced with plenty of physicality when needed. Neymar is the poster boy. The heat and electricity surrounding him will be beyond intense, but he seems to revel in the role.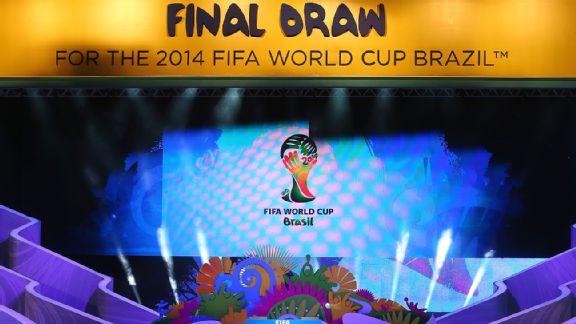 Alexander Hassenstein - FIFA/Getty Images The World Cup draw takes place on Friday, Dec. 6.
The host nation never gets handed a tough group. Don't be surprised if Brazil are with Iran, Algeria and Bosnia-Herzegovina, which is about as undemanding as it can get given the quality of the overall field.

Jurgen Klinsmann's improving U.S. side find themselves lumped together in the pot of outsiders -- and that's a big negative because it means they cannot be drawn to play any of those "easier" nations.

Four years ago Bob Bradley's team, thanks to Landon Donovan's late lifesaver, topped a group that included a not very frightening England, plus Algeria and Slovenia. That was a kind draw. This one threatens to be far harder.

How would the Americans fancy Lionel Messi's Argentina, African champions Nigeria and four-time winners Italy, or the Netherlands? That would be the draw from hell. (ESPN FC's World Cup simulator cranks out all the permutations, and as you'll see, it's usually a grim result for the Americans.)


Mr. Klinsmann would probably settle for something like Colombia, Cameroon and Greece -- not that any of those games would be formalities.

One of the favourites will be Germany, with a squad rich in talent and perhaps now ready to deliver a first tournament win since Euro 96. But even their manager, Jogi Loew, will be praying on Friday that the Germans are not drawn alongside their bogey team Italy, who hammered them in the Euro 2012 semis.

Here's another scenario to whet the appetite: arguably the tournament's three biggest stars, Messi, Cristiano Ronaldo and Franck Ribery, could be drawn in the same group.

Many of the coaches are just as worried about the schedule and climate as their opponents. Four groups include a long flight out to the Amazon jungle to play in Manaus, which is widely believed to have been included as a venue simply to boost Brazil's tourist trade. It is not really a "football town."

That trip will be exhausting and the travel will eat into vital recovery time before the next match.

The southeast venues of Rio, Sao Paulo and Belo Horizonte look kindest, and whatever top seed falls into Group H can stay in that area where temperatures are a little milder: a plum draw.

Up in the northeast, lunchtime kickoffs in places like Recife will mean the possibility of playing in extreme heat. And yet a side might have to fly from there to play in a knockout game down south in a freezing Porto Alegre.

The U.S., for one, have planned well and Klinsmann will take his players to the training base in Sao Paulo as part of the national team's January camp.

Friday promises to be a nervy day and, by that night, we will have a clearer picture of just how this World Cup might develop. Every team will have fingers crossed for luck with the draw. But, to win the World Cup, sooner or later you have to meet and beat the best teams on the planet.

History says South American teams triumph in South America and that's why, from this long range, my very unoriginal idea of the winner is Brazil, with Argentina and Uruguay as the most obvious threats. Colombia carry attacking menace with Falcao & Co., but look a little too erratic.

Holders Spain, plus Germany, will fly the flag for Europe, with a progressive Italy, who looked good at the Confederations Cup, possibly causing a shock.

England travel with low expectations but with hope that a new wave of good youngsters will blend well with Wayne Rooney and Steven Gerrard to give a decent account of themselves.

The very thought of it all is mouth-watering. And Friday will set the pulses racing a little quicker.

Be warned. There might be several "Groups of Death" this time.