Stadium tragedy shows peril of World Cup rush
RIO DE JANEIRO -- There are times when it seems that Brazil's World Cup was born under a bad sign. On Wednesday, the cascade of bad news just got worse, with the accident at the new Itaquerao Stadium in Sao Paulo killing at least two workers and possibly more.

It appears that a crane collapsed onto the structure of the stadium that's due to host the opening game of the World Cup in less than 200 days' time. The soil reportedly gave way beneath the crane, perhaps a consequence of the heavy rain that has fallen on the city over the past few days.

A key question now needs to be answered. Did this accident have anything to do with the need to rush to complete the stadium by deadline date? Before the accident the stadium was 94 percent completed and likely to be handed over at least by January, if not by the original end-of-December deadline. Now, some observers with construction experience are speculating that it is unlikely to be completed before March.

- Report: World Cup stadium collapse

But this, of course, is entirely secondary. It is a point almost too banal to make, but nothing will bring back the lives of those who died in this accident. And more lives could be at risk from the need to hurry to complete the stadiums in Cuiaba, Manaus, Porto Alegre, Natal and Curitiba.

These five venues, plus Sao Paulo, are racing to be ready for next summer. The other six World Cup host sites were all delivered in time for the Confederations Cup, though some cut it close.

For the World Cup, FIFA insisted on a non-negotiable cutoff point of the end of this year, leaving five-plus months for final adaptations and test events. This is already having to be renegotiated and revised. Cuiaba, for example, is only 83 percent complete and very unlikely to be finished in the next five weeks. For FIFA, all of this is a concern because the ticketing operation, always complicated to organise, is selling specific seats for specific venues that aren't ready.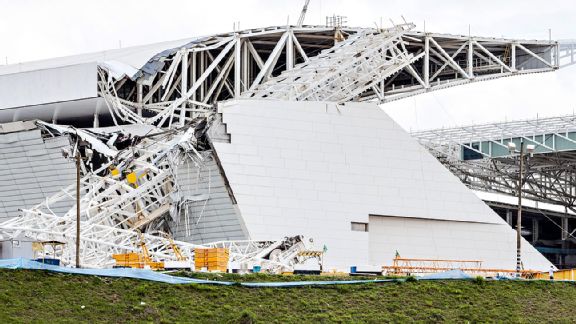 Miguel Schincariol/AFP/Getty ImagesThe extent of the damage at Itaquerao in Sao Paulo.

Danny Jordaan, CEO of the 2010 World Cup in South Africa and special FIFA advisor for this tournament, commented earlier this week that it might be necessary to work round the clock to ensure that stadiums are ready on time -- in 16- or even 24-hour shifts. This, of course, entails working in the hours of darkness as high summer approaches, with its extreme temperatures and tropical storms. If implemented, such a measure has clear safety risks.

Overall, Brazil's workplace health and safety culture is not impressive. Last year, accidents in civil construction alone cost more than one life per day, and hosting the World Cup means that the eyes of the planet are now on this giant country like never before. There are no "positives" to be taken from a fatal accident such as this.

The "least worst-case scenario" from the Sao Paulo tragedy is that it will lead to increased awareness of safety risks in the remaining stadium work.