Sabella searches for the final pieces in Argentina's puzzle


With Uruguay completing the list of qualifiers on Wednesday, and with just a couple of weeks to wait until the group stage draw, we've not got many more chances to assess where each World Cup-bound side is now, so the recent international friendlies seemed to take on real importance, for a change. Argentina's mini-tour of the United States, in which they played Ecuador in New Jersey and Bosnia-Herzegovina in St. Louis, contained two of those.

With an attack that picks itself and having lost just once in the past two years (a dead rubber in the final qualifying match away to Uruguay, which they didn't seem to care much about), it would be easy to think Argentina just have to keep ticking over between now and June. Easy, but incorrect.

The attack remains packed with world-class talent even when Lionel Messi is out injured. Scoring goals is unlikely to be a problem in Brazil, regardless of the opposition, and the midfield under Alejandro Sabella has looked a lot more balanced than it ever did under the two previous managers, Sergio Batista and before him, Diego Maradona.

Defence, however, is an issue -- or rather, the full-back positions are an issue. Federico Fernandez and Ezequiel Garay have formed a decent -- not perfect, but decent -- partnership at centre-back, but the men on either side of them are much less in stone, and it was no surprise that four full-backs were used in the two friendlies.

Of the four, Pablo Zabaleta is the only one who can be totally sure, fitness permitting, of a seat on the flight to Belo Horizonte, where Argentina have already confirmed they'll be based during the World Cup. The others were Facundo Roncaglia of Fiorentina, Sporting's Marcos Rojo and Lucas Orban of Bordeaux. Both Roncaglia and Orban made their senior international debuts against Ecuador, and were given baptisms by fire.

It's hard not to suspect that was at least in part a deliberate ploy by Sabella, because if there's one position where Ecuador can match anyone else in South America, it's on the wing. If he did indeed send his side out to leave them exposed and see what they could do, then the results were mixed. Jefferson Montero tormented Roncaglia at right-back, and the Fiorentina man picked up a booking that saw him replaced in the second half by Zabaleta. On Argentina's left, up against Antonio Valencia, Orban did somewhat better, and although he didn't pull up any trees, he's probably done enough to earn another chance to prove himself.

Against Bosnia-Herzegovina on Tuesday, Rojo played at left wing-back with Zabaleta on the right of a five-man defence. He was far less bothered than Orban had been, but that might not prove significant; he's not especially popular with the Argentine public, but does have Sabella's confidence, and didn't do his cause any harm with a solid-enough performance in a 2-0 win, as Sergio Aguero scored twice.

The Ecuador match ended 0-0 and, as Sabella said afterward, "it was one half for each team." Ecuador were far more dangerous in the first half, but a change to 4-4-2 worked well for Argentina after the break, and they could have won it from there.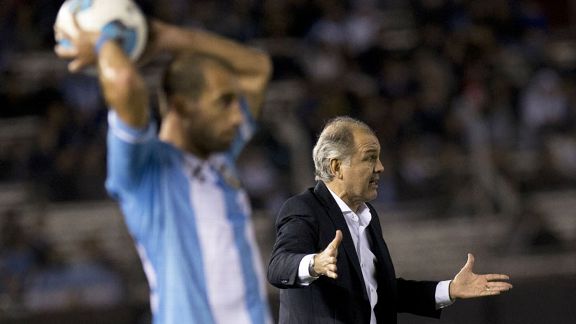 APArgentina coach Alejandro Sabella has decisions to make regarding his squad ahead of next year's World Cup.
Sabella isn't going to ask my opinion, of course, but I'm surely not the only one who thinks that if Javier Zanetti can get back to his previous superhuman fitness levels by season's end, he'd be a good bet to take along. While I think Orban shows promise on the left, Zanetti and Zabaleta still represent the best Argentine full-backs available, assuming both are fit, in spite of the former's age (40).

The other disputed position is in goal. Sergio Romero, truth be told, hasn't committed any real howlers apart from taking a large portion of the blame for Paraguay's two goals in a dead rubber in Asuncion in the last qualifier (the two errors didn't prove costly, because at the other end, Argentina scored five). He's barely playing for Monaco, though, where he's on loan for a season from Sampdoria.

There are calls for Willy Caballero of Malaga to get a call-up, but in Sabella's opinion, Romero's chemistry with the rest of the group is as important as his ability between the sticks. Playing time is an issue, though, and he stated before the recent friendlies that he'd "have a word" with Romero about the need for more regular action in the new year.

That talk has led to another unorthodox idea from the Argentine FA. It's considering helping to pay the wages of Romero and any other national team player struggling for playing time in Europe, to find them a place with an Argentine club on loan in the build-up to the World Cup. Romero, who came through Racing's youth system, has been linked with San Lorenzo, the club supported by the Pope Francis I and actor Viggo Mortensen. Roncaglia's name was also mentioned, with a move to Boca Juniors mooted, but Boca president Daniel Angelici says Roncaglia didn't depart on good terms when he went to Fiorentina, and they don't want him back.

(On a side note, third-choice goalkeeper Agustin Orion's inclusion on the tour upset his club side Boca. Orion didn't play in either match, and with the Argentine top flight not breaking for FIFA dates, Boca, fighting for the title, lost 3-2 away to fellow hopefuls Arsenal de Sarandí in his absence.)

What's for sure is that Argentina will be a force to be reckoned with next year. If Sabella can work out solutions to their few but vital issues, optimism will rise even further. "We don't say that [we're favourites]," he said in English to one Bosnian reporter during his news conference in St. Louis. He knows Argentina are close to the finished article, but they're not quite there yet.