Strain shows for Spain's weary travellers
Memory Lane can be a long and tiring road, especially when you take a detour en route. Spain played two matches during this latest international break: one that many said should never have taken place and one that may yet be declared not to have taken place.

Not officially, anyway. That bizarre eventuality may yet be avoided -- it would be absurd to punish South Africa, the victims, for mistakes made by the referee and the match officials -- but this has still not been a good week for the seleccion. It was supposed to be a celebration, too: an ode to joy.

Spain departed South Africa in 2010 with the World Cup. They also did so with indecent haste and the federation president Angel Maria Villar promised that they would be back.

- Moonda: Spain raining on South Africa's plain
- Corrigan: Spain loss may be voided
- Del Bosque praises fair play

This week, they returned for a friendly against South Africa, which was organised as a thank-you to the hosts and the chance to commemorate Spanish football's greatest moment.

The cover of one newspaper carried a photograph of Andres Iniesta, pointing to the end where he scored the most important goal in the national team's history. "It was right there," ran the headline.

So far, so good. South Africa was a trip the players largely looked forward too. There were photographs and smiles before the game and nostalgic interviews.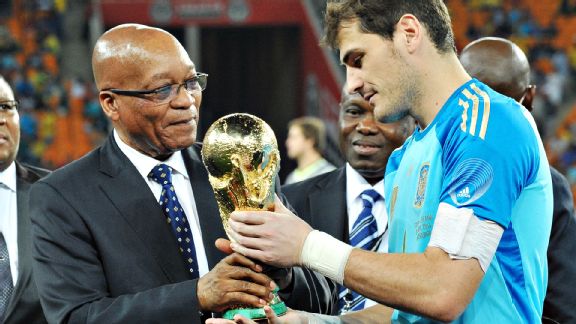 Alexander Joe/AFP/Getty ImagesIker Casillas receives the World Cup from Jacob Zuma.
"I still feel the tension when I think of that save against Robben," said Iker Casillas, who later held aloft the World Cup again, this time with South African president Jacob Zuma.

"I didn't pull it across goal as far as I would have liked but I hit it quite hard," Andres Iniesta said of his World Cup-winning goal on July 11, 2010.

But the Spanish federation had decided that it wanted to make the most of the trip, so they arranged another game in Africa before visiting the Rainbow Nation. There had been talk about Gabon or Angola.

Neither, though, came off and in the end they chose Equatorial Guinea as opponents and hosts. Sergio Ramos publicly said "It's not a nice journey; it's a lot of hours travelling." Others just thought it. One player rolled his eyes: "Here we go again."

Spain's players are used to the federation organising games that are not exactly motivated by thoughts of their physical well-being. Since 2010 alone, they have played friendlies in Mexico, Argentina, the United States, Venezuela, Costa Rica, Puerto Rico, Panama, Qatar (against Uruguay), the United States again (against Haiti and Ireland) and Ecuador. (And yes, that is a pattern you can see developing).

It is yet to be confirmed but there have been discussions about Vicente del Bosque's men travelling to Australia just before the World Cup in Brazil. Halfway round the world ... in the wrong direction.

Fees make the trips easier to take and it is striking that players have so rarely spoken out. Most do not enjoy it at all.

This time was worse; this time there was another dimension to it. A moral one. Spain travelled to Equatorial Guinea, ruled over by the dictator Teodoro Obiang. Amnesty International describes it as a country that has serious human rights problems and it is ranked as one of the most corrupt in the world.

The discovery of oil makes it one of the world's richest countries, with one of the world's poorest populations. Three of the parties in Spain's parliament called for the game not to go ahead; the two leading parties did not. Slowly but surely, sectors of the Spanish media mobilised against the game.

The federation claimed that they were not being paid to play. Guinean exiles in Spain doubted the veracity of that and, in an interview in AS newspaper, Severo Moto suggested that the fee was as much as 15 million euros, roughly seven times the normal fee.

The words "normal fee" are significant here: if Spain did not get paid to play, the question becomes "why?". Shortly beforehand, a representative of the Spanish government had been in Equatorial Guinea holding discussions about the building of relationships and opening up trade. It did seem rather coincidental.

As for the federation president, Villar, he declined to comment. The sad thing was that it came as no surprise that he did so.

And if he is not going to, what chance was there of the players speaking out? It might have been good for them to have done so and they might have earned real respect, but that they didn't was predictable. For some, they had been put in an uncomfortable and impossible position; others, of course, might simply not have cared especially one way or the other.

As the coverage grew, they could not be unaware, though. They were at least spared being pushed into the compromising position of having to greet the president. "We're not going there to support anyone or to overthrow anyone," del Bosque said.

There were those who saw something positive in the coverage: rather than boycotting the match, the best way of challenging the dictatorship might be to use the match to throw light upon it. It is often said that sport and politics should not mix but the reality is that they do, like it or not.

Spanish football knows that very well. "Apoliticism," loudly embraced, is often eminently political too. General Franco, Spain's dictator between 1939 and 1975, famously once advised: "Do what I do; don't get involved in politics."

Questions were raised: Do sportsmen care? Should they? Does football care? In 1978 the World Cup was held in the generals' Argentina. Should it care? If so, in which cases? Where do the boundaries of acceptability lie? Where's the line between morality or ethics and politics? And if so, what should be done? Is a boycott better? A protest? Is the most powerful case that can be made to win?

Jesse Owens had a greater impact than anyone who stayed away could have done. Tommie Smith's salute is one of the most powerful images in sport. The politicisation of sport was once again on the agenda.

Perhaps, though, not for long. As soon as the story emerged, it slipped away, buried under the Ballon d'Or and the rest.

The match was not up to much. A second-string Spanish team was most concerned with avoiding scything challenges and won unconvincingly, 2-1.

A few days later, Spain travelled to South Africa. This time they didn't even win. Bernard Parker's goal meant that the stage of Spain's greatest triumph is also the stage of many of its defeats, more than anywhere else.

La seleccion have lost eight times under Del Bosque, with three of the defeats coming in South Africa. For the hosts, it was a big victory and one that might have an important impact on their FIFA ranking. For Spain it was a disaster. As one headline put it: "The party was ruined."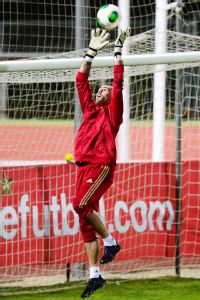 Javier Soriano/AFP/Getty ImagesVictor Valdes is expected to miss up to six weeks with a calf injury.
By the full-time whistle four different players had pulled on the goalkeeping shirt. With 10 minutes to go Víctor Valdes, who had come on for Casillas, pulled up injured. Spain had used all of their six subs.

Defender Alvaro Arbeloa grabbed the jersey and got ready to put the gloves on too. Meanwhile, over on the touchline, Pepe Reina, a proper goalkeeper, prepared to come on.

An argument broke out and Spain were not permitted to make another change. But they insisted, claiming a "fair play" that was, at best, clumsy and, at worse, a touch arrogant. Referee Osasiase Koto then gave them the all-clear and Reina came on.

FIFA have yet to publicly say anything but they have briefed some journalists that there is a chance the game may be declared void. It could be considered not to be an official friendly, thus -- deeply unfairly -- denying South Africa the victory and the ranking points because of a mistake that Spain had committed.

The president of the South African federation, Danny Jordan, rightly told Ballz visual radio that there was no precedent -- when it happened in a game between England and Trinidad & Tobago the referee was blamed and the game stood -- and guaranteed to fans that the game would count.

What his remarks revealed was not so much a certainty as his fear that FIFA could decide to declare the game null and void, plus his justified determination to fight that potential decision.

For Spain it was an embarrassment -- another one -- and no FIFA decision can change that. Striking the game off the official record would just make it worse for them, as if this trip had not proved bad enough already.

Furthermore, it would make no real difference. So is there a chance that the game never officially happened? Try telling that to Valdes as he headed down the steps of the plane in the small hours, returning from Spain's long trip to Africa on crutches.