Apt end to qualifiers as Uruguay clinch World Cup berth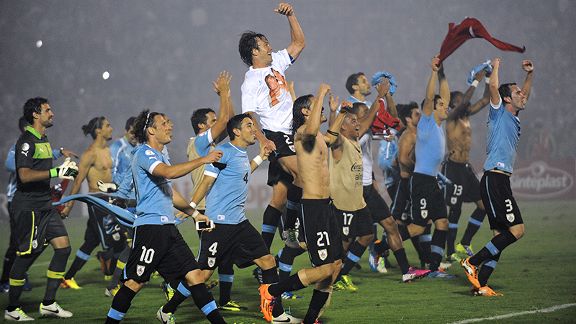 GettyImagesUruguayan players rejoice after booking their ticket to Brazil.
And so, the last shall be the first. The final place in Brazil 2014 goes to the hosts and winners of the inaugural 1930 tournament, Uruguay, who cruised past Jordan in the playoff between South America and Asia.

Uruguay also got South America's marathon World Cup qualification campaign underway. Back on 7th October 2011, they kicked off the opening game, at home to Bolivia, and were off to a flying start with a Luis Suarez goal after three minutes.

Theirs was a highly uneven campaign. With three big wins and two draws in the first five games, they set the early pace. Then they hit a wall with two draws and four heavy defeats in the next six games -- a disastrous run that at one point made it unlikely that Uruguay would even make the playoff spot. But characteristically, when the stakes were highest they dug deep and came good, winning four of their last five matches to ensure, for the fourth consecutive campaign, that they would finish fifth and have a shot at the playoff. This late run included away wins against Venezuela and Peru, direct rivals for the playoff position. In the context of a competition that featured just 13 away wins against 41 for the home side, these are immense results and testimony to the fact that the current Uruguay side should never be underestimated.

They are, it is true, never likely to blow anyone away with the scintillating quality of their football. They are a pragmatic, experienced side -- too experienced, some would argue, since there are some ageing limbs in a group which has largely been together since the Copa America in Venezuela nearly six and a half years ago.

But strikers Luis Suarez and Edinson Cavani are still full of running. Unlike most of their teammates, this pair are coming right into their footballing prime and are far closer to being the completed article than they were in the South Africa World Cup back in 2010. Cavani is practically a box-to-box striker. As well as being a thoroughbred goal scorer, his capacity for hard work and self-sacrifice makes him a symbol of the team ethic forged by coach Oscar Washington Tabarez. And Suarez, for all his excesses of temperament, has blossomed into one of the most dangerous attackers in the game, a defenders' nightmare with his pace, power, close control and utter unpredictability.

With this kind of strike power, Uruguay are always in with a chance -- as long as they can keep solid in defence. The story of that awful mid-campaign slump was one of a porous rearguard -- 15 goals were conceded in those six winless games. It was a reality check for the reigning Copa America champions and 2010 World Cup semifinalists. In open play, with an ageing side, Uruguay were there for the taking.

Tabarez responded by dropping the defensive line deep, with the midfield close by. There was plenty of space to launch Suarez on the counter-attack, and Cavani was fit enough to drop back to help the defence and still get upfield in support. This will surely be the template for the World Cup games -- or most of them. There may be a match -- or a situation within a match -- when circumstances will oblige Uruguay to come up with something more expansive.

They can try that, too. It is what Tabarez did in last week's first leg of the playoff against Jordan. Uruguay's coach read the situation perfectly. An inferior opponent, at home, would go looking for a first leg lead. With a pro-active approach Uruguay could score enough goals to kill off the tie at the first attempt. Essentially, that is what happened. Tabarez picked three attacking midfielders in his centrefield quartet; they were all on target as Uruguay ran up a 5-0 win, making the return game all but academic.

The crowd in the Montevideo's Centenario stadium gathered for a party on Wednesday night. They had something to celebrate -- Uruguay have qualified for back-to-back World Cups for the first time since 1986-90. But the occasion was a disappointment. Tabarez went with the same starting lineup. But this time they created few chances in a tame 0-0 draw. In part, this was down to the ease of the circumstances. The Uruguayan mentality appears to require a certain dose of suffering to work at full throttle -- and after last week's 5-0 win there was simply not enough tension in the air for the team to find its best form.

But also, this time they were against an opponent who was not going to press forward. Jordan's aim was to avoid humiliation. In doing so they reminded us of Uruguay's limitations. Tabarez needs no reminding and trusts that tournament nous plus top strikers will prove an effective formula next year.

The crowd, though, did have one goal to celebrate -- before the game, the stadium big screen showed the famous strike by Alcides Ghiggia that beat Brazil keeper Barbosa at his near post and won the 1950 World Cup. That, of course, was the previous time that Brazil staged the tournament. As hosts, Brazil were the first team confirmed in the 2014 competition. And now, their old nemesis Uruguay have grabbed the last spot -- a wonderfully fitting conclusion to the qualifiers.