Zlatan doesn't need the World Cup to be considered great
And that, for Zlatan Ibrahimovic, is that. Thanks to the explosive and decisive wonder of Cristiano Ronaldo, Ibrahimovic -- everyone's favourite car-racing, hell-raising, goal-scoring egotist -- will be taking next summer off.

He will not be in Brazil at the World Cup. He says he will not even be watching. Instead, no doubt, he will catch up on the DVD box set of "Wallander" he got for Christmas a few years ago, and with a fair wind he might even get round to cleaning the grout in the bathroom, too.

It would be easy to read a touch of melancholy into Ibrahimovic's assertion -- published on his App in the aftermath of Sweden's defeat to Portugal in Stockholm on Tuesday night -- that his interest in the World Cup is now at an end. It would be easy to claim that such disdain is a defence mechanism, something to mask his disappointment. It would be easy to think that he is as sad that he will not be in Brazil as the rest of us are. It would be easy to ask how he will console himself after this setback.

Though it all might be so easy, it would also be misguided. If Ibrahimovic feels at all despondent in the course of the summer, if he accidentally tunes into Iran's group game with Ecuador while he's trying to find a rerun of "The Brittas Empire", then he need only wander over to his trophy cabinet -- it seems a safe bet he's got one -- and cast his eye over the 10 league championship winner's medals he's picked up in the past 11 years.

Ibrahimovic's bold assertion that the World Cup needs him to be of any merit whatsoever is clearly an exaggeration. Sure, it would have been nice to see him there as he enters what might be termed the autumn of his career, peacocking and showboating and generally being Zlatan, but what with Lionel Messi, Ronaldo, Falcao, Mesut Ozil, Wayne Rooney, Neymar, Franck Ribery, Andres Iniesta and all the rest, the World Cup will probably cope just fine in Zlatan's absence.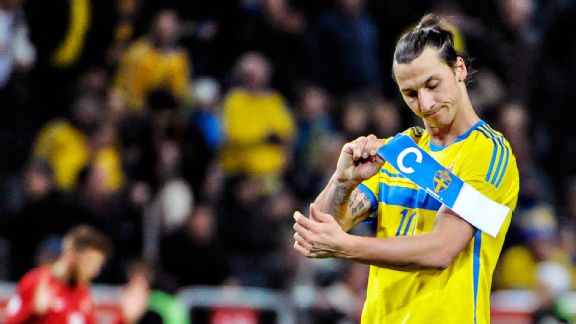 Erik Martensson/AFP/Getty ImagesThe days of football's biggest stars needing to prove themselves at the World Cup are long gone. Zlatan will be just fine.

But what is absolutely certain is that Ibrahimovic does not need the World Cup. Football has moved on from those days when a player's performance at the game's quadrennial showpiece defined his place in posterity. That logic was borne of the fact that it was only at World Cups that the elite came face to face, the sole chance for those vying for the crown of being the world's best to meet in pitched battle.

When Brazil faced Portugal at Goodison Park in 1966, for example, it was the first time that Pele and Eusebio – the best player in South America and the finest in Europe – met in competitive action. Eusebio's Benfica beat Real Madrid, home of Alfredo Di Stefano and Ferenc Puskas, in the 1962 European Cup final. Eusebio and Puskas would meet again in the quarterfinals of the 1965 tournament, but that was it. The four greatest players of their era battled directly just a handful of times.


Or take Johan Cruyff and Franz Beckenbauer, who faced each other in the 1974 World Cup final, a little more than a year after Cruyff's Ajax had dismantled Beckenbauer's Bayern over two legs in the European Cup, but the story was much the same. The best only very occasionally faced the best. It was at the World Cup where they could be directly compared.

That is not true anymore. How many times have Ronaldo and Messi played against each other? Dozens since Ronaldo joined the Argentine in Spain. But the phenomenon is not limited to La Liga, either: With Ibrahimovic's peripatetic career taking him to Italy, Spain and now France, he's played against all of his world-class peers on a host of occasions. He does not need a World Cup to decide his place in the pantheon of modern greats. The Champions League has done that already.

Indeed, Ibrahimovic is actually rather an apposite case study. His record in major tournaments is, in truth, average at best. He managed just 16 minutes in the 2002 World Cup. Though he featured more regularly four years later, he didn't score and Sweden were eliminated. They were not there in 2010 and will not be there in Brazil. As Zlatan himself has said, that is that: He will be 37 years old in 2018 and does not expect to be in the national team when it rolls around.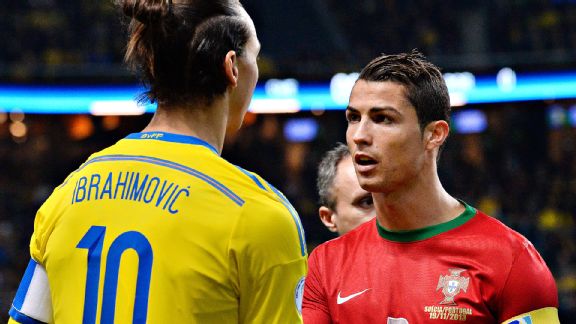 Jonathan Nackstrand/AFP/Getty ImagesIt's a shame that Cristiano Ronaldo's brilliance came at Ibrahimovic's expense. But the Champions League has forged both men more than any international tournament.

He has fared rather better in the European Championships -- he scored twice in 2004, including that wonderful back-heeled volley against Italy, and twice in 2008, and he was voted into the team of the tournament in 2012 -- but it would be a stretch to say he has been the star of the show in any of them.

If we're honest, all of that is because of an accident of birth. It would be unfair to bemoan George Best's misfortune in never going to a World Cup, simply by virtue of the fact he was Northern Irish, but then berate Ibrahimovic because he has never starred at one. Like Best, he is at the mercy of the calibre of his teammates. He cannot be expected to win a tournament effectively on his own.*

Club football, on the other hand, is a little less arbitrary and a little more meritocratic. Ibrahimovic has the trophy haul his talent deserves -- though the Champions League is conspicuous by its absence -- because he has been able to play with his (almost) equals.

And that is precisely the point. When you think of Ibrahimovic, do you class him as one of the modern greats? He might not be like Messi and Ronaldo, the sort of names who will echo through the ages, but Ibrahimovic has certainly been one of the finest players of the last decade, a serial winner, a force of nature, a talisman and a standard-bearer.

Or do you think: "No, forget all the goals and trophies and league titles. International football is the best barometer. So, strictly speaking, I've always viewed Ibrahimovic as a poor man's Angelos Charisteas." If so, then your dedication to football's old-world maxims is admirable.

But this is the modern world, and in the modern world, Ibrahimovic does not need the World Cup. He has forged his legacy elsewhere.

*It is a curiosity that the sides that have won tournaments against the odds have either had no stars at all (Greece, 2004) or one or two relatively up-and-coming ones (Denmark, 1992). From an underdog's point of view, perhaps having one established superstar is worse than having none.