After qualifying chaos, Kovac restores Croatian pride
After referee Bjorn Kuipers blew his whistle for the last time that night, Niko Kovac turned to his brother (and coaching assistant) Robert and embraced him in joy. Then he faced the ecstatic and throbbing crowds that chanted his name, clenching his fists like a fighter atop the ropes after a long and exhausting prize fight and punching in the air. The feeling was easy to read from his weary face. The relief.

"It is hard to find words to express how I feel right now," said Kovac in the aftermath of Croatia's playoff victory over Iceland.

"This ten day spell was the most difficult in my life. I knew what was coming before I decided to take the chance and lead this team. But, I never lost belief in these players."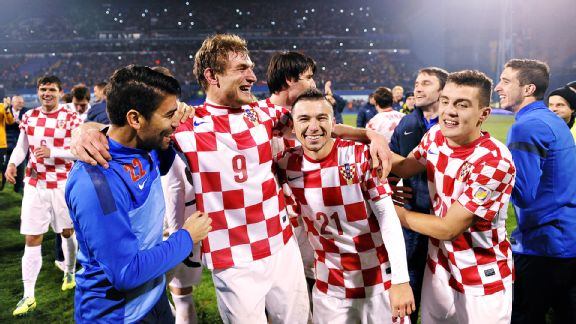 AFP/Getty ImagesCroatia rallied to a World Cup spot and restored some deeply damaged national pride in the process.

But, the rest -- or at least most -- of the nation did. More than 15,000 seats (roughly 40 percent of total capacity) at Zagreb's somewhat quirky Maksimir stadium were empty for one of the most important matches in Croatia's recent footballing history.

The responsibility for this partly falls on the Croatian FA, led by legendary striker (and not-that-good bureaucrat) Davor Suker, and the current state of the nation's football. The domestic game is struggling in transition due to privatisation, catastrophic administration, incompetent leadership and match-fixing troubles, all of this causing fans to turn their backs and renounce their support.

Last year's controversial appointment of Igor Stimac as national team manager certainly didn't help.

His previous coaching experience was limited to two seasons of Croatian relegation battles and assorted punditry for national television. Under Stimac's guidance, the national team was simply slipping into mediocrity. A team that was considered to be one of the world's rising powers began to fell apart.

Arrogant and stubborn, Stimac experimented endlessly with different systems, rarely playing the same lineup in consecutive matches, introduced and insisted on using his players and the downward spiral was obvious. After the country briefly rallied behind a unifying cause -- defeating arch-enemies Serbs in their two qualifying matches -- the fans rejected him.


The qualification campaign for Brazil 2014 was the worst in the nation's history, failing to win in its final four group games, losing to Scotland twice, Belgium at home and winning the point in Belgrade.

What hurt fans most was Stimac's approach. From the pride of the country, one of the synonyms for the courage and braveness, Vatreni, became the terrified and indifferent bunch waiting to be slaughtered.

Suker needed to do something radical, so he threw Stimac under the bus. The ex-West Ham and Derby County player wasn't just axed, either; he was marked as the one and only problem that the national team had in the qualifiers.

With a playoff berth secured, Suker's idea was quite simple. When it came to individual quality, Croatia could still boast one of the best squads in Europe. After all, the likes of Luka Modric, Mario Mandzukic, Ivan Rakitic and Dejan Lovren play key roles for their respective (and successful) clubs. Given the losing atmosphere, removing Stimac was a vital psychological boost.

Further proof of this theory could be seen in the man chosen to navigate the team through the wild playoff waters. Prior to his appointment, Niko Kovac had almost no coaching experience. He managed Red Bull Salzburg's reserve team at one point and also led Croatia U-21's for a total of four matches. That was it.

But what Kovac had was what Croatia needed the most. As a player, Kovac was the leader of his generation, the coach's invisible hand on the pitch, the guy who knew how to motivate his teammates and made them perform their best. He had charisma.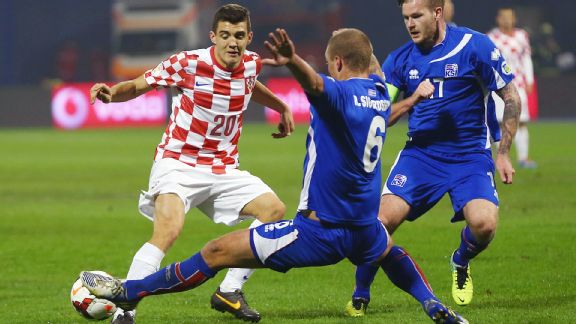 Alex Grimm/Getty ImagesYoung Mateo Kovacic gave Croatia a winning dimension vs. Iceland, proof of Kovac's tactical nous.

When the draw awarded them Iceland, the Croats regained their confidence. With the new coach, his modern vision, a top quality team and a dangerous but beatable opponent, nothing could go wrong. But, the first leg 0-0 draw in Reykjavik -- one in which Iceland played with ten men for much of the second half -- exposed some old problems regarding a lack of ideas and creativity in the middle.

Yet despite immense pressure, Kovac passed Tuesday's second leg test in style. He introduced young Mateo Kovacic instead of Eduardo behind Mandzukic, giving his side a new dimension. The 19-year-old Inter Milan midfielder showed maturity and relished the responsibility, opening up space for Modric and Rakitic to shine. More importantly, Kovac managed to restore the sparkle in the eyes of every single Croat on the pitch, the pride that led the team even with playing a man down for most of the match after Mandzukic's dismissal. In short, they were everything Croatia ought to be.

"We showed the mental strength that was always one of our strongest weapons," Kovac said after the match. "We were mentally united. This is the idea how things should work. A modern and fast passing game, mobility and ease, passion and spirit. This is the idea, and we have the players to do it."

Though Iceland was defeated in triumphant fashion, the two games confirmed some old and exposed some new flaws. Not just on the pitch, but off it as well. After Tuesday's win, Josip Simunic stole the headlines with some more than inappropriate celebrations. The Australian-born defender celebrated the win by shouting Za dom spremni together with excited fans, the war call used by Croatia's pro-nazi puppet regime that brutally ruled the country during World War II.

FIFA and UEFA both consider this chant to be offensive and punishment is surely guaranteed in due course. To their credit, national media outlets roundly condemned Simunic, calling him a disgrace, but the man himself continues to justify his line as "patriotic." Kovac, who refused to comment the issue, will have to learn to deal with this and to distance his players from the politics, which is a difficult but common task in the Balkans.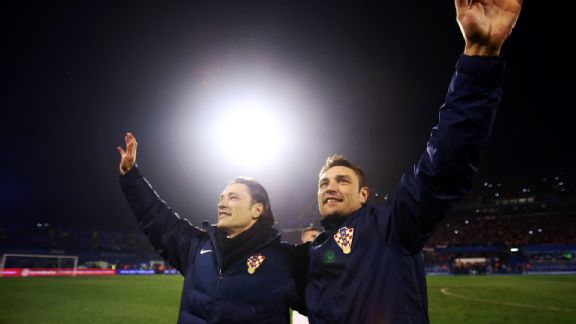 Alex Grimm/Getty ImagesNiko Kovac, left, and brother Robert defined Croatia as players. Together, they rallied the next generation to an improbable World Cup berth.

In his favour, Kovac is nothing like his predecessor. At his first press conference in July 2012, Stimac ironically predicted a march to becoming world champion. The new leader has different goals, but a different approach as well. His words are measured and balanced.

"We need to analyse things, take things step by step. First, we must introduce the same system to our youth teams, develop the game for the future. And Brazil? We'll be ready."

Kovac's Croatia is a work in progress, but there is no doubt that this young coach in the dawn of his career already achieved something. For the time being at least, he has brought football back to the Croats.