Three Things: Sweden vs. Portugal
Here are three thoughts from Portugal's thrilling 3-2 (4-2 aggregate) playoff win over Sweden:

1. 11 vs. 11 becomes a game of one-on-one

Ever since the draw was made, the focus was relentless: Sweden's enfant terrible/human highlight reel against Cristiano Ronaldo, the head-and-shoulders best player in the world this year.

Not only has Ronaldo scored more goals in 2013-14 (66) than Arsenal, Liverpool, Man United and Man City -- according to some cheeky souls on Twitter -- but he has now eclipsed his Scandinavian counterpart when it mattered most in this most tense of playoff ties.

Nursing a narrow 1-0 lead from the first leg (yeah, it was Cristiano), Sweden had no answer for his off-the-ball movement and the intelligence of Portugal's passing from deep in midfield. It didn't help the home side's cause that Erik Hamren had his back four playing a dangerously high offside line, one that was never straight enough to trap the Real Madrid star behind the last defender.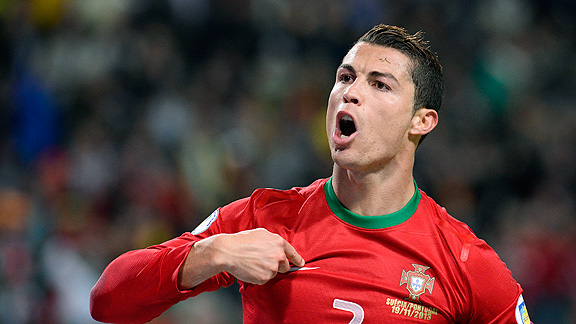 Jonathan Nackstrand/AFP/Getty ImagesRonaldo almost single-handedly carried Portugal to the World Cup.
All three of Ronaldo's goals -- which means he is now level with Pauleta's national team record of 47 -- came from chaos caused by his pace and intelligence. His first on 50 minutes capped a superb move that involved Pepe, Raul Meireles, Nani and Joao Moutinho, with the final ball thumped beyond Andreas Isaksson without prejudice.

The second was even simpler; as Sweden committed men upfield, Hugo Almeida's hooked ball over the last line of defense was met by Ronaldo tearing down the left wing and capped with another cool finish.

Then, after Moutinho won possession wide on the right, his weighted pass between Per Nilsson and Mikael Lustig found the Portuguese captain, who rounded Isaksson and thundered the ball into the roof of the net.

Beyond their obvious art, what made the second and third goals so special was the context: They came in a three-minute flurry after an equally gorgeous brace by Ibrahimovic -- a powerful set-piece header and a brutal low free kick -- had given the Swedes a glimmer of hope.

The world's beautiful game distilled into a GIF-friendly bout of H-O-R-S-E.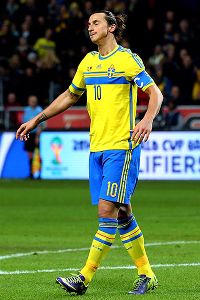 Martin Rose/Getty ImagesIbrahimovic's second half brace was not enough for Sweden.
About Zlatan: Having dragged PSG to several precious points and big wins this season, it was no surprise to see him haul his national team to the World Cup precipice. Oh, was he mocked for his first-leg futility, not breaching the opposing penalty area once.

Tuesday's first half brought mild menace, setting up Sweden's first shot on goal after 42 minutes by chesting it down for Kim Kallstrom to fire tamely at Rui Patricio. Then, on the stroke of half-time, a wild close-range volley flashed over the bar with Portugal's set-piece defending in disarray.

But Ronaldo couldn't be cowed, not even with some 50,000 fans willing him ill. To kill the contest with such elegance was what we've come to expect from Portugal's talisman. As he celebrated the decisive goal with an exuberant gesture -- one that implied "this is my pitch, I'm the king" -- TV cameras caught Zlatan's begrudging, respectful applause.

Two masters had entered, fighting hard and fair. And now, the most masterful one -- the most deserving one -- will be at the World Cup next summer.

2. Does it even matter if Portugal is a one-man team?

It's cruel to say that the land of Moutinho, Pepe and Nani is solely reliant on Ronaldo. But it's also not far from the truth. Without his goals, who would provide the firepower required to lift a nation?

Not Hugo Almeida, a passable target man. Not Helder Postiga, injured during the pregame warm-up. Not Silvestre Varela (still too raw), not Nani (too peripheral) and definitely not, say, Bebe (sorry).

And yet there's a prudent question: When your "one man" is the best in the world, is it really a problem? Such is Ronaldo's ability to bend a game and break an opponent's spirit, Paulo Bento could be forgiven if he isn't as eager to tinker and develop a plan B as Alejandro Sabella and Gerardo Martino have while trying to survive without Lionel Messi.

On balance, Portugal function quite smoothly as a team. Pepe anchors an unforgiving back four, Rui Patricio is more than adequate between the posts -- though flummoxed by both Ibra finishes on Tuesday night, his close-range save from Sebastian Larsson's 48th-minute toe poke was supreme -- and a coterie of artful midfielders in Moutinho, Meireles and Miguel Veloso has more than enough nous to sit deep and pick out Ronaldo anywhere, anytime on the pitch.

Ronaldo's movement opened few opportunities for others -- as Michael Cox noted on Twitter, he spent so much time in the first half moving in from his nominal wide position that Hugo Almeida simply ceded the territory and drifted to the flank -- but his finishing is, on any day, so sharp that it doesn't matter.

Portugal will find inevitably themselves stymied at the World Cup as teams train and learn to harass Cristiano into oblivion, with the hope that his occasional petulance overtakes his game-changing talent. And there's plenty of time for Bento to tweak and tinker so that this singular plan isn't also their downfall. (Imagine, dare I, if he picks up an injury in the spring.)

In the meantime, Ronaldo won't care. And why should he? His team's going to Brazil. Is yours?

3. A sad farewell for a Swedish legend

While we wait anxiously to see if Ibrahimovic, at 32 years old, has another World Cup cycle in his aging legs, Tuesday's defeat almost certainly spelled the end of Anders Svensson's international career.

Aged 37 and with 148 national team caps to his name, Svensson won't be doing this again. Watching his second-half cameo, it's perhaps easy to see why, bypassed as he was in midfield time and again.

It was hard not to feel sorry for his shadow-chasing effort. After he came on at the interval for the subdued Rasmus Elm, it took 15 minutes for Svensson to get booked for hacking Joao Pereira down as Portugal mounted another quick break.

Barely four minutes later, referee Howard Webb perhaps thought better of showing a second yellow as the veteran shoulder-barged Ronaldo off the ball in the left corner, coming closer to the sideline than he did the ball.

Ultimately, Svensson's story of longevity and grit deserved a better ending. It was a reminder of football's brutal simplicity.