Rossi-Balotelli must lead 'open face' Italy forward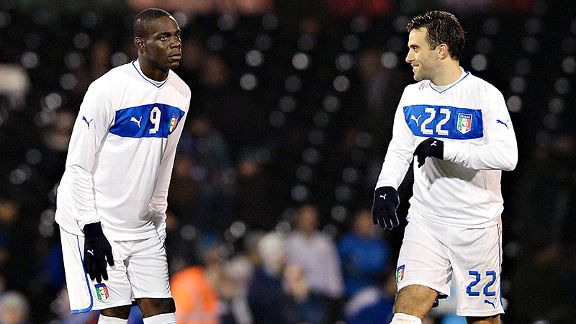 Claudio Villa/Getty ImageMario Balotelli and Giuseppe Rossi are the future of Italy yet have rarely featured together. Against Nigeria, the pair showed their potential.
"What memories!" said Nigeria coach Stephen Keshi, who was in a reflective mood ahead of Monday night's friendly with Italy at Craven Cottage. The former defender had been on the bench, ruled out with an injury, when the nations last met in the quarterfinals of the 1994 World Cup in the United States.

"It was our big chance," he sighed in recollection in an interview with La Gazzetta dello Sport. "A game that could have changed our destiny and that of African football as a whole."

It wasn't to be. "We fell a minute from the end," Keshi said. "We were a very strong team, but inexperienced. And you had Roberto Baggio."

At New England's Foxborough Stadium, Nigeria led 1-0 at halftime on a goal by Emmanuel Amuneke. In the 88th minute, Roberto Baggio struck for Italy, stroking a shot into the corner, to take the game to extra time. The architect of Nigeria's downfall, it was Baggio's lobbed pass for Antonio Benarrivo, who went down after a push in the back, that led the referee to award a penalty in the 102nd minute. Baggio scored the PK to knock Nigeria out.

"I expect us to suffer a little less than in '94," Italy coach Cesare Prandelli said on the eve of this game. There's no sudden death in friendlies, after all, yet that didn't stop their Monday clash, an end-to-end 2-2 draw, from being a thrilling encounter.

So much of the buildup to Monday's game had been about the prospect of seeing Giuseppe Rossi and Mario Balotelli playing together up front for Italy. This has been Prandelli's intention all along; before his first match in charge, another friendly in London against Cote d'Ivoire at West Ham's Upton Park in August 2010, he announced that this partnership was the future of Italy.

Balotelli started in that 1-0 defeat, replaced after 58 minutes. Rossi came on after that. Fifty games later, they have featured together from the kickoff just once -- a 1-1 draw with Romania in which neither scored -- and played alongside each other for only 77 minutes.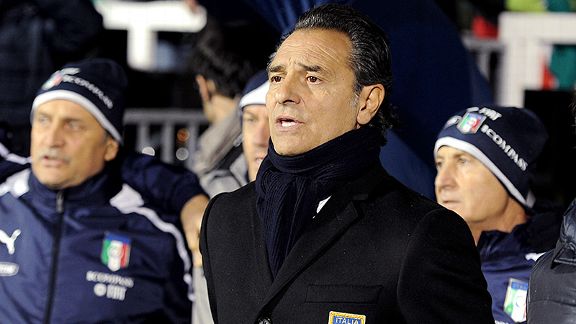 Claudio Villa/Getty ImagesCesare Prandelli's side no longer plays the stifling "catenaccio" of old, favoring a more open style. Monday's draw didn't faze him one bit.

Circumstances have conspired to keep them apart, not Prandelli. Though father-like with Balotelli, the Commissario Tecnico wasn't afraid to discipline his young padawan at the beginning of his reign, applying the ethical code whenever Balotelli was suspended with Manchester City and leaving him out if he wasn't performing.

Meanwhile, Rossi had partnered with Antonio Cassano through much of qualifying for Euro 2012. By the time Balotelli got on the straight and narrow -- or at least started responding to what Prandelli wanted from him -- Rossi had suffered a serious knee injury that would require two surgeries and keep him out for 18 months.

Given the wait to see them together, it was encouraging to see how they combined in the early stages against Nigeria. Receiving the ball with his back to goal in the 12th minute, Balotelli held up play, turned his man and then released Rossi who, on his first start for La Nazionale in 773 days, bundled a shot past Nigeria goalkeeper Austin Ejide to score for the first time in Azzurro blue since his country's 3-0 win over Estonia in June 2011.

Balotelli should really have got in on the act himself. Out of sorts for AC Milan over the past month, he showcased some of his best football Monday night. In addition to the assist for Rossi, he had a curler of the kind he scored against Napoli, only for it to be blocked by a Nigeria defender on the edge of the box.

Soon afterward, he was played through by Riccardo Montolivo in what looked like the perfect ending to a wonderful counterattack, but Ejide blocked Balotelli's shot from an acute angle. The Super Eagles' goalkeeper had to be alert again just before the interval when Super Mario produced a sublime piece of skill, pulling the ball out of the sky, flicking it around on the spin to face the goal, and getting off a shot that Ejide came close to spilling.

Italy had been scintillating at times, as their combination play going forward was a joy to behold. At the back, though, they were in disarray. Maybe it shouldn't be too much of a surprise considering that Prandelli named a completely new back five and made eight changes in total to the side that drew 1-1 with Germany at San Siro on Friday. Germany hit the post twice and the crossbar once on that occasion, a cause of some concern. As we've become accustomed to under Prandelli, Italy play with a viso aperto (an open face) and Monday night was no different.

Nigeria equalised against the run of play in the 35th minute. Shola Ameobi floated a cross in from the left flank and was soon running over to celebrate as Bright Dike rose above left-back Manuel Pasqual to head beyond Salvatore Sirigu and score his first competitive senior goal for the champion of Africa. Like the New Jersey-born Rossi, he grew up in the U.S. too, in Oklahoma.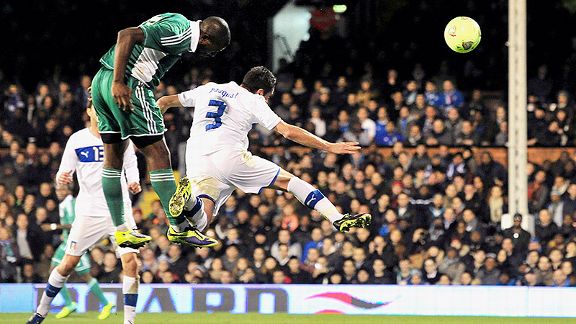 Glyn Kirk/AFP/Getty ImagesBright Dike, the U.S.-born striker and product of MLS, scored his first senior goal for Nigeria against Italy, profiting from a generous Azzurri defense.

Ameobi turned from provider to finisher just before halftime, brilliantly turning in a Francis Benjamin cross with a near-post volley. Despite playing Ethiopia back home in Calabar only 48 hours prior and sealing their qualification for the World Cup in Brazil with a 2-0 win (4-1 aggregate), the Super Eagles were soaring. Both their goals arrived from crosses that came from Italy's right, where Christian Maggio, playing in a back four, once again perhaps looked a little suspect as a full-back rather than a wing-back -- though it must be said he is improving in that role after the transition from a three-man to a four-man defence under Rafa Benitez at Napoli.

Italy equalised almost immediately after the interval. Balotelli had another effort saved -- he was having a night like the one against the Czech Republic in Turin when nothing would go in for him. Then Antonio Candreva set up Sunderland's Emanuele Giaccherini, both revelations at the Confederations Cup, to level the score in the 47th minute.

Few would have predicted there and then that the game would end 2-2. There seemed to be many more goals in this. Prandelli made a triple substitution before the hour mark as Andrea Pirlo came on with Parma's Marco Parolo and Bologna's Alessandro Diamanti for Thiago Motta, Montolivo and Rossi. All would make an impact. Parolo should have put Italy back in front when Ejide parried a Pirlo free kick at his feet; how Parolo managed to miss is still something of a mystery. A deflected shot of his would later hit the post. Diamanti, the liveliest of the substitutes, also took some paint off the crossbar.

Though unable to control the game -- it felt like the NBA at times, so end-to-end was it -- Italy pleased Prandelli. "We played a great game, creating many chances," he said afterward. "The result penalised us, but I'd always like to see performances like that. I liked Rossi and Balotelli. They found each other immediately. Our possession was sterile when we were 1-0 up. We should have scored the second goal then. A few months from Brazil we have many certainties. There's still some thinking to do and we'll do it. Besides, 2013 has been very positive. We had a good Confederations Cup [Italy finished third] and have had an important season."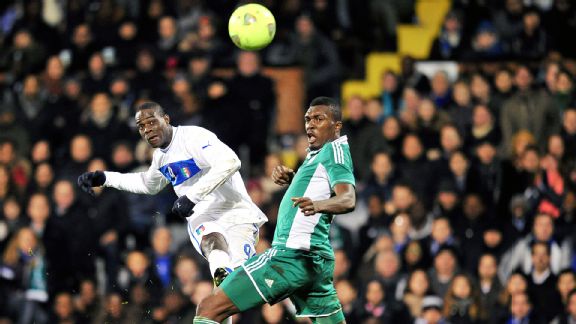 Glyn Kirk/AFP/Getty ImagesBalotelli was unlucky not to score vs. Nigeria given his superb all-round performance alongside Rossi.

Prandelli has learned a lot about his Azzurri team this year. Italy have played World Cup host Brazil twice, plus the likes of Holland, Mexico, Asian champion Japan, world and European champion Spain, South American champion Uruguay, Argentina, Germany and African champion Nigeria, losing only twice in normal time.

Sure, you have to wonder if Italy can aspire to lift the World Cup for a fifth time without the defensive solidity of old. Mind you, usually when it's the Juventus backline playing -- Gianluigi Buffon in goal, Leonardo Bonucci, Andrea Barzagli and Giorgio Chiellini in central defense -- they're fine.

Just don't feel too much nostalgia for catenaccio, though. Ask yourself, when did you last enjoy an Italy team more than this group under Prandelli? Think of the performances. Along with Monday's wild ride, the 4-3 humdinger with Japan comes to mind. The Euro 2012 semifinal against Germany, too. They've been a myth-busting, stereotype-inverting delight for three years now and will be fondly remembered whatever happens.