Germany's real opinion of Joachim Loew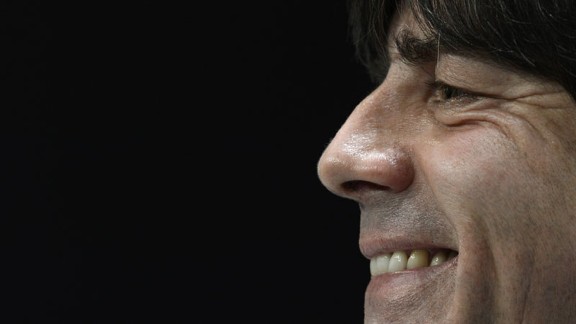 GettyImagesIs Joachim Low really as popular as some think?
Last week I told you where and how I spent a thrilling Wednesday night while the rest of the country was following Champions League football.

What I didn't tell you was that I had travelled down south to interview a few people who will, barring injuries, represent their country next summer in Brazil.

I don't mention this to make my life sound more exciting than it is. I mention it because of the reactions my mission elicited. When one of the people I attended the Munich derby with found out I was a sportswriter who would be talking to an international on the following day, he raised an eyebrow.

- Honigstein: Khedira injury one for Loew to ponder

Then he said: "Tell him that Loew sucks."

I said I would (but didn't) and then forgot about it until I came across the coverage given to national coach Joachim Loew on the occasion of his 100th game in charge, the 1-1 draw with Italy on Friday.

Hardly a piece published around that day failed to mention how popular Loew is over here. As early as January, three months after the embarrassing 4-4 draw with Sweden and long before qualification for the World Cup was secured, "a survey of a representative sample of the public" found that 69 per cent of Germans said Loew was the right man for the job.

Another poll, recently conducted by "Der Spiegel" magazine, revealed that the three men the German public considers to best represent all that is positive about the country are the Hertha fan who is hosting our version of "Who Wants to Be a Millionaire?", a chain-smoking elderly former head of state -- and Loew.

I don't doubt that these surveys and polls were done expertly. But somehow they don't reflect my own -- strictly unscientific and subjective -- studies. Because all I seem to hear when talk turns to the national coach are moans and groans.

I presume that's because many people I talk to are not a representative sample of the public but tend to have an unusually strong interest in football. Indeed, whenever surveys are made in a more specialist environment, Loew looks a lot less untouchable. Almost 72 per cent of the people who took part in a goal.com poll in October think Germany are in need of a new coach. Around the same time, almost 3,800 football fans cast their vote in a transfermarkt.de ballot. More than 62 per cent of them said that Loew's contract should not be extended. (Which it nonetheless was, two days later.)

This must be baffling to non-Germans. The image of the national team hasn't been this good -- and the football hasn't been this exciting and entertaining -- since the early 70s. And nobody this side of Spain has had better results than Germany since Loew took over. In fact, he is our winningest coach. Ever.

What he hasn't won, though, is a title. And it seems that the events of the past sixteen months have convinced many fans that he never will.

Back in mid-June 2012, as part of ESPN FC's coverage of the Euros in Poland and the Ukraine, I said: "One day, Germany coach Joachim Loew will make a wrong decision. However, as yet it's entirely unclear when that day may come."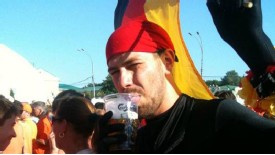 GettyImagesLow had the full support of most German fans heading into Euro 2012, but things changed after that.
These lines were written shortly after Germany's 2-1 win over Denmark. Sometimes I think they have jinxed the national coach. Because he's made numerous wrong decisions since, starting with the semi-final eleven days later.

The national magazine "Focus" recently said: "Since elimination from the European Championships 2012 at the hands of Italy, when the German team was tactically caught out, the number of Loew's critics has increased massively." I'm not sure if anything the Italians did on that day caught the team out. Rather, Loew's own tactics and formation were ill-advised, as he later admitted.

Four months later, Germany wasted a four-goal lead against Sweden and at least some of the blame was directed at the coaching staff who watched and did almost nothing when the game began to turn. Except taking off Thomas Muller, one of the best players on the pitch, and replacing him with silky-skilled Mario Gotze.

There was also the ill-fated USA trip in late May and early June. Finally, Loew's treatment of Leverkusen striker Stefan Kiessling during the past year has left many observers wondering and most fans bewildered. It is indeed dubious.

As I've said on a few occasions here, it's not the national coach's job to field the best players. Instead, he has to field the players he's most comfortable with. If that means snubbing a really good footballer, then so be it. Loew is certainly not the first Germany manager who likes certain players and dislikes others. In fact, you could say this is the blueprint Sepp Herberger created some six decades ago.

However, not being comfortable with a player doesn't mean you have to openly alienate him. That's not so much bad manners as bad tactics.

Nobody knows what will happen between now and the World Cup. Mario Gomez hasn't played in two months and Miroslav Klose appears to become more and more injury-prone. Kiessling may not be in their class, but he would have made for a half-decent emergency option. An option Loew has all but robbed himself of.

So you can understand why doubts have grown during the last year or so and why many people think that a team that has reached five of the last six semi-finals should at long last go all the way and actually win something.

On the other hand, the latent German grumbling must sound preposterous in the ears of someone who happens to support today's opponents, England. A team that cannot complain about getting knocked out in the semis simply because it hasn't made it that far since the mid-90s.

Also, who would be a better man for the job than Loew? A survey of a representative sample of the public would probably find that Jurgen Klopp is the people's choice, but he's just extended his contract until 2018. The only other candidate with a majority appeal is Jupp Heynckes, who said in February: "I don't have the ambition, I strictly rule that out."

And so Loew will soldier on, amid many raised eyebrows, and try to finally deliver the elusive title in Brazil, of all places, where the conditions will be more unfavourable than ever before for him and his team.

Then again, just imagine he really pulls it off! He would immediately overtake both the Hertha fan who is hosting our version of "Who Wants to Be a Millionaire?" and the chain-smoking elderly former head of state. And deservedly so.