Curiously, Messi's injury is Argentina's gain
Lionel Messi has brushed off far worse. Jose Caro's tackle was a breath too late, his leg stretched a little too far. Still, he did not make much contact. It was hardly brutal. It seemed like nothing. But his victim had needed to shift his body, to speed up, just a little to avoid the contact, and that was what did the damage.

Three minutes later, after less than a quarter of Barcelona's game at Real Betis, the world's best footballer was trudging disconsolately from the pitch. His replacement, Andres Iniesta, gave him a hug and offered a few words of encouragement. Betis manager Pepe Mel patted Messi on the head. He walked down into the dugout, and out of shot. We did not know it then, but he had torn a muscle in his left thigh. We did not know it then, but that is the last we will see of Lionel Messi this year.

Nobody gets injured quite like Lionel Messi. Not that he gets injured a lot, of course -- not since Pep Guardiola, upon his appointment at Barcelona, tasked physio Juanjo Brau with monitoring Messi's every move -- and not that he has ever, really, been injured seriously. Indeed, the remarkable goal-scoring statistics of both the Argentine and his Real Madrid counterpoint, Cristiano Ronaldo, are a tribute not only to their talent but also to their durability.

But whenever Messi does pick up a niggle, whenever he does miss a few games, the news is greeted with the sort of fearful panic that would normally attend reports that the Pope has been taken ill or a member of One Direction has been challenged with unusual ferocity by an Aston Villa striker. Garments are rent, hair is torn, nails are chewed, and the doom-mongers crow that he will never be the same again.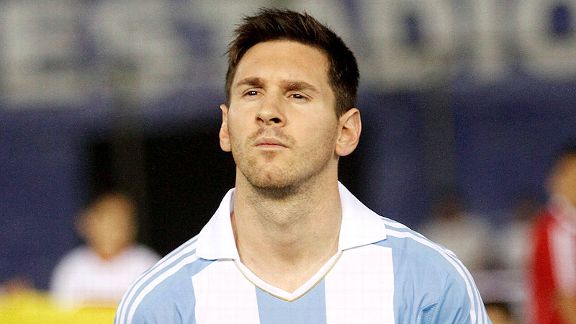 Gabriel Rossi/LatinContent/Getty ImagesLionel Messi's being sidelined for a couple of months could help Argentina next summer in its bid for another World Cup win.

It has been just like this recently, too. Fernando Signorini, a member of Diego Maradona's medical staff while he was manager of Argentina, has warned that "someone behind the scenes needs to understand that [Messi] needs to be managed" because the 26-year-old's desire to play all the time could place his long-term health in jeopardy. Others have claimed that Barcelona's decision to promote Brau above his day-to-day duties as Messi's personal physician to a more senior role has interrupted the player's routine.

That has brought a forthright response from Messi, from Barcelona and from those who are keen to downplay the significance of his injury. He admits the setback has made him "sad," but blamed it on nothing more than bad luck. "There was nothing strange behind it, nothing to look for," he told Ole, the Argentine newspaper. "People talk about these things without knowing what they are talking about. It is not true. A load of things are invented."

Barcelona technical director Andoni Zubizarreta has moved to assure fans that nothing has changed in terms of Messi's routine despite Brau's promotion. Former Barca defender Miguel Angel Nadal intoned in El Mundo Deportivo his belief that Messi can follow the example of his nephew, tennis player Rafa Nadal, to recover from injury and reclaim his status as the world's best player. Current teammates Jose Manuel Pinto and Jordi Alba have said much the same.

Nobody gets injured quite like Messi: for every note of panic, fear or anxiety, there is a soothing voice whispering sweet certainties and offering hope. The problem is that sometimes there's so much noise that it is impossible to separate the two.

Messi being injured is a bad thing. It is a bad thing for Barcelona because he is their best player. It is a bad thing for football in general because wherever you feel he belongs in the pantheon, he is the sort of footballer we will all tell our grandchildren we saw, and we have only a comparatively short time to appreciate his gifts.

Most of all, it is a bad thing for Messi because he likes playing football -- that is not in doubt – and the problem with the human body is that it is never like it was before. Every single time you get an injury, that muscle, joint or bone is weaker than it used to be -- a single, inevitable truth that is complicated by the fact that other muscles, joints and bones will then pick up the slack, placing them at an increased risk of becoming overburdened. Messi may not always look it, but he is human. No amount of sports science can change that.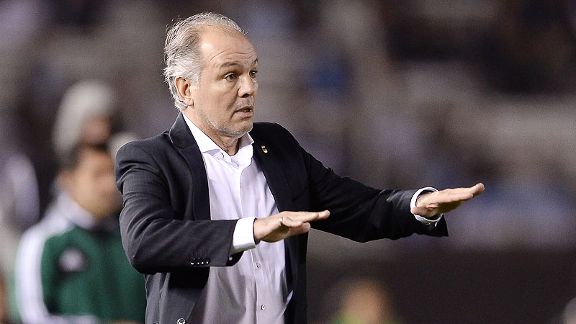 Buda Mendes/Getty ImagesArgentina coach Alejandro Sabella has already changed a lot to suit Messi. Now, he'll also benefit from having the Barca star well-rested.

But there is a positive in all of this. And that is for Argentina. National team manager Alejandro Sabella -- the latest man to be tasked with the job of enabling Messi to win the World Cup, which is seen by most as his birthright -- would not admit it, but the idea of his wonderful burden having a two-month break in the middle of the season is, well, kind of a good thing.

There are caveats, of course: This is the third injury Messi has had this season, and if that trend continues upon his return in the New Year, then Sabella -- like everyone else -- would have cause for considerable concern. But if this is it, if this proper break means Messi starts again in January, rested and relaxed, then make no mistake: Sabella is a beneficiary.

It is anachronistic to suggest that Messi needs to win a World Cup to be eligible for a nomination as the greatest player ever; the gold standard of football now is the Champions League, where the elite face each other every year (at least) rather than the quadrennial tournament that made legends of Pele, Maradona, Johan Cruyff and Franz Beckenbauer. But that does not mean Messi does not want to win it; more importantly, it does not mean that Argentina do not want to win it, either. The Albiceleste have not done so since 1986, and the 2014 World Cup is in Brazil. Argentina want to win it, all right, and to do that, Sabella needs a fully fit Messi.

The problem for Sabella's predecessors -- Jose Pekerman in 2006 and Maradona himself in 2010 -- is that Messi has not always reached the end of the season fully fit. Not injured, of course; just, well, exhausted. While it's true that he played only 25 times during the 2005-06 season as a relative rookie, since 2008 he has played 51, 53, 55, 60 and 50 games for Barcelona.

He would not have it any other way, of course, but it would be counterintuitive to the point of absurdity to suggest that the number of club games you play doesn't affect how you do in an end-of-season tournament. Spain's success in the past five years -- coupled with Barcelona's -- suggests it is not always fatal, but their style almost certainly helps. And besides, even they have had moments in each of those tournaments when the fatigue seemed to be setting in.

This season, because of his injury, Messi will not have nearly so many miles on his legs. Much has fallen into place for him with Argentina recently -- Sabella has changed the team's approach at Messi's behest, playing with three up front and encouraging his side to press higher -- and it has borne fruit. Messi, for one, seems much more effective for his nation now. It could be that his injury -- if it does not prove chronic -- is the final piece in the jigsaw.

It is a bad thing that Messi is injured. All of those voices prove as much. Yet next summer, he may finally have silence.