Put's shot at redemption with Burkina Faso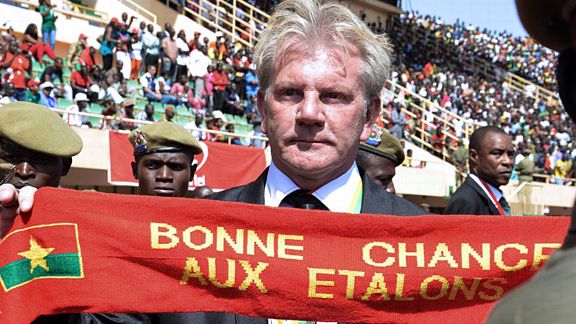 GettyImagesPaul Put has taken Burkina Faso to the brink of a first ever World Cup.
At a training camp on Morocco's Atlantic coast, Paul Put has been finalising preparations for the biggest match of his managerial career. He has already overseen Burkina Faso's footballing annus mirabilis -- their remarkable run to February's African Nations Cup final secured a spot in the country's sporting annals – but now he stands on the brink of eclipsing that achievement. Should Put's side overcome Algeria on Tuesday, Burkina Faso will reach their first ever World Cup.

After two qualifiers for Brazil 2014, backing Burkina would have seemed foolhardy at best. Games against Congo and Gabon had brought two defeats, the first awarded retrospectively as a 3-0 walkover after Put fielded Cameroon-born defender Herve Zengue, who it was later proved did not meet eligibility requirements. The accusations that accompanied the African Nations Cup campaign returned. Burkina's progress to the final in South Africa was, it seemed, a fluke after all.

Four successive victories later, however, and Burkina Faso had finished top of their group. If that turnaround left the doubters hoarse, the Stallions' 3-2 first-leg playoff victory against Algeria -- achieved thanks to a controversial late penalty from Aristide Bance -- has almost silenced them.

At the heart of Burkina Faso's success is 57-year-old Put, a man who has required not so much a steely determination as an iron curtain to withstand the levels of vilification he has faced in a tumultuous career. He has not had to simply endure the usual barbs and banter aimed at managers. His integrity has been questioned, his personality publicly dissected. But the vitriol has, to some degree, been deserved; six years ago, Put was found guilty of match-fixing.

While at foundering Belgian Second Division side Lierse two years earlier in 2005, Put claims pressure was put on him to affect the results of games in order to boost the club's coffers courtesy of the betting rackets of shady Chinese businessman Ye Zheyun. Put has admitted his guilt, but feels that many who were also complicit in the plague of match-fixing escaped punishment. Whether scapegoat or not, he was banned from managing in his homeland for three years.

Put -- who draws parallels between his situation and that of shamed cyclist Lance Armstrong -- became public enemy No. 1 and was unwittingly made the face of match-fixing in Belgium. But rather than throwing in the towel, he opted to seek solace in the very game that chewed him up and spat him out. With FIFA refusing to extend Put's ban to 'worldwide' status, Africa awaited.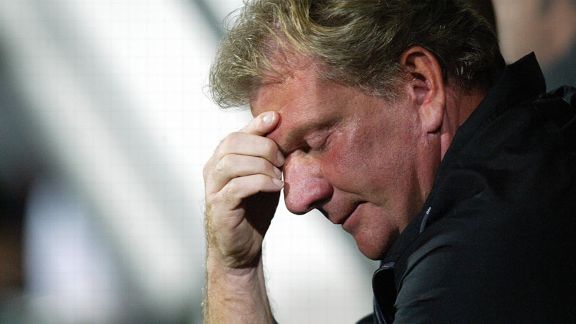 GettyImagesAfter being convicted of match-fixing, it appeared Paul Put's managerial career was over.
"What happened in Belgium was not my free will," Put tells ESPN. "The club was in financial difficulties and the management were proposing things to all the players, not only the coach. Unfortunately, the attention was more on me. It was very hard. I was the only one who was really been punished. I accepted it because it was the truth, though there were many difficult factors at work. I think it's exactly the same to what happened with Lance Armstrong -- there were a lot of things focused on him when so many other people were involved as well.

"Everytime I worked in Belgium I had good results and I had a good reputation. So when the media was writing all those things about me, it was very tough -- for my friends and family especially. I was offered a position with the Gambia national team and knew I had to take the chance. It was tough to leave my family and I have not always been able to live in good conditions in -- sometimes you don't have water, sometimes you don't have electricity, sometimes you do not have things to eat. But I had no choice and had to prove myself to those who always believed in me. I also wanted to prove to the Belgian people that I'm not like this man who was portrayed so it is great satisfaction that I have had success in Africa."

That success, particularly with Burkina Faso, has been a major surprise on the continent. Before narrowly losing to Nigeria in the AFCON final this year, Burkina's best previous finish in the tournament was fourth place, when they hosted the tournament in 1998. World Cup qualification had never even been close. Now it is oh so near; optimism is rising in Ouagadougou.

"When I came to Burkina, I had the belief that we could do something special," Put explains. "The first thing I worked on was team spirit and confidence; things grew a lot faster than I thought. We started asserting ourselves so that we don't wait and always talk about the opponents. The players respect everybody now, everybody is one group and they understand that if they don't work hard, you don't get results.

"A major change was to make things more professional. We have players who play in Rennes, Lorient and Marseille, they are used to high professional standards and they weren't getting those standards with the national team. I spoke to the sports minister, the president of the federation and we instigated changes. Little things, like when we are booking a hotel, I send somebody to check the accommodation to make sure it is suitable. I also brought people that I know – including a fitness coach and goalkeeper coach -- from Belgium. It has to be professional and there has to be discipline."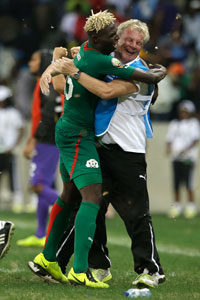 GettyImagesPaul Put's Burkina Faso stunned the football world by reaching this year's African Nations Cup final.
Put has developed into an expert at the art of defence having worked tirelessly for six years to guard against those who attack his reputation, so it is perhaps unsurprising to learn that it is at the back where his football team has proven most impressive on the pitch. Had the forfeited game against Congo gone down as its original 0-0 scoreline, Burkina Faso would have had the meanest defence in African qualifying, after going on to concede just one goal in their next five matches. They are not too shabby in attack, either, with Burkinabe wunderkind Bertrand Traore of Chelsea making waves and other Europe-based players such as Kuban Krasnodar's Charles Kabore and 2013 AFCON MVP Jonathan Pitroipa of Rennes helping enhance the reputation of a country long overshadowed by more illustrious West African neighbours Ghana, Mali and Ivory Coast.

Algeria's two strikes -- courtesy of Sofiane Feghouli Carl Medjani -- in the first leg may have come as a shock to the previously stingy Stallions but Put is convinced that his side have the belief and ability to come away with a result from Tuesday's second-leg showdown in Algiers, and a place at the World Cup.

"If I'm being honest, I was uncertain whether we could still qualify after the first two matches. Really it is a miracle we are here. If you start with zero points out of six it is very difficult because you know you have to win all four of those games. There was pressure on the team, particularly after the way we played at the African Nations Cup. But I told the players to confirm to the world what I knew, that they were strong and among the best in Africa.

"Against Algeria it was a great victory -- they have players from Inter Milan, Valencia, Sporting Lisbon -- they are an excellent team. You cannot imagine the reception we got; the people of Burkina Faso are so crazy about football. They have nothing in life, they live in poor conditions so football is what they breathe, football is what they eat and football is what they drink. It was the same after the African Nations Cup, if you cannot see the videos or the pictures, it is difficult to believe but I can tell you that it was incredible. I had the same when I played with Gambia in Senegal when we beat Senegal over there. We couldn't leave the stadium. They broke all the windows so we had to go by night by taxi to the hotel because our airplane had already gone. The next day we had to take another airplane and all the people, tens of thousands of Gambian people, had been sleeping on the ground at the airport to wait for the players and it was a huge celebration.

"It will be the same if we reach the World Cup. We are realistic and know that Algeria's two away goals makes it more difficult but we are ahead. They have participated three times at the World Cup and we have never. The pressure is bigger for them but now we are so close, we want to go to Brazil. I have played with Gambia in Algeria and I know the support over there is tough so intimidations will happen on the team, on the technical staff, on everybody. We have to try and make the players mentally prepared for these games because mentally, this will be a very hard game. If you can win the mentality on the pitch then I think anything is possible in football. To coach in Brazil, at the greatest tournament, this tournament of the elite, would be magnificent."

After six long years, just 90 minutes separates Put from a night of atonement in Algeria.