Positivity key in last chance saloon
Lisbon did not live up to the hype. The first leg of a World Cup playoff was hardly the right setting for a duel of two of the game's flashing blades. Caution and a lack of quality in the players other than Cristiano Ronaldo and Zlatan Ibrahimovic had too much of a say.

Ronaldo scored in the 82nd minute and, after a second half of dominating possession, Portugal finally had the Swedes reeling, though they must rue a later header rattling off the crossbar. The deficit that Sweden take back can be wiped by a single moment of Ibrahimovic magic, in a stadium nicknamed locally as the "Zlatan Arena."

Since the Friends Arena in Solna, northern Stockholm, opened, Ibrahimovic has scored 10 goals in eight games there, including the superlative quartet of strikes which humiliated England on opening night in November last year.

The mood of the megastars could not have been more different after the match at the Estadio da Luz. Ronaldo, clad in backward blue baseball cap, looked relieved, and was happy to talk to media. Zlatan, meanwhile, slunk through the mixed zone, waving away questions, using an oversized holdall as a means of psychic defence.

"It's going to be a complicated match and we have the minimum advantage and we know it might not be enough, but I have hope," Ronaldo said. "We will try and score a goal there and if we do it will make their task very difficult. Because they will need three goals."

Zlatan recovered his temper enough after his subdued evening to remember his responsibilities as national captain. And his confidence, too.

"We've got the measure of them now, and that's an advantage," he told a news conference back in Sweden on Saturday. "It's the last game before the World Cup now, and from what I've heard it's going to be a full house. Get behind us and we'll make it. We fought hard and well, then one mistake -- one goal."

With so much on the line, Stockholm might provide the match that was anticipated when the pair were drawn together last month. An early goal from Sweden should place matters on the knife edge that neutrals desire.

While their megastars were kept on the fringes, both teams proved themselves blunt instruments. The Portuguese passed well, but only up until the moment came to deliver a final ball. Miguel Veloso's cross for Ronaldo's diving header was pearl from swine, with Nani's contribution particularly porcine. Sweden, meanwhile, ended the first half looking quite comfortable, before retreating in the second.

Celtic defender Mikael Lustig was the recipient of the tenderest of Ronaldo head-butts, but had been rather useful in cutting off the supply line to the main man. Sweden's problems, especially in the second half, lay in their inability to make the ball stick to anyone but Zlatan. Long-ball tactics were worse than useless when growing fatigue restricted their abilities to push up in support.

Sweden's great hope became a distant satellite, never able to make the type of contribution that might trouble Portugal's central pairing of Bruno Alves and Pepe. A heat map from Friday's match revealed that Ibrahimovic never once had a touch of the ball in Portugal's 18-yard box. Thus it was that Sweden's best chances fell to Johan Elmander, Kim Kallstrom and Seb Larsson, rather than the man the Portuguese feared, judging by the boos that followed his every, brief touch.

Still, there was a sense that the Swedes were not utterly destitute in defeat. Aside from Ibrahimovic, the mood was positive. "I am very confident in our chances next Tuesday," said coach Erik Hamren. "I always felt we would qualify with a 2-1 [aggregate] win and that can still happen."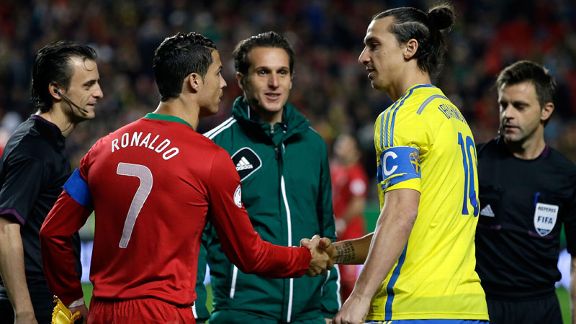 APSweden captain Zlatan Ibrahimovic shakes hands with Portugal counterpart Cristiano Ronaldo before the match in Lisbon.
Ronaldo & Co. arrived in Stockholm on Sunday to be greeted by a welcoming orchestra outside their Sheraton Hotel, all clad in Sweden replica shirts. It was a response to a brass band that parped throughout Friday's encounter, something that left the Swedish contingent bemused in Lisbon. The Portuguese looked amused by hearing the theme tune to Pippi Longstocking blaring into their ears. It probably took their mind off their obvious shortcomings, and the sense of opportunities missed.

While Veloso, Joao Moutinho and Raul Meireles assumed midfield control, and defence was solid, attacking deficiencies could yet prove costly. Helder Postiga had a poor night as a lone striker, though coach Paulo Bento refused to single him out.

"What is a fact for me, not only in this match but throughout qualifying, is that we had a load of chances and lacked effectiveness in front of goal," Bento said. "But good things are coming and I believe we will be better on Tuesday."

Portugal will indeed need to be better; Sweden cannot now retreat into their shell. Zlatan will surely see much more of the ball, though Ronaldo will not wish to be denied his say, either. The World Cup finals can offer a place to only one of them.