Khedira injury gives Loew plenty to ponder
"Genickschlag" is the word Joachim Loew used to describe the cruciate ligament injury suffered by Sami Khedira in Germany's friendly with Italy on Friday.

It translates as a "blow to the neck: a heavy, almost fatal hit." The Germany manager might have been a little overly dramatic with that assessment, but there's no doubt that the 26-year-old's lengthy layoff has come as a shock.

"I still have a glimmer of hope," Loew said when asked about the Real Madrid midfielder's prospect to recover in time for the World Cup.

- Khedira faces World Cup battle
- Train: Casemiro could fill Khedira void

But the outlook isn't good. A six-month rehabilitation process will give Khedira little to no time to feature in any competitive matches before the season is out, even if there are no complications. Loew and Germany will have to prepare for being without him in Brazil.

Khedira's absence will be keenly felt in a number of ways. First and foremost, the team will miss his athleticism. Of all the regular midfielders, he is easily the most robust and physical and he's also the only natural box-to-box player. His colleagues are either more technical and slower, or more one-dimensional and defensive.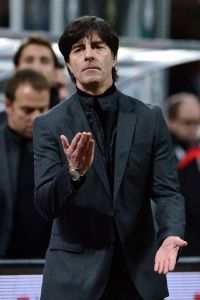 Giuseppe Cacace/AFP/Getty ImagesLow's midfield concerns continue to mount.
Loew thought he had enough on his plate worrying about the fitness of Bastian Schweinsteiger (who has not played since Nov. 5) and Ilkay Gundogan (Aug. 14), the first and second choices, respectively, for the slightly more advanced position next to Khedira.

Both are currently out of action and there's no clear time frame for their return. Khedira was supposed to be the anchor of this team.

But the void in the dressing room will probably be even bigger. A well-placed source close to the national team credited the former VfB Stuttgart player with bringing harmony and emotional balance to what was a fairly fraught camp during Euro 2012.

Khedira's "integrative skills" were highly spoken of in the corridors of the German FA headquarters in Frankfurt. Moreover, being neither a Bayern nor a Dortmund player allowed him to take a neutral view when problems arose with players from either club.

Having said all that, this situation doesn't appear quite as worrying as it did when Michael Ballack was ruled out of the 2010 World Cup with an ankle injury. A major tournament without "The Capitano" had seemed unthinkable at the time.

However, the combined efforts of Schweinsteiger, Khedira and Mesut Ozil proved so effective that the former Chelsea midfielder never played for his country again.

It's easy to forget that Khedira's success in the national team was a direct consequence of Ballack's demise: He only became a regular after excelling as the skipper's understudy in South Africa.

Four years later, Loew might not have a like-for-like replacement, but he has more options than any of his predecessors. It would seem his choices boil down to two tactical possibilities.

The first one is fielding a second deep-lying, elegant playmaker in Khedira's place. Any two from Schweinsteiger, Gundogan and Toni Kroos would fit the bill, provided they are all match fit.

It's not an unattractive proposition. Germany would in all likelihood keep and pass the ball even better. Kroos, as the more advanced pivot, would be able to shoot more, too, with a technique that is excellent.

However, there is a problem as well. In the embarrassing 4-4 draw with Sweden last year, when the Scandinavians came back from 4-0 down, Loew was taught a valuable lesson: A midfield can be too cultured.

Kroos and Schweinsteiger played beautiful football but completely failed to stem the tide when the Swedes resorted to long punts up the pitch. Khedira, tellingly, was missing with injury when Germany suffered that mother of all collapses in Berlin.

With that result in mind, Loew might be more inclined to forsake his idealism and opt for a defensive specialist. Leverkusen's Lars Bender is the obvious candidate, just ahead of his twin brother, Sven, of Dortmund.

Germany would not be as fluid with either Bender in the middle of the park, but the back four would certainly appreciate a genuine holding midfielder providing cover. You only need to look at the impact Javier Martinez had at Bayern last season -- or Mathieu Flamini's renewed importance at Arsenal in the current campaign -- to understand that the addition of an old-fashioned ball-winner can work wonders.

The loss of Khedira might well force Loew to adopt the pragmatic approach some of his critics have been demanding since Euro 2012.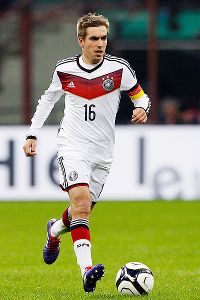 Boris Streubel/Getty ImagesCould Lahm be an option to fill Khedira's role?
Intriguingly, there is also a third option, one that seemed entirely far-fetched before the start of the season. Loew could follow Pep Guardiola's lead and play Philipp Lahm in the "number six" spot, as Germans call the position.

Only this week, the national manager explained that he saw his captain as a right-back going into the World Cup, but he could yet change his mind.

The player himself appears open to a permanent switch into the centre. Lahm can't match Khedira's physicality, to be sure. But tactically he offers the best of both worlds as a defensive specialist and a very fine footballer who passes and moves with impressive precision.

Loew played Lahm in midfield against Italy, as if he had known that the Bayern stalwart might be needed there in coming months.

The 30-year-old won't feature against England on Tuesday night -- he's been allowed to return to his club alongside Manuel Neuer and Arsenal's Ozil -- but we already know that Lahm can do it in the centre on a cold autumn night at Wembley: He made his midfield debut for the Nationalmannschaft in a 2-1 win against Steve McClaren's team back in 2007.

Lahm is by far Loew's best option to replace Khedira's position, but that doesn't mean he will play there. Germany's coach might well conclude, after weighing the pros and cons, that losing his captain in defence is too high a price to pay for making the best section of the team a little better.

Lars Bender could play as a makeshift right-back, as he did at the Euros, but Loew might well prefer Lahm's experience and reliability in the back four.

It will be interesting to see how the Bundestrainer approaches this conundrum. Tuesday's Wembley engagement might just offer him some pointers, Lahm's absence notwithstanding. Lars Bender will probably start at the heart of the team and get the first shot at becoming the new Khedira.

A good performance from the 24-year-old won't be enough, though. Whoever fills in at right-back -- Heiko Westermann of Hamburg or Schalke's Benedikt Howedes are the two likeliest options -- also needs to prove to Loew that moving Lahm out of defence doesn't, in fact, create a bigger problem than the one it purports to solve.