As expectations grow, Colombia remain a work in progress
Ahead of the World Cup, Colombia left an impressive calling card last Thursday with a 2-0 win away to Belgium. It was a score line to make the world sit up and take notice but one that could also cause Colombia a few problems.

Time and time again, Colombian football has found it hard to cope with the euphoria resulting from good results and performances. The biggest example, of course, is the 1994 World Cup side, which was picked out by Pele as one of the tournament favourites after inflicting on Argentina their first home defeat in qualification -- by the stunning margin of 5-0.

History records, of course, that Colombia were among the first teams to be eliminated from the World Cup, and that soon afterward, tragically and senselessly, defender Andres Escobar, who had scored an own goal against the United States, was murdered in Medellin.

Many different factors combine to explain this terrible event and the failure of what was an outstanding team but one of them was the difficulty of dealing with the hopes that had been engendered by that emphatic triumph over Argentina.

- Vickery: Uruguay's band of brothers
- Duarte: Marcelo interview

Five years later, at the 1999 Copa America, Colombia won all three group games. Tournament favourites? No, they were knocked out by Chile in the quarterfinal.

They won the next edition of the tournament, in 2001, without conceding a goal. Surely the team would go on to power through the final stages of qualification for the next year's World Cup? Instead they sagged back and missed out.

But my favourite example of Colombia's failing to live up to expectations comes from the South American Under-23 Championships at the start of 2000.

Colombia had played well during the group stage and, to make the decisive second round, just had to avoid defeat by a five-goal margin in their final game against hosts Brazil. On the eve of the match, I interviewed coach Javier Alvarez.

"It is not Colombia who need to worry about Brazil," he told me. "It is Brazil who need to worry about Colombia."

Alvarez left his best players on the bench -- and watched on in agony as his team lost 9-0. He was immediately sacked.

The current coach, former Argentina boss Jose Pekerman, is far too experienced to trip up on the same banana skin. He can be counted on to damp down any excesses of euphoria and he will certainly be reminding his men that World Cups are not won with victories in friendlies. It is always a mistake to read too much into such results, especially when the outcome could have been different.

Belgium, for example, smacked the post on two separate occasions and also wasted some other good opportunities.

The Colombian centre backs found it very hard to cope with the aerial threat of Aston Villa's Christian Benteke which, on another day, could easily have cost a couple of goals. Tuesday's game away to the dangerous Dutch will be another fascinating test of Colombia's defensive capacities.

There is also the sense that, in an ideal world, Pekerman would love to pick a team of 12 players. Much of this stems from the characteristics of Radamel Falcao Garcia. So wonderfully alive in front of goal, the centre forward is not particularly proficient at linking with others and joining in build-up play.

Thus, Pekerman is reluctant to play the Monaco man up front on his own. His usual strike partner is Teofilo Gutierrez, who is well able to work the channels. Against Belgium, Pekerman gave young Luis Muriel a chance.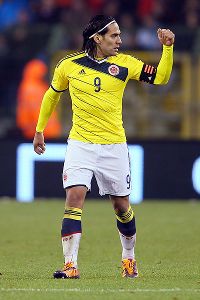 Christof Koepsel/Getty ImagesRadamel Falcao scored nine goals in 13 World Cup qualifiers.
Whoever is chosen alongside Falcao, playing two strikers puts a strain on the midfield quartet. Colombia played some of their best football in qualification with a pair of attacking midfielders operating in tandem; the superbly talented young left footer, James Rodriguez, and Macnelly Torres, whose ability to thread a pass places him in the great tradition of Carlos Valderrama as a No. 10.

However, with only four midfielders, Pekerman seems inclined to the view that Torres becomes a luxury he cannot always afford. He can certainly not have both Torres and the width and trickery of Juan Guillermo Cuadrado.

Thus, Torres is reduced to the role of substitute and the quartet is comprised of Rodriguez and Cuadrado, with Carlos Sanchez as the holding midfielder and Aldo Leao Ramirez (or Abel Aguilar) in a mixed role alongside him.

Perhaps a solution offered itself against Belgium. After coming on for Muriel with just more than half an hour to go, Victor Ibarbo crowned his first international match in three years with a splendid goal, Colombia's second.

In addition, the Cagliari player impressed with his strength, skill and versatility, which means he can stretch an opposing defence by operating as a winger on either flank, while also dropping back to help out in midfield.

Perhaps with Ibarbo in the starting lineup there is a chance of a five-man midfield behind Falcao, which would not only give increased defensive solidity but also supply extra options for associative short passes through the centre, which are always a characteristic of the best Colombian sides.