Exclusive: Left-back Marcelo ready to anchor Brazil
Luiz Felipe Scolari doesn't handle indiscipline well; Brazil legends Romario and Ronaldinho have felt the coldness of the manager's shoulder after getting him crossed. Different from those two, Marcelo has never won the World Cup and didn't manage to be a Brazilian national team great once Scolari reassumed the reins a year ago. Worse, his enfant terrible reputation was still lingering after a notorious episode three years ago in which he appeared to fake injury to avoid a call-up for a week of training sessions in Barcelona.

But if there's anybody who knows how to handle players with strong personalities, it's Big Phil. Under him, the Real Madrid left-back has been reborn for the Selecao to the point that Marcelo finally seems ready to step into the huge shoes left by Roberto Carlos after the 2006 World Cup. Love him or loathe him, it is undeniable that Carlos "owned" the left side of the defense (at least in theory). And since his departure from the national team, a procession of hopefuls have tried to lay a claim to the No. 6 shirt.

At present, Marcelo is in pole position to win this race. Although he is once again injured -- a left knee injury will keep him out of the Selecao friendlies against Honduras in Miami and Chile in Toronto -- even Maxwell, now set to start both games, knows he is only deputizing for the Real Madrid man. After all, Scolari has been more than vocal about his fondness for Marcelo.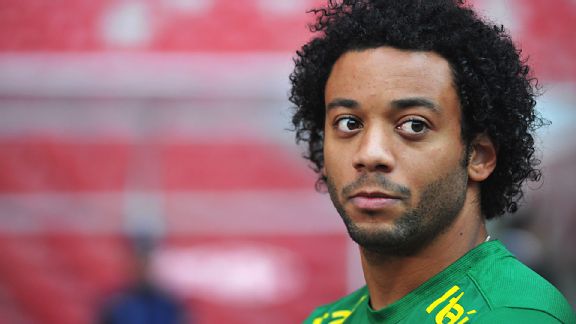 ChinaFotoPress/Getty ImagesIn an exclusive interview with ESPN FC, Marcelo didn't hold back on his feelings about Brazil, Real, Ronaldo and more.

"I am really happy to have Scolari's support, but it will only lead to a place in the team if I prove on the pitch that I deserve it," the left-back told ESPN FC in an exclusive interview. "Scolari wants commitment from the players, and I don't think anybody can just assume he will be selected. I'd like to think we need to earn our call-ups every week."

Rather than an epiphany, it was psychology "the Scolari way" that nudged Marcelo into calming down. More specifically, Scolari's decision to bench him to start Atletico's Filipe Luis in the prestigious friendly against Italy this past March. "It was a clear message that, even though Marcelo is arguably one of the best left-backs in the world, he would have to show desire," a Selecao insider revealed.

And boy, has he done just that. Apart from the Rio friendly with England in June -- an injury meant that Luis featured in that 2-2 draw at the Maracana -- Marcelo has started every game for Brazil, missing only October's rendezvous with Zambia in Beijing because Scolari made several changes after a bruising friendly with South Korea just three days prior.

Marcelo, however, is still seen as a bit of a loose cannon in Brazil. Journalists are a bit put off by his ironic tone in news conferences and the way he simply bypasses the lines of hacks in mixed zones. At the same time, this is a guy who manages to be best friends with two players who could not be more different: Cristiano Ronaldo and Neymar. It's probably a good thing that players don't take part in the Ballon d'Or vote; Marcelo would be in a serious dilemma this year, given that CR7 and the Barcelona starlet surely will feature among the five finalists.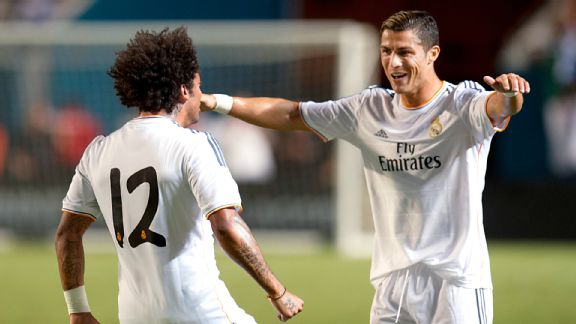 Don Emmert/AFP/Getty ImagesMarcelo, on Ronaldo: "Cristiano is the most complete player I have ever seen. And I think it's unfair he has not won another Ballon d'Or yet."

"It's funny when the press seems surprised that different players with different personalities have a good relationship. It's not rocket science. I respect people whatever their background is. I grew up in a poor family, but we were always taught that everybody deserved respect," Marcelo said.

That doesn't mean the left-back is a pushover, though, as several melees in matches for club and country will prove. The fact is that Marcelo has had to fight hard throughout his career, starting with the tough talent selection system in Brazilian football clubs and the fact that domestic youth academies still lag far behind European counterparts -- he depended on grandfather Pedro to afford the bus fares so he could attend training sessions at Fluminense.

He soon rose through the ranks and made it to the first team when he was only 18. It took him just 18 games to be crowned the best left-back in the 2006 Campeonato Brasileiro. In the same year, he also managed his first Selecao call-up, which he crowned with a beauty of a goal against Wales at White Hart Lane.

Suitors started knocking at Fluminense's door, but it was Real that easily won the race for the left-back in the January transfer window. "I was only 18 when I moved to Spain, and everything looked pretty scary. The responsibility of joining Real was immense," he noted. That the first teammate to step up and help him settle was Roberto Carlos, the man he idolized but at the same time was there to replace (let's not forget that Marcelo also pretty much ended Carlos' flimsy hopes of a Selecao return), made the arrival even more special. "Roberto invited me and my wife to spend New Year's Eve at his place and had nothing but encouragement to give me. I will never forget what he did for me," Marcelo says, visibly moved.

It's been far from fun and games at the Bernabeu, though. In Carlos' days, Real won three Champions League trophies and four La Liga titles, yet they still haven't had a proper shot at their 10th European honor in the Marcelo era, and last season's exit at the hands of Borussia Dortmund didn't help things a single bit.

"Everybody at the club was talking about 'La Decima' ('the tenth') when I arrived in Madrid, and they will not stop until we win it. But if the players get too affected by this pressure, it will be even harder. What happened last year proved how difficult the Champions League is," Marcelo explains.

Ultimately, Real's chances of success largely rely on Ronaldo's form, and Marcelo pulls no punches when talking about his temperamental teammate. "I never expected to have a chance to play with Cristiano because I thought Man United would make it really hard for him to leave. I feel blessed to play alongside him. Cristiano is the most complete player I have ever seen. And I think it's unfair he has not won another Ballon d'Or yet," says the Brazilian, stoking yet another fire as we chat.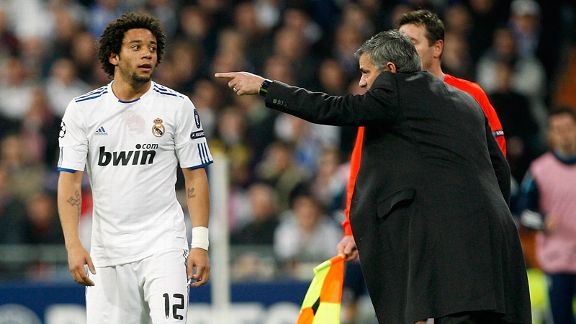 Helios de la Rubia/Real Madrid/Getty ImagesDespite rumors of unrest between Jose Mourinho and Marcelo, the Brazil left-back insists their relationship was just fine.

And what about Jose Mourinho? Marcelo makes sure his kind words for Ancelotti ("I am ready to help," he beams) are not interpreted as relief at the Special One's departure. It has been suggested the pair didn't enjoy the best of relationships during the Portuguese manager's spell in Madrid, mainly because of the signing of left-back Fabio Coentrao from Benfica in 2011 at Mourinho's request. Marcelo's effusive goal celebration in a preseason friendly against Chelsea raised a few eyebrows. "It's rubbish to say Mourinho and I didn't get along. He's a great manager, and one of his main qualities is to take you away from comfort zones. I am happy to have worked with him," he argues.

With the World Cup at the forefront of most footballing minds, living in Spain for so long has made Marcelo a prime witness to the mood in the Selecao and the Spanish camps. Before the Confederations Cup final, he told Brazilian journalists that La Furia's remarkable journey since Euro 2008 had not made them overlook their opponents' strength. Did admiration turn to hubris after the 3-0 drubbing in Rio this past June? "I have never seen an arrogant attitude from the players, who always talked to me with great respect about Brazil. But it is true that a lot of people in Spain thought they would beat us, especially in the media. But we would be wrong to assume our win has made Spain fear us more. It was just one game, a great result for the Selecao. It will mean nothing if we don't arrive with the same spirit in the World Cup."

Next year, Brazil and Spain might well meet again in a final. This time, their opponents could be reinforced with Diego Costa, a striker with whom Marcelo shared time on the pitch for Brazil earlier this year. While assessing the Atletico Madrid's striker defection, Marcelo uses diplomatic tones about respect for personal choices. "Diego did what he thought was better for him and his family. We all need to understand that."

But before he leaves, Marcelo can't resist one final sting. "I wake up every day thanking God for having been born in Brazil, the country that won five World Cups."

Classic Marcelo.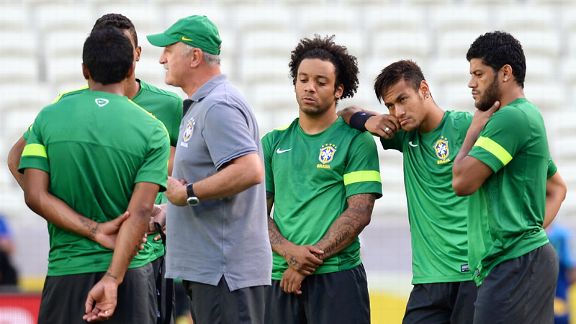 VANDERLEI ALMEIDA/AFP/Getty ImagesMarcelo has Scolari's full backing despite his recent injury struggles and figures to make an impact at next summer's World Cup.
Heroes and villains of the Brazilian left
2002 World Cup winner and Real Madrid legend Roberto Carlos is far from the only shadow hanging over Marcelo, as left-backs are among the most revered names in Brazilian football, for better or for worse.

The Master: Nilton Santos was more than an integral part of the 1958 and 1962 Brazil World Cup-winning squads. His attacking instincts pretty much set the blueprint for the marauding full-backs Brazilian football would become famous for. With 75 caps over three years, he scored only three goals for the Selecao, but his Roy of the Rovers run against Austria in Sweden '58 remains the stuff of dreams. At 88, he struggles with Alzheimer's disease but remains an example of professional devotion: In his 16-year career, he played only for Rio side Botaofogo.

The Jack-of-all-trades: Leovigildo Gama Junior might not have won the World Cup in his two attempts, but he's still remembered as one of the Selecao greats. Part of the 1982 World Cup squad that dazzled the public and media despite losing to Italy in one of the most thrilling football games of all time, he switched to midfield in Mexico four years later. Bred in Rio's beach football circuit, Junior became a beach soccer pioneer, winning six world titles. Tried to work as a manager but had brief spells with Flamengo and Corinthians. These days, he is a TV pundit.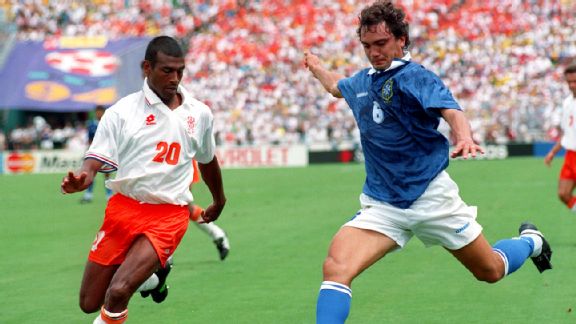 Shaun Botterill/ALLSPORT/Getty ImagesBranco never quite gained the high praise of other left-backs, but he was outstanding at the 1994 World Cup.
The Unsung Hero: A talented and strong left-back who was instrumental in Junior's move to midfield in 1986, Branco played in three World Cups for the Selecao, gaining notoriety for the allegations that Argentine players drugged him and his teammates during their round of 16 match at Italy '90. Brazilians will remember the unsung hero of USA '94, when -- after almost being dropped from the tournament because of physical problems -- he whacked a free kick past Ed de Goey, the winning goal in Brazil's 3-2 quarterfinal win over the Netherlands.

The Kickboxer: The shove of a referee by the then PSG director looked out of character? Well, in USA 1994, Leonardo actually sent a fellow professional to hospital: He viciously elbowed Tab Ramos in a tighter-than-expected knockout stage match on July 4 in San Francisco. Leo was sent off and suspended for four games, which forced manager Carlos Alberto Parreira to summon Branco for a certain game against the Dutch. Leonardo returned to the national team for France '98, this time as a useful - and peaceful - right midfielder.

The Failure: When the call-up came for the friendly against England in October 2009, Michel Bastos was surprised that manager Dunga wanted him to play as left-back, for Bastos was largely used as a midfielder for LOSC Lille and Olympique Lyon. From there, Dunga and Bastos were soon exposed: Bastos was skinned by Arjen Robben in the 2010 World Cup quarterfinal vs. Holland in Port Elizabeth, also getting a first-half yellow card that ended his World Cup on a sour note.

The Unlucky One: After being Roberto Carlos' understudy in Germany 2006, Gilberto seemed ready to be a Selecao regular. Yet it never really worked out as his career in Europe was cut short thanks to a horrendous stint at Tottenham -- it says it all that oft-mocked Andre Santos became Dunga's darling. Then came a surprise return to the national team for the 2010 World Cup that many people in Brazil are still struggling to understand.