Les Bleus savaged after woeful Ukraine display
The French football-going public will have woken up Saturday to feelings of dread that have not been familiar for the past 20 years -- not since David Ginola lost possession in the dying stages of a 1994 World Cup qualifier against Bulgaria that the Lions would win 2-1.

• World Cup playoffs: State of play

That was the last time that Les Bleus failed to reach a major tournament. Following a dreadful display in its 2-0 defeat to Ukraine in Kiev, Didier Deschamps' side is in danger of falling foul of the same fate.

Nineteen years ago, that 2-1 defeat at the Parc des Princes arguably cost Ginola his international career and forced then-coach Gerard Houllier to resign, with the media branding the winger the "assassin of French football." They stopped short of doing the same for Arsenal's Laurent Koscielny following his horrendous display at the Olympic Stadium on Friday that culminated in a red card for striking Oleksandr Kucher in the face. However, there is a sense that the 28-year-old committed international suicide in a match where he was also involved in both of the home side's goals.

"Red alert" screamed the front page of L'Equipe as France looked to come to terms with the fact that a Ukraine side that they were only too happy to be drawn against a few weeks ago outplayed their ailing team. A flick inside the pages and the anguish is directed toward Koscielny, Samir Nasri and Eric Abidal, all of whom were poor on Friday. The much-maligned Nasri, whose chequered past in Bleu has already soured many opinions against him, bears the brunt of the criticism.

No players in Deschamps' side fared well in the eyes of the media, with "Les Bleus in a real nightmare" being another state-the-obvious headline. FIFA Ballon d'Or candidate Franck Ribery is not far behind Koscielny, Nasri and Abidal in terms of the scathing criticism, amid justifiable claims that he disappeared during the match. The Newcastle United duo of Mathieu Debuchy and Loic Remy has also been called into question, while controversy-plagued Patrice Evra does not fare any better.

In fact, it is likely to get worse for the 32-year-old. The knives were out for the former France captain after his recent outburst directed at certain figures in the French footballing media, but they were temporarily put away to aid Les Bleus' focus on the Ukraine doubleheader.

That was when it was assumed that Deschamps' side would progress; now that outcome is looking increasingly unlikely, the French may have their scapegoat for a failure to reach Brazil.

Deschamps' decision to replace Mathieu Valbuena with Nasri has drawn considerable vitriol in the capital, despite the Marseille man's relative lack of form. The Manchester City player "failed his mission," according to L'Equipe. Nasri's postmatch protestations that France are "only at halftime in the tie" already sound hollow, and the anger that has greeted the performance is not unjustified. Deschamps' speaking of "faith" after the game is also misleading considering his facial expressions regularly betray a man who has little confidence in his side.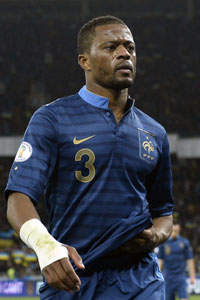 GettyImagesPatrice Evra was selected despite recent controversy.
It was a dreadfully inadequate showing from Les Tricolores, just after it appeared they had turned a corner with recent victories over Australia and Finland.

While there are plenty of questions to ask of the defence, particularly given that they were well aware of the dual threat posed by Yevhen Konoplyanka and Andriy Yarmolenko, perhaps the most serious issue is in attack.

Prior to their 6-0 drubbing of the Socceroos and the 3-0 win over the Finns, the French were hardly in free-scoring form. In fact, Karim Benzema, who was a second-half substitute in Kiev, had gone 1,698 minutes without an international goal. Yet his replacement, Arsenal's Olivier Giroud, looks just as goal-shy when it really matters, and Deschamps now heads into the return leg having hardly seen his side test Andriy Pyatov in the Ukraine goal in the first leg.

At the time of writing, 90 percent of Le Parisien readers polled on whether France could overturn the first-leg defeat and knock out Mykhaylo Fomenko's side have voted a resounding no.

Already staring down the barrel of defeat in this playoff tie, Les Bleus need to come out all guns blazing at the Stade de France on Tuesday. Deschamps' job may depend on it as questions begin to rise over why the team has struggled so much under the guidance of two World Cup- and European Championship-winning players who have turned coaches. The 45-year-old has won only 41 percent of his matches in charge, the lowest win rate since the 1970s.

More pressing still is the fact that not only is France's participation in Brazil now in jeopardy, but there are also major concerns ahead of Euro 2016. The next championships will be held on home soil, and should the hosts fail to qualify for the World Cup, they will not face another competitive match until they kick off the Euros in more than two years' time.

Given everything that is happening in French domestic football, qualification for Brazil would provide a welcome tonic. Failure to do so next week would require the French Football Federation to undertake a complete overhaul of the current international setup.

It would be far from ideal preparation for a tournament that should be the birthing moment of a new golden generation of Gallic talent.