World Cup playoffs: State of play
Miguel Delaney runs the rule over the remaining World Cup playoffs as 22 countries vie for the final 11 places at next year's tournament in Brazil.

SWEDEN (0) - (1) PORTUGAL

If the buildup to the first leg seemed unduly dominated by two individuals, one of them illustrated exactly why. Cristiano Ronaldo rose above Zlatan Ibrahimovic and the rest of the Swedish team, and is currently the difference between Portugal going to the World Cup and not. Both stars are so wildly superior in quality to the rest of their sides that any meaningful contribution can have an exacerbated effect. The offset of that, however, is that it still keeps this tie so open and yet so tight. The rest of the Portugal team are fragile enough to be freely exposed, Ibrahimovic exceptional enough to do so repeatedly. One thing seems certain about the second leg: Sweden need to score the next goal. Portugal getting a second, or even keeping it at 1-0 long enough for the home side to start panicking, could be terminal. A further worry for Ibrahimovic and his side is that waiting for any slip is the most prolific player in the world at present.

FRANCE (0) - (2) UKRAINE

On Tuesday, the French are going to need a lot more than an unseen handball, but could do with one of their number replicating Thierry Henry at his peak. It is four years since that notorious playoff against Ireland and, unless the French radically improve their level of performance, they will end up suffering an eight-year gap between World Cups and a first failure to qualify since the equally infamous USA '94 campaign. What was most galling for Didier Deschamps' side was not even the defeat but the complete lack of any evidence that they can turn it around.

Ukraine easily kept them at bay as the likes of Franck Ribery struggled to make any impact. France didn't have a single clear-cut chance. Worse, they must now score at least twice -- and that is just to force extra time -- against a Ukrainian side that has now kept seven clean sheets in their past 11 competitive games. On the other side, they'll have to keep the hugely dangerous Andriy Yarmolenko quiet, which proved impossible in the first leg. His late penalty added to Roman Zozulia's opening goal. It could well close out French chances.

ROMANIA (1) - (3) GREECE

Romania may have an away goal, but their chances of making the trip to Brazil appear slim. Greece were that much more commanding, that superior. The first leg saw a home side so much more intense and energised than so many recent Greek qualifiers, eventually building up to the point where the prolific Kostas Mitroglou claimed his second and the strike which would appear to render Romania's away goal irrelevant. With a two-goal cushion, the Greeks can now travel to Bucharest that much more secure, especially given the way it was really only Gabriel Torje who truly threatened them here. He set up Bogdan Stancu's initial equaliser from Mitroglou's opener, only for Dimitris Salpingidis to immediately put Greece back in the lead. That is really the point here. The 2010 qualifiers never really looked in true danger, not even when briefly having to chase the game after that initial away-goal equaliser. Romania have to really rouse themselves for the second leg.

CROATIA (0) - (0) ICELAND

Iceland still have that chance of becoming the smallest country to ever qualify for the World Cup, but only after reducing this game to its bare numbers. It reveals an awful lot about the first leg that the home side had their fewest touches in the opposition penalty area of any of their previous qualifiers. Iceland sought to simply deny Croatia an away goal and did so defiantly and impressively. Of course, the situation was conditioned by Olafur Skulason's red card just five minutes into the second half, meaning Lars Lagerback's team had to defend desperately for a full 40 minutes. At the same time, Croatia didn't convert their often superb passing into that proper finish. Luka Modric and his side remain the favourites but, after a night of tension like this, the second leg suddenly has the feel of one of those games where the superior side can't force their way and a break opportunistically opens at the other end. Croatia are going to have to ensure that does not happen; Iceland can justifiably hope to force it.

CAMEROON (0) – (0) TUNISIA

Probably the tightest African qualifier in terms of scoreline, but you wouldn't have thought it actually watching the first leg. The contest in Rades was a ludicrously open affair in which both sides missed a host of chances, and both goalkeepers -- but particularly Cameroon's Charles Itandje -- pulled off a series of improbable saves. At the moment, it's a little difficult to say who that will prove costlier for. Although Tunisia are notionally an inferior side who will also be playing just their second competitive game under new coach Ruud Krol, Cameroon now have to be cautious of not conceding an away goal. The Ajax legend -- who is in the job only a month after Cape Verde were stripped of first place in the original group for fielding an ineligible player -- has switched emphasis to a more attacking game. That was a huge risk in the first leg but could unsteady Cameroon here. Much will depend on Samuel Eto'o continuing his upsurge in form for Chelsea. This will be experience against exuberance.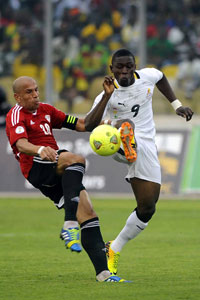 GettyImagesAsamoah Gyan was among the scorers as Ghana thrashed Egypt in the first leg of their World Cup playoff.
EGYPT (1) - (6) GHANA

The context of this fixture involves a lot of controversy and uncertainty, the football itself anything but. While FIFA had to provide Ghana with guarantees about their safety after Egyptian police and fans clashed at the African Champions League final, the upcoming away side have themselves effectively guaranteed their place in the World Cup after an overwhelming 6-1 win in Kumasi. The first leg, in which Chelsea's Michael Essien was superb, was all the more remarkable given it had been seen as one of the tighter qualifiers on paper. It proved anything but.

ALGERIA (2) - (3) BURKINA FASO

Aristide Bance's controversial stoppage-time penalty in the first leg did not just put Burkina Faso closer to their first ever World Cup appearance. It set up what is arguably the closest of all the remaining qualifiers. Given Algeria's two away goals, and the fact they are now more susceptible to conceding some of their own in pursuit of the single strike they currently need, the scoreline feels even more fragile than the 0-0 in the Cameroon-Tunisia tie. What's more, this first leg was just as chaotic as that one in Rades, with both sides wasting so many chances. Bance himself missed a first-half penalty for Burkina Faso only to be given a reprieve. His side would not want to bank on being given another, lest Algeria reach a second successive tournament.

NEW ZEALAND (1) - (5) MEXICO

All of a sudden, all of Mexico's qualification concerns evaporated. The team finally played the kind of free-flowing attacking football that was absent in their CONCACAF campaign, as new manager Miguel Herrera actually dropped the likes of Javier Hernandez. In truth, the scoreline could have been even worse for New Zealand, as goalkeeper Glen Moss made a number of brilliant saves. Turning over this scoreline in Wellington would be a feat and upset far, far greater than the All Whites' draw against defending champions Italy at the 2010 World Cup.

URUGUAY (5) - (0) JORDAN

The timing of this second leg will confirm the 32nd and last qualifier for the 2014 World Cup, but the reality is that Uruguay are already there.