Three Things: Portugal vs. Sweden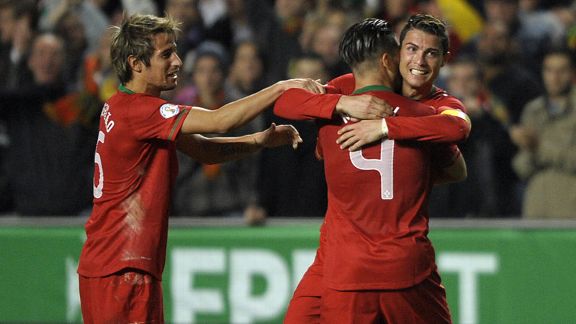 APCristiano Ronaldo celebrates his winning goal against Sweden.
Jon Molyneux-Carter gives his three observations from Portugal's 1-0 win against Sweden in their UEFA World Cup qualifying playoff.

1. The other side of Cristiano

As the old saying goes, there is no 'I' in team. True, but there are two in Cristiano Ronaldo and three in Zlatan Ibrahimovic. For the media, this game was always going to be about the battle of the best two players, not the teams. The pair had combined for a total of 29 goals in 18 games previously, with four hat tricks scored in that time, they have won 32 club titles between them and are on course to go head-to-head once again when the final Ballon D'Or votes are revealed.

No doubt that Ronaldo and Ibrahimovic shoulder the burden of their respective national teams. That much is evident every time they step out onto the pitch. But to progress to a World Cup, a team ethic is required and superstars are rarely able to do enough on their own -- even in the high drama that is a playoff game.

At the final tournament, both have struggled to assert themselves in the past: Zlatan has never scored in five World Cup matches; Ronaldo has scored twice, one a penalty in 2006 and the other a late goal in the 7-0 rout of North Korea in 2010. And it appears that when they don't fire on all cylinders, neither do their teams. Of course, one goal can change all that.

In the opening exchanges, it was Portugal that came out firing with Ronaldo drifting out to the left and Helder Postiga central; Zlatan ploughing a lone furrow up front where he hardly touched the ball. When he did, he would often be so isolated that his passes went astray. As the half wore on, neither seemed to improve and the Portuguese cut a frustrated figure when he misplaced a pass, only to stand hands-on-hips, a look of disbelief and confusion on his face.

In turn, Zlatan was involved in a spat with Miguel on the halfway line that betrayed the PSG striker's annoyance at his lack of impact thus far.

Most of the second half proved little better: One exchange saw Ronaldo throw his arms up in exasperation at a poor cross by Nani, while a sprint from Zlatan to get into a good position was a wasted effort when Alexander Kacaniklic failed to get the ball across in time for him and his reaction was similar. Even when Ronaldo was 10 yards offside and through on goal, he couldn't net -- further frustration evident with a mini-headbutt on Mikael Lustig and a yellow card for a trip on Andreas Isaksson minutes later.

Then everything changed with less than 10 minutes to go. A cross, and suddenly the ball was in the back of the net. It wasn't a blistering shot; it wasn't a run from the halfway line; it was Cristiano putting his head where it hurts to stoop and nod home like a varnished Gerd Mueller. Minutes later, he hit the bar again with a header to prove he has many strings to his bow; Zlatan looked like he had left all his arrows at home.

2. Counterattack the name of the game for Sweden

No doubt Sweden came out to defend and, as the away side in the first leg, that should not be much of a shock. Every time Portugal had the ball, Erik Hamren's men retreated to two banks of four with Johan Elmander settling into an advanced midfield slot, leaving Ibra up front to chase down lost causes. Kacaniklic's break down the left in the 15th minute showcased the problem. A good turn of pace, getting away from his man, the Fulham winger looked up and saw both his advancing teammates still outside the penalty area -- then he ran out of room, fell over and saw the ball trickle over the dead ball line.

Set up to play on the counterattack, Sebastian Larsson forced the first meaningful save of the game from Rui Patricio in the 20th minute, but with a languid player like Zlatan leading the line it was always going to take a lot to get up the pitch and into a position to score. Any time the Swedes looked to play a long ball, there was too little support. Any time Zlatan controlled and turned, there was no one ahead of him and two Portugal defenders closing him down too quickly.

A somewhat shaky Portugal defence were hardly put under pressure -- let's be honest, if you want a centre-back closed down, then Zlatan is not the man to do it. Portugal bossed possession and chances; Sweden will have to go back to the drawing board if they are to break down the opposition on home soil. They didn't show enough attacking ambition, so in the end got what they deserved.

3. Will the World Cup really be worse without one of these two?

With the greatest respect to the likes of Greece and Romania, it seemed like the footballing world had been a little shortchanged by the playoff draw for the upcoming World Cup. This game was billed to be an exhibition of good attacking -- and counter attacking -- play, with two of the world's best players on show. Initially it looked as if that might be the case with the first seven minutes alone bringing about two clear cut chances apiece, but the reality is that, over the course of the qualifying campaign and indeed this 90 minutes, you could argue that both sides are not good enough to merit inclusion.

Over in Athens, there were three goals in the first 21 minutes for Greece's 3-1 win over Romania and, even though the defensive-minded Greeks are hardly likely to open the taps if they make it to Brazil, Portugal and Sweden aren't much better when it comes to the final tournament. In 2006, Portugal scored once (not counting penalties) after the group stage on the way to a semifinal defeat; Sweden just three times in total. In 2010, Portugal netted seven goals against one team, North Korea, but nothing against anyone else before losing to Spain in the last-16; Sweden didn't even qualify after a qualification campaign in which Finland scored more goals.

Yes, the teams have a history with the World Cup -- Sweden will long for a repeat of '58 or '94; Portugal the free-scoring days of '66 -- but is the tournament really any worse for one of them not being there?