Krol opens up to give Tunisia hope again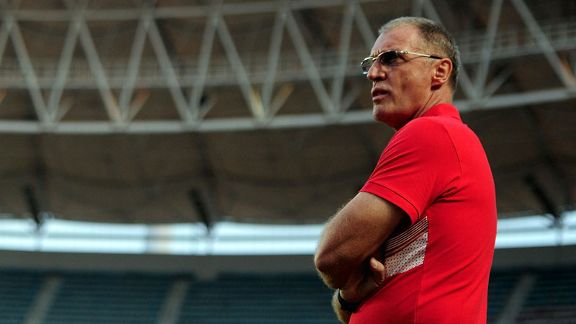 GettyImagesRuud Krol was a part of the Total Football revolution and has sights set on helping Tunisia.
Really, it was a request that Ruud Krol couldn't keep turning down. The Netherlands and Ajax legend knew it, but he just hadn't figured out how it was going to work. There were that many complications, that many difficulties. It's just as well that Krol admitted he savoured a challenge -- the situation certainly provided one.

It was mid-September and, although Tunisia had suddenly been granted a route back to the 2014 World Cup, they were without anyone to guide them. The defensive-minded manager Nabil Maaloul had just resigned after a 2-0 defeat to Cape Verde condemned the Tunisians to second in their qualification group, only for their opponents to be sanctioned for fielding an ineligible player.

That meant Tunisia were back in the final playoffs against Cameroon, and that there was only one man for the job.

Taking over CS Sfaxien in 2012, Krol immediately managed the team to their first national title in eight years. Almost everyone felt he was the sole coach capable of guiding the country to its first World Cup in eight years, too, as he was being told everywhere from the street to boardrooms.

"It was hectic," Krol told ESPN FC. "That put a lot of pressure on me, that I must take the job, that I must do it. The minister [of sport] got involved, and the newspapers, everybody. I refused in the beginning, from the president and the vice-president, because I have a club job, also. I said I want to do it if I could to it, but I was too busy. I was preparing for the CAF Confederation Cup semifinals and of course that takes a lot of time, a lot of preparation and a lot of [tension]. If you want to do [the national team job] very well, you must spend more time.

"So in the beginning I refused, but the pressure was too big. Then I said, 'OK, I do it. I do it with my heart for Tunisian football.'"

There was an even deeper reason than that. Krol arrived in Tunisia just more than a year after the Jasmine Revolution, which forced President Zine El Abidine Ben Ali out after 23 years of power and ignited so many similar actions throughout North Africa and the Middle East. He could still obviously feel so many effects of that, as well as the evident need for something to help the process.

"The people are still looking for their direction, that is of course not easy," he said. "I think the game against Cameroon, that helps the people to have something where they can look forward. The country has had some difficult moments, but sport brings people together. The people are hungry for something they can celebrate after the revolution and I was happy to do it. I take it and try to give something back for these people."

Assuming that responsibility in such a short time is an awful lot of pressure to heap on yourself, especially given the packed schedule of the club job and the quality running through every part of the Cameroon squad. Just a week after Sunday's World Cup decider in Yaounde, Krol will pick his Sfaxien side for the first leg of the CAF Confederation Cup final against TP Mazembe.

Given all that, as well as the fact a much more experienced Cameroon are fielding attackers such as Samuel Eto'o, it would have been understandable had Krol decided to fall back on Tunisia's previously defensive game and just hold out. The 0-0 result from the home leg would also indicate that.

In reality, it's rather remarkable that this wasn't a chaotic 4-3 victory. In a complete abandonment of any attention whatsoever to the away-goal rule, Tunisia went for Cameroon, with the away side's goalkeeper Charles Itandje forced into a flurry of late miracle saves. The offset was that Krol's squad also survived a few miracle misses, too.

"The people were very enthusiastic after the home match," he said. "They were talking that they had not seen a Tunisian team play like we played against Cameroon in years. It was an open game. I think we had a little bit more chances than them."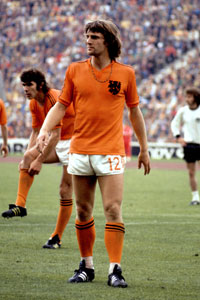 GettyImagesKrol played for Netherlands in the 1974 World Cup final.
Krol has been so busy through all of this that he didn't even know he has just been voted the greatest defender in Ajax's history. He describes his old left-back position as more like a "half-winger," and it was the 70-year-old's original education in the Total Football side that won three successive European Cups in the early '70s that fostered his belief in a more attacking game.

"I'm still thinking that people who are coming to the stadium must enjoy it," he added. "They want to see goals, they want to see football. But ... if you want to win, you have to play football. You can get a [defensive] 90 minutes and on 91 minutes they can score, then you say we have to look for the goal. We have to play in attack. I remember Tunisia was always a good football team and when I was coming over here, I was surprised they changed from offensive to defensive. I still think that Tunisian players have the quality to play offensive football, so I have to use them."

Redeveloping that approach so quickly only adds to the issues. Krol has switched to a classically Dutch 4-3-3 and dropped star No. 10 Oussama Darragi because he simply doesn't fit into the team so readily.

"Well, I found that I had a better player in the positions," Krol said. The move to much more proactive football also came despite the first-leg absence of both first-choice, central defenders -- Karim Haggui and Aymen Abdennour -- when another manager might have tried to offer more protection. Instead, Krol has sought to develop the kind of interchanges and integration that ensure that protection will come through possession rather than putting up barriers.

"I played some friendly matches against second-division teams where I could see the combinations, what I want," he said. "That helped me a lot. I put, in my opinion, the best team I could put on the pitch in that moment [of the first leg]. I still think, if I had time, that I can bring a better team on the pitch."

The man who has spent 12 years of his coaching career working in different parts of the continent, from Egypt to South Africa, feels Tunisia need to start looking more outside it for eligible "players they don't know." It may be the key to making an impact on a World Cup, although Krol is not getting ahead of himself: "It is a challenge but I always like a challenge in my life. I never walk away from a challenge. When [Orlando] Pirates asked me to come in 2008 and I saw they kicked out 15 coaches in the last few years, I said OK, that is a difficult job, but I can do it."

He did so, staying three seasons and winning a league title.

"That is what I still have in my mind. I like to work under pressure," he said. "That is a privilege for me. That is also one of the reasons I said yes. We play against Cameroon -- big team, big names -- but we must lose on the field and not on paper. That will be my great job this [Sunday], to tell [the team] not to be afraid to play football."

It may have taken Krol a while to accept that job, but only because he wanted to maximise this chance.