Greece find riches in history
Greece host Romania on Friday night in the first of their two-legged playoffs for next summer's World Cup, but they are not the first national side whose achievement has contradicted trauma of some variation in their homeland. Consider Brazil and perennial poverty; Italy and Spain's World Cup victories to the backdrop of economic crises; even Colombia's relative success in the early '90s amid the bloodshed, fear and corruption of a violent drugs war.

But within each of those teams star talent resided. Names such as Ronaldo and Rivaldo, Cannavaro and Nesta, Iniesta and Xavi, Valderrama and Asprilla, soon populating minds when mention is made of their vintage.

When it comes to Greece, however, there is no such shining light. For this is -- and always has been according to former player Nikos Dabizas -- a footballing nation without need for poster boys, there are no mythical-god types upon whom all hope rests, such worship is instead confined to their ancient history.

"What we achieved was because of one thing -- being a team," Dabizas, who was part of the side which triumphed at Euro 2004 at just their third-ever major tournament, told ESPN FC. "We proved what can be done when a group comes together like that. It was an amazing thing and one which will probably never be repeated at that level.

"This was Greece, it was our first Euros in more than 20 years but we won. We believed in each other as a group, as a team, that was the key for us. It is the same with the team of today. You ask for me a star player but I say 'no-one' -- they are also a team, it is about what you can achieve together, not the ability of just one player. That is our strength and what will hopefully take us to the World Cup."

Greece have missed just one major championship -- the 2006 World Cup -- since lifting the Henri Delaunay Trophy in Portugal, most recently making it to the quarterfinals of Euro 2012 before a 4-2 defeat to Germany. When juxtaposed with the financial meltdown which continues to smoulder in Athens and beyond, their refusal to vacate the top table of international competition is all the more remarkable.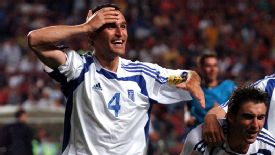 PA PhotosNikos Dabizas was at the heart of the shock Greek success in 2004.
For while the government has racked up debts deep enough to make Plutus despair, the Greek populous have become all the more indebted to their national side's bi-annual adventures on foreign fields which help to provide rare moments of collective joy.

The relief of football, however, has run in painful parallel to the aftershocks of the economy's collapse; adoption, suicide and homeless rates have all spiked. While government ministers talk of recovery, anecdotal evidence from the recession-ridden streets fails to support such proposition.

Just last week there were mass union marches on parliament in protest over cuts to public services while, further afield on islands such as Crete, tourists return with tales of empty premises on the once bustling alleyways of Chania's historic old town. It is a country whose identity has become clouded amid the economic storm.

On the pitch, however, such identity has never been more manifest. Fernando Santos' side won eight of their 10 qualifiers -- five of them 1-0 -- and only missed out on automatic progression by virtue of goal difference; free-scoring Bosnia and Herzegovina the beneficiaries of Greece's frugal philosophy. Their record was the best of any second-placed team in the European pool and it was a campaign largely applauded on their own shores.

On Friday in Piraeus, and again on Tuesday night in Bucharest, attention will turn to the country's footballers as they face-off with Romania. Dabizas, though, is keen to quell such heightened expectation.

"In Greece, the fans and the people are spoilt with the national side," the 40-year-old, capped 70 times and now director of football at Panathinaikos, said. "They now expect Greece to qualify for major tournaments, that is the standard they have set.

"It has been a very difficult time in our country and it is understandable that there is a lot of hope that our team will make it to the World Cup. But we have to remember where we have come from, before 2004 nothing was expected. Since then, everything has changed."

The odds, however, suggest followers of Hellas have every right to expect. They are favourites to book their place in Brazil and, with form figures which see six wins on the bounce without conceding a goal, they are well placed and have pedigree within their ranks.

Sokratis Papastathopoulos, the 25-year-old Borussia Dortmund defender, is a Champions League regular; there is also an accent on experience and Fulham's Giorgos Karagounis, 36, and fellow midfielder Kostas Katsouranis, 34, are international centurions and survivors of the squad from 2004. Expectations are high of the squad but at this stage of the competition, Papastathopoulos sees it as black or white.

"Either we qualify and everything is perfect, or we get eliminated and everything is a mess," he admitted to UEFA.com. "There is no other way to look at it."

Greece are a nation whose pride has been wounded, their happiness fragile and pockets invariably empty. Make it to Brazil, however, and they will feel rich once more.