View from the ground: Ronaldo vs. Zlatan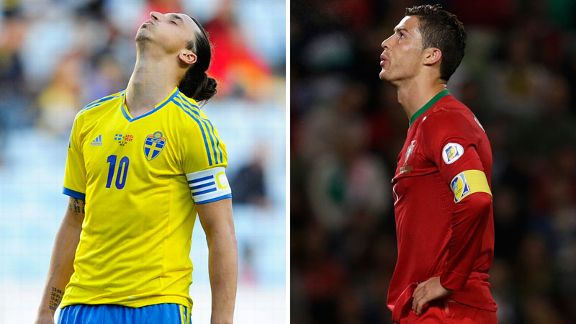 AssociatedEither Zlatan Ibrahimovic or Cristiano Ronaldo will not be going to Brazil.
When Portugal pulled Sweden in the European playoff draw for the World Cup finals, it was hard to look beyond the pairing as a battle royale between Cristiano Ronaldo and Zlatan Ibrahimovic. Here, two leading journalists from the respective countries give their thoughts on the men who dominate their national teams.

Helder Marques De Sousa of RTP, Portugal's state television service, and Sujay Dutt, a freelance writer in Sweden, give the local lowdown on a pair of matches that will decide which of the megastars will fly down to Brazil. And which one won't.

How big a star in your country is your man?

Helder Sousa: Ronaldo is bigger than anything, but the same level as Jose Mourinho. They are the two biggest Portuguese now: Mourinho and Ronaldo, they are above anything else. You open any newspaper and it will usually be them on the pages.

Sujay Dutt: Did you know that they are going to issue a set of stamps of Zlatan's face? It is no exaggeration to say he is the biggest thing in Sweden right now and has been for the last 10 years. And it keeps growing. Every new year there's a little detail that comes along. He's bigger than the king; bigger than the prime minister.

Is he your country's best player of all time?

HS: It's the same as David Beckham being better than Bobby Charlton; you are dealing with history. I am sure Ronaldo's better than Eusebio, but could Ronaldo play on Eusebio's pitches, the balls he played with? Would he be the same player? Probably not. It's difficult to say.

SD: He's by far the best Swedish player; there's a consensus about that. People respect Henrik Larsson, but no one scores the type of goals that Zlatan scores. Some Swedish people will not know anything about the Sweden national team but they all know who the captain is, how he grew up and so on.

Is he the best player in the world right now?

HS: In Portugal everyone thinks Ronaldo is one of the top two, on the same level as Lionel Messi, because Messi is amazing, he is unbelievable. But the amazing thing about Ronaldo is that he keeps breaking records.

SD: I think at this very moment, he could be. If you look at the calendar year, then there's Franck Ribery, Arjen Robben and Cristiano, of course, but look over the last month then why not Zlatan?

Is your man getting better and better?

HS: The amazing thing is that in what I thought was tighter football in Spain than England, Ronaldo has gone on to play better, score more goals and keep breaking records.

SD: I am not sure it's all about his moving to Paris but since he went to France, it's been another year without losing his technical qualities, and he is now as strong as ever.

What is your country's view of your opponents' star man?

HS: We talk about him because Zlatan scores amazing goals that we all love. It won't be easy against him, because Zlatan is on the second level of players -- Edinson Cavani, Radamel Falcao -- below the top two of Messi and Ronaldo. [Monaco midfielder Joao] Moutinho said that, against great players like Messi or Zlatan, you have to work as a team; that's the only way to stop Zlatan.

SD: Sebastian Larsson [Sweden and Sunderland midfielder] was quoted saying: "We all know he's fantastic." We have to stop the ball being delivered to Ronaldo and stop the ball being passed by players like Moutinho. There's talk in the paper each day about Cristiano vs. Zlatan.

How reliant is your national team on your man?

HS: Our international team is so weak now. We are so dependent on Ronaldo. Everyone has to get the ball to him. We have no players of a second degree. We have a first-rate player in Ronaldo, and then third-rate players. The national team is weaker than some years ago, and besides Ronaldo we don't have many quality players. So there's no problem at all with him. There's a feeling that he does not produce so much in international football as he does at the clubs. It's a mystery to us, but he is our only hope because he's the only one who produces, right?

SD: He's like a father figure now. I was talking to [Sweden defender] Martin Olsson and he was talking about how Zlatan interacts with the team, the way he talks to them at half-time, and outside the pitch. He has such leadership qualities, never mind the technical qualities.

How much would the World Cup finals miss each player?

HS: It would be more tragic if Ronaldo missed out. There are more than a million Portuguese in Brazil. If Zlatan doesn't go, everyone will complain for a week but Ronaldo will be remembered until the final -- "Ronaldo wasn't here," and so on. Every time, great players miss World Cups -- Ryan Giggs never went to the World Cup -- and you don't remember that they are not there when it is being played. It would be different with Ronaldo, I think.

SD: It would be a huge shame if Ronaldo wasn't there. The World Cup should have both of them. It's a shame this draw came around. At the same time you've got Greece and Romania playing; one of them will be going to the World Cup, when one of these two stars will not.