The man responsible for Iceland's field of dreams
"Think about doing all your work with a typewriter when everyone else has a Mac or a PC. That's what we're dealing with here."

Kristinn Johannsson is speaking in his office inside Laugardalsvollur, Iceland's national stadium, which feels further from Highbury than ever on days like this. Once a member of Arsenal's grounds-keeping staff, the fate of Friday's World Cup qualifying playoff first leg between Iceland and Croatia -- comfortably the most important match in the country's history -- lies squarely on his shoulders.

As well as being the biggest, it just happens to be the toughest to host. Iceland has never staged a football match in November, and as a portentous gale howls outside, its head groundsman needs no reminding of the reasons why not.

- Yokhin: Eruption of Icelandic talent

"It's been a crazy few weeks of preparation. I've been working my backside off," he says. "We knew we were in for a big challenge when the draw was made, but we were excited about the work ahead more than anything else. We've been dealing with problems that I doubt anyone else has. My pitch is very old -- believe it or not, the grass dates back to 1976! We don't have under-soil heating or even any sprinklers. With heating, there'd be very few issues.

"The thing is, you just can't escape the weather at this time of year."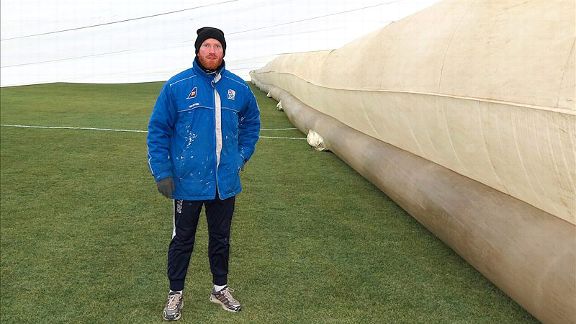 Courtesy Johann G KristinssonThe man charged with preparing Iceland's pitch? Kristinn Johannsson, seen underneath the inflatable MacLeod Covers protecting the grass from the elements.

There are constant reminders of his struggle too. The local media, he says with a laugh, have been more wrapped up in ruminations over the weather than in previews of the game itself. ("Having a game in November feels very strange. The season ended in September; you get the odd October international, but nothing close to this.") An entire country seeks reassurance that, with the world watching, its big day can go off smoothly -- and coach Lars Lagerback is among those with whom Johannsson has been keeping in constant contact as conditions unsurprisingly worsen.

"The pitch is OK at the moment," says Johannsson, who still strikes a note of caution whenever projections are invited. "We rented some MacLeod Covers from England to protect it and put them up last Friday. They won't be taken off until shortly before kickoff. I've cut it and marked all the lines out already so that we're good to go. I haven't been under the covers yet, but I think it's playable."

Meanwhile, the home team that takes to it has surpassed every expectation. Iceland traded wins and defeats in their first six World Cup qualifiers before an improbable 4-4 draw in Switzerland -- coming back from 4-1 down -- provided the impetus for an unbeaten run that saw them earn their first-ever playoff tie. The country had always possessed a star or two -- the likes of Eidur Gudjohnsen, his father Arnor and Hermann Hreidarsson would all have been comfortable in more decorated company -- but it's never seen a collective, highly technical group of players like this.

"This stadium has been sold out for the last three home games now. It's remarkable," Johannsson says. "Would you ever have seen Iceland versus Cyprus selling out? The standard really went up a level when Lagerback, with all his experience, took charge and made everything more professional. These players have been together for many years. They grew up together here in Iceland, playing in indoor halls and on artificial pitches, and their technique and understanding of the game are superb."


But there's more to Iceland's success than that, he notes.

"The women's team is ranked 15th in the world and has reached the last two European Championships. They made it through the playoffs and set the standard for everyone else," he says. "I think that set off a little spark, convincing everyone that Iceland could and should compete. The men's team had to rise to the challenge, and they have."

As grounds-keeping staff go, Johannsson has his own big-game experience to draw upon. After an initial period of work experience at Arsenal -- arranged through his father, Johann Kristinsson, Laugardalsvollur's stadium manager -- he spent a full year on the Gunners' books in 2006-07, playing an important part in the transition from Highbury to Emirates Stadium. Stories about the dried shark meat, cured in his own back garden, that he handed around among staff remain legion, and he's still affectionately known as "Kid" in that corner of north London. The friendships he forged there have come to help him, and his country, further down the line.

"I made some great friends at Arsenal. Paul Ashcroft, their head groundsman now, and Paul Burgess, who's at Real Madrid these days, taught me my trade when I was basically just a schoolkid, and I owe them a lot," Johannsson says. "We had a lot of fun too, and I make sure I get back over there for a weekend now and then. I can always call on them for advice, and they've both been in touch regularly over the last few weeks with bits and pieces of help with getting this game on. I think they're looking forward to seeing what our pitch looks like when the covers come off, touch wood!"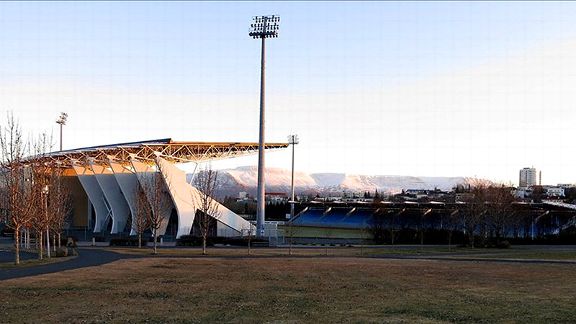 Johann G KristinssonIceland's national stadium looks serene in any weather, but Friday's historic playoff clash will be influenced by the elements more than ever before.

Johannsson and his colleagues won't be leaving Laugardalsvollur between now and Friday night. The office will be converted into lodgings. He can't leave his canvas with the moment of exhibition so close.

Can he allow himself just the briefest moment of relief that the most punishing month of his professional life is about to give way to its most rewarding night?

"No way, not yet -- the game hasn't been played," Johannsson says. "I've been optimistic throughout and still am because we've got a brilliant group of people working on this. The weather forecast is OK, although the temperature will drop sharply in the evening. I'll be drafting 20 more guys in to help me on Friday to make sure that we go ahead.

"Once it's all done then, yes, we might just allow ourselves a beer."

He won't be buying it himself if his painstaking work -- whether by typewriter or by Mac -- allows Gudjohnsen, Gylfi Sigurdsson & Co. to strut their best stuff when the Croatians come to town.

Nick Ames is a freelance journalist who has written for FourFourTwo, World Soccer, the Blizzard and Champions, among others. He was previously a member of Arsenal FC's reporting team. You can follow him on Twitter @NickAmes82.