Portugal heroics cast Cristiano in his perfect light
Rarely can a high-stakes game have had its narrative so doggedly shaped around just two players. However, the focus on Cristiano Ronaldo and Zlatan Ibrahimovic as individuals in the build-up to Portugal's World Cup qualifying playoff with Sweden is something that both will have expected, and something both will embrace.

• Marcotti: Inspirational Ibra

For Portugal's captain, it'll be the same as it ever was when serving his country. Even for one widely accepted as one of the best two players in the world and a perpetual major protagonist in El Clasico -- the fixture that has become almost a football equivalent of the World Series in the age of internationally broadcast matches -- there is an even greater spotlight on Ronaldo when turning out for his nation. Over the coming days, its intensity will be turned up to 11.

That has become even more apparent this year, as Ronaldo celebrates a decade as a senior Portugal player. He made his debut at 18, as a second-half substitute in an August 2003 friendly against Kazakhstan in Chaves. Ten years later, he celebrated a key milestone, passing Eusebio's goal tally for Portugal with his hat trick against Northern Ireland in September.

Pepe, his colleague for club and country, this week spoke of Ronaldo's "unbelievable numbers" for Real Madrid, and the world at large may justifiably marvel at a record that has seen him score over 200 goals at the rate of more than one-per-game, but to people back in Portugal, his feat of surpassing Eusebio was historic. Given Ronaldo's relentless achievements in the club game, a Pantera Negra stands alone as a rival to him for the title of Portugal's greatest ever player.

If Ronaldo's ability, his achievements and his divisive swagger have made him the centre of attention on the European stage, it has always felt as if he were preordained to be Portugal's leading light. He was the youngest player in the country's history to reach 50 international caps, at 22. The previous youngest had been Luis Figo, who reached the mark at 26. That Ronaldo inherited Figo's No. 7 shirt for Euro 2008 was, of course, significant.

While Ronaldo has sometimes felt underappreciated in La Liga, there has never been a doubt about the esteem in which he is held at home. The influential Portuguese football site Mais Futebol felt the need to point out this week that Portugal have never failed to qualify for a major tournament with Ronaldo in the ranks. His first competitive start in the red was in the pivotal group stage win over Spain in Euro 2004, and that made him an "absolute" starter, in Mais Futebol's words. After his implication in that era-defining tournament, continuing with a fine semifinal display against Netherlands and finishing with him sobbing on the Estadio da Luz pitch after defeat to Greece, he has never looked back.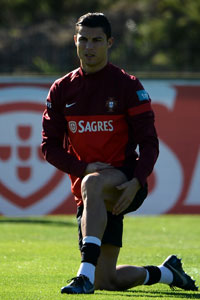 GettyImagesCristiano Ronaldo is fiercely competitive even in training.
Ronaldo has never taken his superstar status for granted in Portugal, however. The obsessive training that set him on his way to greatness at Manchester United doesn't dim on international duty. Nobody runs harder and tackles more in the squad's mini training matches. "He's a great competitor -- way above the average in that sense," Antonio Gaspar, the national team's physio told Marca in September. "He takes perfect care of himself and doesn't miss a trick when it comes to his diet and recovery time."

Yet what perhaps better sums up his contribution to Portugal is a tribute from outside the unconditional love of the national setup, from his countryman, and former coach at Real Madrid, Jose Mourinho. "I don't know a better professional than him," the Chelsea boss told France Football this week. "Being at a club with Cristiano Ronaldo is the best thing that could have happened to me." The pair were never close, despite being united by their driven natures, so the compliment is sincere.


The demands Ronaldo makes on others around him -- as well as on himself -- are clear, making him appear to be like a more groomed version of Roy Keane. When he complained to journalists that Portugal "lacked maturity" after the recent draw with Israel, the words could easily have been shooting from the mouth of his fellow former United legend.

Still, Ronaldo is aware of what the national team has given him. It was former Portugal boss Luiz Felipe Scolari who spotted his leadership potential, first giving him the captaincy in the win over Brazil at the Emirates in February 2007. During Euro 2008, the Brazilian coach spoke at length about Ronaldo's potential to do the job full-time.

Carlos Queiroz did give Ronaldo the armband on a permanent basis when he took over after the tournament -- which is when the forward's international career got a little stuck. Ronaldo scored one competitive goal under Queiroz, the sixth in a 7-0 thrashing of North Korea in the 2010 World Cup.

There were myriad reasons for the drought, including Queiroz's ultra-defensive tactics, and his keenness on playing Ronaldo in a central striker role that didn't suit. Paulo Bento has wisely used Ronaldo cutting in from the left -- as at Madrid -- and he has scored more regularly under Bento.

Ronaldo's club form still doesn't quite translate, partly because of the overly strong sense of responsibility that the world's best often feel. Ibrahimovic is a fellow sufferer, sensing a duty to do everything himself in the biggest matches. It is not only a risky strategy but leaves one open to criticism.

Scorn was heaped on Ronaldo internationally for his role in Portugal's Euro 2012 semifinal defeat to Spain on penalties -- though not in Portugal, it must be noted. His plan had been to do what Didier Drogba did a few months before in the Champions League, to take the ultimate responsibility of sealing the deal.

"I decided to take the fifth penalty," Ronaldo told Thai television while on holiday in July 2012. "Anything could have happened. People say this and that, but these are the decisions you take on the feelings you have in the moment."

When Ronaldo plays for Portugal, he is anything but vain. He is prepared to do what he thinks will benefit the team, sometimes at considerable cost to his personal and professional reputation. That is why -- despite the disparity between his numbers for Madrid and seleccao -- he deserves to be the hero in Portugal that he is.