Is Ibrahimovic an antihero to be rooted for?
Something curious happens as athletes age, particularly ones who divided opinion in their prime. You start rooting for them because, no matter how much you may have disliked them in their pomp, there's a part of you that's captivated as they rage against the dying of the (athletic) light.

It happened with John McEnroe and Martina Navratilova. Michael Schumacher too. Nobody questioned their greatness at their peak. It's just that many wanted them to trip up against whichever underdog they were facing. Once their powers began to wane, however, it became easier for the neutral to support them.

That's what Zlatan Ibrahimovic is approaching right now. For most of his career he was the villain, the opponent you loved to hate. I like to imagine many saw him like Terry Silver from "The Karate Kid, Part III," another millionaire martial artist and cartoonish baddie.

But this is where things are beginning to change. Ibrahimovic is 32 now and, perhaps, both the general public and Zlatan himself realize the decline is approaching. Time's winged chariot is drawing near. Soon, every day he wakes up, he'll be that little bit more stiff, that little bit slower, that little bit weaker.

In fact, maybe it has been happening already, it's just that experience -- the one antidote athletes have to declining productivity -- has counteracted the effects of the passage of time. But we know -- and he knows -- that, like all drugs, even experience has diminishing returns. After a while, it can no longer make up for the fact that your body isn't what it was.

Depending on what happens in the World Cup qualifying playoffs, we may not see Ibrahimovic in Brazil. After that, we'll probably get one more European championship out of him. And then the curtain will descend, leaving the pundits to ponder his career and whether he squeezed the most out of it.

Arsene Wenger had no doubts. Last month he went on French television and said: "Is Zlatan better than [Lionel] Messi and [Cristiano] Ronaldo? Right now, I'd say he is."

The Arsenal boss is as neutral as they come. He has no ties to any of the three and has faced all of them as an opponent. He doesn't get to vote for the Ballon d'Or but it's obvious who his choice would be this year. (Incidentally, ballots are due by Friday, which means the outcome of Sweden vs. Portugal won't help resolve the Cristiano vs. Zlatan conundrum.)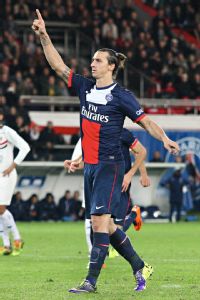 Xavier Laine/Getty ImagesIbrahimovic has scored 15 goals in all competitions for PSG this season.
The thing about Zlatan is that the term "larger than life" seems made for him. Quite simply, nobody his size in the history of the game has had his skill set, his combination of bulk, length, athleticism, technique, personality and creativity. Very few others, seemingly, had his baggage too.

Given his childhood and background, journalists have had an absolute field day, turning pop psychologist and pseudo-sociologists to try to explain why Zlatan is Zlatan. Bosnian Muslim dad, Croatian Catholic mom, born and raised in a multicultural ghetto in Malmo, he supposedly epitomized a certain kind of second-generation immigrant alienation. He was IN Sweden, but not OF Sweden.

His heroes weren't Swedish; they were universal, like Muhammad Ali. "I always felt like an outsider," he said in an interview with The Times of London, and you can see why. Throw in the standard "rough background" narrative, replete with stealing and punch-ups and your psychoanalysis is almost complete.

Almost, because there are other bits that don't quite fit the uber-talented wild man from the rough side of the tracks. This is a guy who was disciplined enough to achieve a black belt in tae kwon do. A guy who ended up settling down with a successful businesswoman from a privileged background, who is 11 years older (bet the Freudians can have some fun with that).


It's not hard to see where the initial dislike of Zlatan came from. Remember as a kid when you had a kickabout with your friends and somebody's big brother showed and demanded to play with you? He was bigger, stronger, older and a bit of a bully and he dominated the games.

He was Wilt Chamberlain and Nelson Muntz rolled into one. Yet when his team failed to win, you blamed him. You pointed to his weaknesses, you called him selfish and egomaniacal, you questioned his character. And you hated him.

To be fair, Zlatan gave the world plenty of reasons to root against him and for the little guy, which in this case is everybody else. Ten league titles in 12 years suggest he is a winner, however, the fact that he did it with six different clubs somehow counts against him to those who see him as a money-chasing brat who simply engineered moves from big club to big club, showing little loyalty but knowing how to get on the right bandwagon at the right time.

(To be fair, that characterization is a bit harsh. The one time he can be accused of doing that is when he left Inter for Barcelona. He forced his exit from Ajax to move to Serie A, but that was understandable. He left Juventus for Inter after Calciopoli, when they had to sell their assets. Barcelona no longer wanted him, while Milan needed to raise money.)

In public, he's been charming and engaging when he wants to be, which isn't often, and rude and standoffish at other times. On the pitch, he has accumulated 12 red cards in his career.

Even within his own locker room, he's had some celebrated run-ins, including a heavyweight clash at Milan with the United States' own Oguchi Onyewu, and Egyptian striker Mido while at Ajax. And then there's the well-publicized war of words with his own coach, Pep Guardiola, while at Barcelona.

Yet you can't undo the past. It's part of his history; he lives with it every day. Sweden fans have come to accept it, and so too did fans of whatever club he played for over the years (because, let's face it, he's one guy you'd rather have on your side than against you).

Some look at him and see a deluded megalomaniac bully, referring to himself in the third person and doing as he pleases because nobody will stand up to him. Zlatan himself, with hindsight, recognizes that there were times when he behaved that way. But hearing him speak now, it's obvious that he lives in the present. And right now that means delivering a place in Brazil to the people of Sweden.

The clock is ticking and he wants to make his last few years in the game count. And likely, he has more support from neutrals than he has ever had.