---

Kiev, June 24, 2012.

England face a penalty shoot-out; the nation fears its usual fate. Joe Hart, England's brash, confident goalkeeper, has decided on a new strategy to avert inevitability.

He will not be using the technological approach that many teams now employ. Hart will be attempting to use psychology, though not one prescribed by professional practitioners. As his Italian opponents prepare to shoot, Hart does star jumps, grins and then squats while gurning like a village simpleton. Mario Balotelli takes no notice, and scores. Riccardo Montolivo does notice, and misses the left-hand post altogether.

Up steps Andrea Pirlo. Hart is acting up especially for him, but the maestro has eyes only for the penalty spot. Hart affects enjoyment. Pirlo, stony-faced, ignores him, and dinks his kick into the centre of the goal. Having gone to his right, Hart can only flail as the ball loops beyond his orbit.

England miss their next kick, and their next, and Hart's heart is no longer in his horseplay. Before Alessandro Diamanti takes the decisive penalty, the antics are less pronounced. His tongue is out, but the smile's gone. Diamanti sends him the wrong way.

Hart has not saved a single penalty, and never once looked like doing so. "We didn't do well in the shoot-out, myself included," he admits afterwards, his face betraying his embarrassment. The clowning is already a bad memory.

Pirlo meanwhile, is dismissive. "I saw that the goalkeeper was really fired up," he says. "It was easier to shoot that way and it put a bit of pressure on the goalkeeper."

Hart has probably never recovered from Pirlo's pressing of his pressure point. His trajectory dipped that night; he has never returned to the form in which he entered Euro 2012.

He had ended the 2011-12 season as a hero of Manchester City's breathlessly won Premier League title. Only David De Gea produced a higher percentage of saves (77.86 percent) than Hart (76.98 percent), and he played nine fewer matches than City's ever-present. Hart waited the longest average time between conceding, too -- 118 minutes. De Gea was next best with 90 minutes.

A glance through statistics from the following season might suggest that Hart had continued his form. Eighteen clean sheets won him a "Golden Gloves" award, and he was still only conceding a goal every 101 minutes. Yet the percentage of shots saved revealed decline. It dropped to 69.64 percent, a curve that continued this campaign. The shots percentage has fallen to 63.3 percent, while away from home -- City's Achilles heel -- it reduces further to 55 percent. Only the keepers of struggling Crystal Palace and Sunderland have a lesser overall percentage; Spurs' Hugo Lloris is at 83.9 percent.

The death knell came at Stamford Bridge: the rush of blood that allowed Fernando Torres to score. Even taciturn Manuel Pellegrini could not conceal his contempt, just as Roberto Mancini's loss of patience had been apparent almost from the start of the 2012-13 season.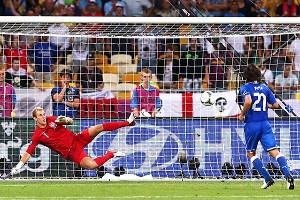 Alex Livesey/Getty Images
Hart is an extrovert, but Mancini felt that ego was becoming a problem in that it did not match the achievements. Many goalkeepers have weaknesses that opponents try to exploit, but Hart's deep problems lie in mistakes coming from all varieties of a goalkeeper's responsibilities.

Chaos at Cardiff occurred when Hart forgot how to organise against the crossed ball. Twice against Bayern Munich, he was beaten at the near post after a hand got to the ball but was too weak to deflect it away. The same happened against Everton the following weekend. The felling blow at Chelsea was common sense abandoned. Hart, once so outwardly confident, was living on his nerves, as suggested by his interaction with the media. Previously, he was happy to talk, but now will only do TV, the implication being that he fears being misquoted.

City's defence has been unsettled this season in the repeated absence of Vincent Kompany, but Hart's decline is obvious. The outlook for England is bleaker. City might buy a 'keeper in January, but Roy Hodgson cannot.

On the day that Costel Pantilimon took the gloves in place of Hart, Norwich's John Ruddy -- ostensibly second choice -- conceded seven goals at the Etihad. Beyond him, Premier League pickings are meagre. Jack Butland was the teenage ingenue taken to the Euros, and signed by Stoke in January. Yet the retention of Asmir Begovic means he currently plays on loan at Barnsley.

Fraser Forster never got a moment of Premier League football at Newcastle. The presence of Tim Krul saw to that. At least Forster is playing Champions League football at Celtic, where his shot-stopping has been exemplary. A superlative double save against Barcelona in October came 24 hours before Hart's Bayern disasters, but there are suspicions of the Bhoy's organisational abilities and a vulnerability to the crossed ball.

The only possible other credible alternative, Ben Foster, who served Hodgson well at West Brom, is injured, having gone back on a decision that international football was not for him.

Forster is likely to be given a chance against Chile, perhaps swapping over at half-time with Ruddy. Hart may return against Germany, having not played for over three weeks, since Hodgson may turn to his experienced players. The national coach could point to Hart's decent form in qualifiers, though he made a serious misjudgment against Scotland in August's friendly, and was Zlatan-ed when England were humiliated in Stockholm last November. Ibrahimovic's overhead kick would never have occurred had Hart not charged out on safari to blunder the ball into the striker's vicinity.

Hodgson must hope that enforced absence has made Hart grow stronger. Wojciech Szczesny at Arsenal admitted that Arsene Wenger's replacement of him last season had re-energised and refocused.

"It is very important to relax and maybe have a bit of time away from the pressure, getting the right mind-set," the Pole told reporters this week.

A dependable international goalkeeper is a rare and precious jewel. He can be as much of a match-winner as a striker. The likes of Gianluigi Buffon and Iker Casillas repeatedly pull off saves to build platforms to victory.

The English once prided themselves on goalkeeping. Now, envious glances wonder how De Gea cannot even not make Spain's squad. Thirty years ago, England had the luxury of rotating Ray Clemence and Peter Shilton, and could later call on David Seaman, but the well has run dry ever since. Hart, hugely capable in all aspects of his art, and young with it, had looked a long-term solution. Then came the crisis of confidence that Pirlo started.