Eruption of Icelandic talent down to long-term planning
Over the summer, Juergen Klinsmann convinced Aron Johannsson to represent the United States, and that was considered to be quite a coup for the Stars and Stripes. The American-born striker, who moved back to his motherland at the tender age of three and represented Iceland at under-21 level is a promising player. He has scored nine goals in 11 games for his Dutch Eredivisie club AZ Alkmaar this season, including a brace in a thrilling 2-2 draw at Feyenoord on Sunday. He is now a valuable addition to Klinsmann's squad, netting his first international goal at Panama in a 3-2 win for the USA in their final World Cup qualifying match.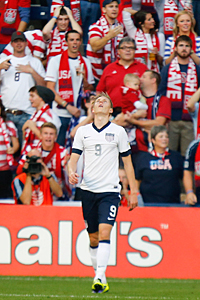 GettyImagesAron Johannsson chose the USA over Iceland.
Iceland fans didn't like Johannsson's decision one bit. After all, his connection to the United States is hardly a strong one -- his parents were simply overseas students at the time of his birth. Geir Thorsteinsson, president of the Football Association of Iceland (KSI), was incensed by what he saw as the pilfering of his nation's talent. "I can't understand why America, with all of their hundreds of thousands of football players, don't look inside and develop their own talent," he said.

However, Vidir Sigurdsson, one of the best-known and most respected football journalists in Iceland, says that he can understand Johannsson's decision. "He would have had a hard time getting some playing minutes for Iceland for the time being," Sigurdsson said. The very fact that the striker was never capped for Iceland's senior team, despite the fact that he was already 22 years of age at the time of the switch of allegiance to the USA, proves that point perfectly.

If you think about that for a second, the situation is bizarre in the extreme. The population of the United States is roughly 320 million -- a thousand times more than the 320,000 people in Iceland. And it should be understood just how small Iceland really is; the Nordic island has fewer inhabitants than Luxembourg. In fact, Iceland's population is smaller than the urban area of the city of Mobile, Ala., where Johannsson was born. It is jaw-dropping that the United States national team happens to need the striker more than Iceland, who are only a two-legged playoff against Croatia away from qualifying for the 2014 World Cup in Brazil.

To make things even more amazing, we should investigate the curious case of Alfred Finnbogason. While Johannsson is third in the Eredivisie scoring charts, Heerenveen striker Finnbogason tops the list with 14 goals in 11 games. Last season he netted 24 times, clearly learning a lot from coach Marco van Basten. Finnbogason's talent is unquestionable and his form is nothing short of brilliant, yet Finnbogason finds himself on the bench for his national team.

He was used only as a substitute in Iceland's last four qualifiers, as the Strakarnir Okkar finished second in their World Cup qualifying group. Iceland are just two games away from becoming the smallest nation ever to play at a World Cup (superseding Trinidad and Tobago and their population of 1.4 million).

How on earth is that possible? How did the tiny island manage to produce such a great footballing generation?


Just look at the list of players. Kolbeinn Sigthorsson is an outrageously talented striker at Ajax. Gylfi Sigurdsson is an elegant midfielder with a fierce shot from distance, well-liked by the Tottenham faithful even though he has yet to fulfill his potential under Andre Villas-Boas. Johann Gudmundsson is a tricky winger, starring alongside Johannsson at Alkmaar and capable of changing games, as he showed when scoring a hat trick in a wild 4-4 draw at Switzerland. Captain Aron Gunnarsson is a key player for Premier League side Cardiff City. Emil Hallfredsson is an integral part of the Hellas Verona side that has been such a sensation in Serie A this season. Then there is the phenomenal Finnbogason, and the list can be continued with Sampdoria's Birkir Bjarnason.

The glut of talent is not down to luck. The success is down to long-term planning and smart investments in youth academies and sporting facilities. Iceland's project has run for more than a decade now, and during that time the nation have risen from being minnows to a very potent outfit. They are not a short-term sensation like Estonia, who reached the playoffs for Euro 2012 and then disappeared without a trace. Iceland are here to stay.

"During the first years of this century, many indoor stadiums and training halls for football were built in the country, and Icelandic youth training at the grassroots is very well-organized, with educated coaches working with the kids from young age," Vidir Sigurdsson explains.

The players, who are now in their early 20s, benefited enormously from the improved conditions, and their development has been smooth. A talented kid is unlikely to go unnoticed in Iceland nowadays, and he will get all the support needed to prosper.

In order to have quality coaching at schools, you first need to educate the educators. The KSI are doing a great job in that respect, having turned the role of youth coach into a well-respected and well-paid job. As a result, the average level of those youth specialists is unlikely to be higher anywhere else in the world. In addition, clubs must have qualified coaches for their younger teams to get their licences.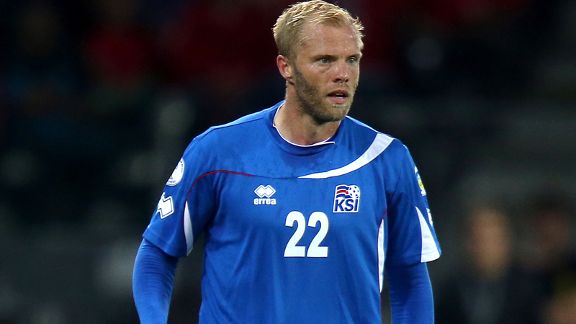 PA PhotosEidur Gudjohnsen is still going strong for Iceland in their World Cup bid.
The first signs of the project's real progress could be seen when Iceland qualified for the under-21 European Championship in 2011, thrashing Germany in the process. The youngsters gained vital experience, and now they take that to the next level, with quality coaches and an experienced leader to show them the way.

Lars Lagerback, the seasoned Swede who worked with his native national team for more than a decade, took the Iceland reins in 2011. On the pitch, he is helped by veteran striker Eidur Gudjohnsen, of Chelsea and Barcelona fame. Now 35, he might not get an awful lot of playing time at Club Brugge in Belgium, but Gudjohnsen's effective partnership with Sigthorsson is the reason behind Finnbogason's being benched.

However, this is not the first time Iceland have made headlines all over Europe. In the Euro 2000 qualifiers, they had some sensational results despite being drawn in a tough group with France, Russia and Ukraine, and had a mathematical chance of progressing until the final game. They also went rather close in the Euro 2004 qualifiers but were denied a place in the playoffs by a Darren Fletcher goal for Scotland against Lithuania.

Those were completely different times, however, as explained by Tomas Thor Thordarson, a leading journalist for Morgunbladid: "Those teams had more physical players and had a defensive style, usually preferring a 5-3-2 formation. The current team has much better footballers and more of them. Nowadays it seems that nobody wants to play at the back, which can actually be a problem, but we have some decent defensive prospects growing up in the under-21 team.

"Iceland will only improve over time. Our guys are too good not to make more noise in the coming years."

Football is fast becoming an obsession for the nation. In years gone by, the FA had trouble filling the 10,000 seats at the national stadium in Reykjavik, unless a major team visited. This time, the game against Cyprus was sold out a month in advance. "There has never been as much interest in our national team," Vidir Sigurdsson says. And the excitement ahead of the game versus Croatia on Friday -- undoubtedly the biggest footballing occasion Iceland have ever experienced -- is really astonishing.

While Croatia are clear favourites, this Iceland team should by no means be underestimated, and the two matches could turn out to be much closer fought than most people think. There is a fair chance that the dream will become a reality for the islanders, who can't help thinking of a Brazilian adventure in the summer. Who knows, they could draw the United States there, face Johannsson on an unforgettable occasion and even beat a country that is a thousand times bigger. Stranger things have happened.