Serious depth tests ahead for Uruguay, Colombia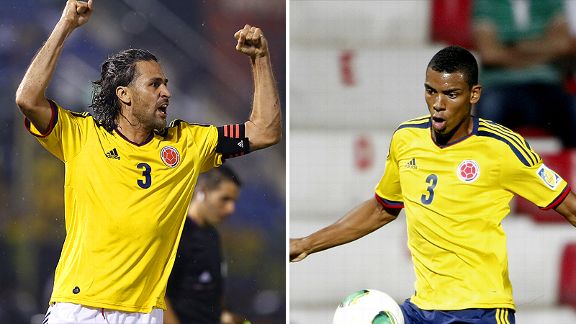 Getty ImagesFor teams struggling with depth, choosing between an older veteran or a young promising player is always a tough choice.
In South America's marathon World Cup qualification campaign only one outfield player -- Ecuador left-back Walter Ayovi -- started all 16 of his country's games. Two goalkeepers were also-ever present -- Fernando Muslera of Uruguay and Colombia's David Ospina. Yet as luck and coincidence would have it, both have picked up injuries that now keep them out of this month's international matches.

This is a more serious development in Uruguay's case. They have not yet booked their place in next year's World Cup and must face Jordan in a home and away play-off, a nervy occasion in which to blood a new goalkeeper.

Martin Silva is the most likely stand in. He has been in excellent form. Indeed, he was one of the main reasons behind the Paraguayan club Olimpia's run all the way to the final of the Copa Libertadores, South America's equivalent of the Champions League, where they only lost on penalties to Atletico Mineiro of Brazil. Especially praiseworthy was Silva's quiet domination of his penalty area -- he often looked more secure on crosses than Muslera, and some were even calling for Silva to be elevated to the position of Uruguay's first-choice keeper regardless.

All the same, Silva is coming in cold. He made his debut in a 1-0 defeat to Algeria back in September 2009. Since then he has often been in the squad but was only given one other game -- against Tahiti in this summer's Confederations Cup, when the ball hardly crossed the half-way line. With Uruguay strong favourites, there will probably be little for him to do in the two legs against Jordan -- but if scores are tight then that can make things worse for a goalkeeper who is new to the level. It becomes an examination of his concentration and mental strength.

Colombia need have no doubts about the big match temperament of their stand in goalkeeper. This month David Ospina will probably be replaced by Faryd Mondragon -- who gave a magnificent display in the last World Cup game his country played. Back in France '98, when Colombia were eliminated after a 2-0 defeat to England, only the excellence of Mondragon stopped the scoreline from looking embarrassing as time and time again he produced wonderful saves to thwart the opposing forwards.

But that was more than 15 years ago. At the age of 42, can he still come up with that kind of form? It is a question that may well be answered over the next few days. Colombia are throwing themselves into the deep end with visits to two of Europe's most dangerous and in-form sides, Belgium and Holland. It will be an examination not only of their reserve goalkeeping resources, but also of the solidity of their defensive unit.

For a long time in qualification Colombia's goals-against column was looking very healthy. But it always seemed too good to be true -- and conceding five times in the course of an hour against Uruguay and Chile may have confirmed the fact.

Meanwhile, Mondragon is not the only veteran in the squad. Centre-back and inspirational captain Mario Yepes is approaching 38 years old. His frequent defensive partner, Luis Amaranto Perea, is 34. Former Colombia coach Jorge Luis Pinto, now in charge of Costa Rica, commented recently that he would prefer to see the land of his birth play with a more compact line-up -- the problem here is that Yepes, in order to protect the inevitable lack of pace at this stage in his career, drops so deep that a gap can open up between the lines of defence and midfield.

Yepes has been a truly magnificent player -- he was exceptional when Colombia won the 2001 Copa America without conceding a single goal. Yet he has never played in a World Cup. Few players deserve it more. But time is catching up with him, and Colombia coach Jose Pekerman needs to think of alternatives -- if only to step in for his captain if Yepes picks up yellow cards and is suspended during the course of the World Cup.

After making his name in his homeland with Deportivo Cali -- Mondragon's current club -- Yepes grew as a player with Argentine giants River Plate, who now have another Colombian centre-back seemingly destined for great things in 20-year-old Eder Alvarez Balanta. Like Yepes, Balanta is left-footed. But there is a more natural comparison with another River Plate great, former Argentina captain Daniel Passarella. Club coach Ramon Diaz, who played with Passarella, was pointing out the similarities earlier this year after the youngster had played just a handful of games for the club.

Quick, strong, determined and constructive, Alvarez Balanta has made a huge impression. But he is still raw and inexperienced -- he can dive in too early and be caught on the wrong side of the striker. Is he ready for the World Cup? He has been given his first international call-up and will surely feature at some point against Belgium and Holland. All eyes will be upon him -- and the goalkeeper old enough to be his father.