New Zealand out to stun El Tri
As Graham Zusi scored for the U.S. men's national team at Panama to hand rivals El Tri fourth place in the CONCACAF World Cup qualifiers last month, the sense of relief emanating from Mexico was palpable.

• New Zealand squad
• Mexico squad

However, on the other side of the world, that reaction was viewed with great intrigue. From New Zealand's perspective, the battle is just about to begin.

Naturally, qualifying for the intercontinental playoffs alongside a country from Oceania is a vast improvement on having no chance, but to striker Jeremy Brockie and his Kiwi teammates, the reaction from Miguel Herrera has appeared as more than mere reprieve.

"Reading some quotes from their new manager makes it sound like it's just a matter of them turning up for the playoffs and they will be on their way to Brazil, but our squad had an amazing time in South Africa and want to experience another World Cup," Brockie told ESPN FC.

"At the end of the day, Mexico finished fourth for a reason, so there's nothing to be afraid of.

"We need to look at the positives, which is being able to play in front of over 100,000 fans in one of the best stadiums in the world. The atmosphere there will be amazing."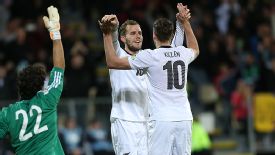 GettyImagesJeremy Brockie and New Zealand refuse to be intimidated by Mexico.
Indeed, as the first leg of the tie at the Azteca approaches Wednesday, Brockie is inspired by memories of New Zealand qualifying for the 2010 edition of the World Cup from a similar clash with Bahrain -- when again outsiders were perceived to have written off the island nation before a ball had been kicked.

During that two-legged playoff in 2009, New Zealand football enjoyed a watershed moment. It was the first time since 1982 that the Land of the Long White Cloud had stepped onto the world's biggest stage. Evidently it's a space Brockie will not step down from without a fight.

"Definitely, the boys are looking forward to the two playoff games and we want to get something out of the first game," he said, "so that when we come back to Wellington for the return leg, the Bahrain atmosphere is re-created and hopefully by the time the full-time whistle goes, we are on our way to Brazil."

The siege mentality inherent in New Zealand's approach will only go so far, which is where the enhanced quality of their squad comes into play. The Kiwis boast a better team than that which qualified for South Africa.

It is a side with a heavy blend of A-League players, with six coming from New Zealand-based club Wellington Phoenix, including Brockie. This familiarity has created a unity which has made them difficult for any team to break down in recent years -- as evidenced by their three draws in the group stage of the 2010 World Cup.

Plying their trade abroad, however, the likes of Marco Rojas (Stuttgart, Germany) and Chris Wood (Leicester City, England) add some star power to the attacking third.

Though the loss of defender and captain Winston Reid is a blow for the All Whites, Brockie insists Mexico may be in for a shock at the talent within the Kiwis' ranks.

"We have a great bunch of boys in our squad and probably more depth than we have ever had in the past," he said. "[Manager] Ricki [Herbert] used to be able to pick his best 11 quite easy, but now some of the form of players and younger ones coming through gives him a lot of options all over the park.

"In saying that, it's going to take the whole squad, management staff and all of the support from New Zealand to get us to Brazil."

Having spent time on loan at Toronto FC in his A-League off-season under compatriot Ryan Nelsen, Brockie is all too aware of the conditions and travel involved in the first leg of the playoff.

"Yes the Azteca will be awesome, but you only have to look at this time four years ago, when Westpac Stadium was sold out," Brockie said. "While it was just under 40,000, the fans made it sound and look double that, and that's what we are going to need again. I can't wait and I think the Mexicans will get a good surprise at how much support we have."

Before that, the opening fixture promises to be an enticing, yet cautious, encounter. One thing El Tri can be sure of, though, is that the All Whites will not be taking a backward step in either leg of the playoff.