Seeking balance across South America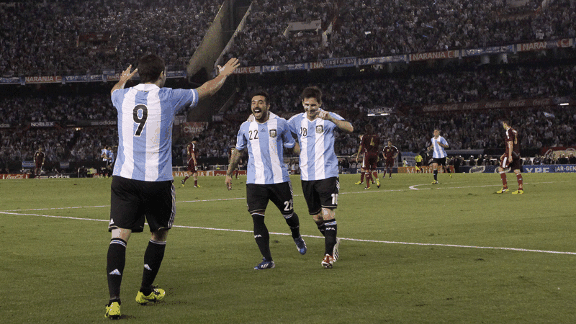 APThe depth of Argentina's attacking talent has forced a re-think to the defence.
There are very few FIFA dates left before squads assemble for next year's World Cup -- just March 5 next year and the two dates later this month.

That makes these coming friendlies especially important. A glance at the players called up is an insight into the mind of the coach. What does he want to have a look at? What are the areas which are giving him sleepless nights?

In the case of Argentina, it is obviously the defence. Coach Alejandro Sabella has said that there are times when the opponents attack when the only thing he can do is shut his eyes and pray. It is an inevitable consequence of selecting a team with such an attacking balance. In an ideal world, Sabella would almost certainly go about things differently. But he is blessed with an embarrassment of attacking riches. Including Lionel Messi, Sergio Aguero, Gonzalo Higuain and Angel Di Maria in the same starting lineup clearly puts a strain on his defensive unit.

Sabella would seem to be indicating, though, that this is not the only problem. Yes, his defence is always likely to be left exposed. But no, perhaps he does not have undying confidence in the individual quality of his defenders. Why else include, at this late stage, three new centre backs in his squad?

Nicolas Otamendi went to the last World Cup, where the decision to improvise him as a right back was probably unfair and certainly not a success. Sabella included him in the squad when he first took over, but he was soon discarded. Now, for the games against Ecuador and Bosnia, he is brought back for the first time in two years. Also included are Facundo Roncaglia of Fiorentina, and left-footed Lucas Orban of Bordeaux.

Is Sabella perhaps thinking of experimenting with a back three formation? It would be a possible explanation for the influx of these defensive reinforcements.

Argentina's first opponents have also made an important defensive change. Ecuador's defence has floundered since the days of Ivan Hurtado, a wonderfully classy centre back who nipped the ball off many an attacker's toes with the air of an imperious old-time schoolmaster correcting an errant student. Hurtado has never been adequately replaced. Perhaps the closest that Ecuador have come in recent years is Jayro Campos, whose career has been blighted by injuries. Now, after several months out with an Achilles tendon problem, Campos has been fast-tracked straight back into the squad.

Chile, meanwhile, also parade a team whose balance is tipped firmly toward attack. With matches against England and Brazil they are throwing themselves in at the deep end, daring their opponents to take advantage of their defensive weakness. It is a sign of the self-esteem built up since electric little Argentine coach Jorge Sampaoli took over for the triumphant run in toward World Cup qualification.

There are no new defenders in the Chile squad. They go with what they have, almost certainly with Gary Medel, Cardiff City's little pit bull of a defensive midfielder, improvised in the back line. But it is at the other end of the field that Sampaoli's selection is so interesting; there is no place for a number-nine style centre-forward. Both Humberto Suazo and Mauricio Pinilla have been left out. Instead, Sampaoli appears increasingly convinced of the virtues of playing two quick, talented and mobile strikers ready to cut in from the flanks -- Alexis Sanchez and Eduardo Vargas -- with playmaker Jorge Valdivia operating as a false nine. Valdivia's achievements have not always matched his undoubted ability. It will be fascinating to see how he performs against two difficult opponents.

And attack is also the most interesting aspect of the Brazil squad, who will take on Honduras in Miami before heading north to Toronto to meet the Chileans.

True, the goalkeeping position is also under the microscope. Julio Cesar, still out of match practice in England with Queens Park Rangers, is named once more -- though coach Luiz Felipe Scolari has made it clear that Victor, of Libertadores champions Atletico Mineiro, will be given his chance in the opening match.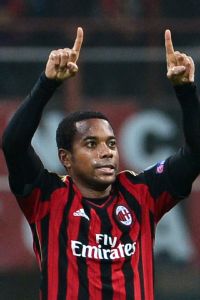 Giuseppe Cacace/Getty ImagesRobinho's form for AC Milan has evidently earned him a Selecao recall.
Perhaps the biggest shock was the recall of Robinho, whose form at Milan would not seem to make an unanswerable case for inclusion. Scolari praised the versatility of the one-time wonderkid, pointing out that Robinho can be useful in every position across the attacking line, including that of a false nine.

This is an interesting departure for a coach known to favour a target man centre-forward -- indeed one of the first things Scolari did on taking the Brazil job was to restore the figure of the traditional number nine. But now the only player of that type in the squad is Jo, also of Atletico Mineiro -- a far better player than the unhappy misfit remembered by fans of Manchester City and Everton, but nonetheless not a name likely to strike fear in the hearts of the world's top defenders.

First choice Fred, the hero of the Confederations Cup triumph, has once more gone down with a long-term injury, forcing Scolari to have a look at his options. The decision to give Robinho another chance would appear to indicate that Brazil are suddenly feeling a little insecure with this department of their team -- a suspicion boosted still further by their furious reaction to the option of Atletico Madrid's in-form Diego Costa to throw in his lot with Spain.