World Cup expansion would boost Asia's development
Back in May, Michel Platini sat, cradling a cushion, for hours on the back terrace of the Mandarin Oriental Hotel in Kuala Lumpur chatting with Khalil Al-Salem, the General Secretary of the Jordan Football Association. Later they were joined by Jordan FA chief and FIFA vice-president Prince Ali Al Hussein and they all proceeded to have a good old chinwag. It's impossible to know if they discussed extending the World Cup to 40 teams -- probably not as the UEFA president hadn't even mentioned it to Sepp Blatter as recently as last week -- but if it was discussed, the Jordanians would certainly have been interested.

So low has the reputation of FIFA and football administrators become that any idea of expansion is dismissed as political maneuvering. And in this case, it certainly looks that way, but that does not stop it from it being a good thing for Asia and, in the long-term, everybody.

Many don't agree however. The reaction has been pretty negative so far in Europe. The continent enjoys a very nice representation at the World Cup with 13 places out of 32. Talk of reallocating spots is lost among lamentations over the fact that the planet will be deprived of seeing either Zlatan Ibrahimovic or Cristiano Ronaldo next summer.

The World Cup has, from its inception, been a European and South American party. In 1966, only one slot was given to the whole of Asia, Africa and Oceania. Matters have improved since but the traditional powers are happy with the situation as it now is and even have the luxury of portraying themselves as protectors of the standard of competition.

The ideal situation from an Asian point of view would be greater representation within the current format. Where you stand on the debate of whether Asia should have more tends to come from whether you think the World Cup should consist of the best teams in the world or be truly representative geographically or a rough combination of both.

But while a 32-team World Cup does seem about right, it is highly unlikely that in this zero-sum game, the east will ever be given any more automatic spots than the four it already has, despite recent mutterings from Blatter. Platini said a few months ago that the continent has to keep proving itself every four years, but even the first time that it genuinely did, back in 2002, it did so by cheating. Or so the narrative quickly became.

It is true that South American and European teams perform better (although in relative terms, more Asian teams made it out of the group stage in South Africa in 2010 than those from UEFA) on the global stage but this is partly due to the fact that there are more of them. The more you play at the World Cup, the better you tend to get. The more engagement a continent has with the competition, the stronger it becomes.

If Europe or South America, which sends half its teams to the World Cup, refuse to reduce their allocation a little then it is natural that the idea of expansion is going to be attractive to the rest of the world. It is hard to argue that having eight more teams would have no effect on the overall standard at least in the short-term (although talk of 'destroying' the competition seems a little over the top considering what has been served up in recent editions -- perhaps a little destruction is what this increasingly dull and negative football festival needs) but it would open up the World Cup to Asia and be a huge boost to the continent's football development.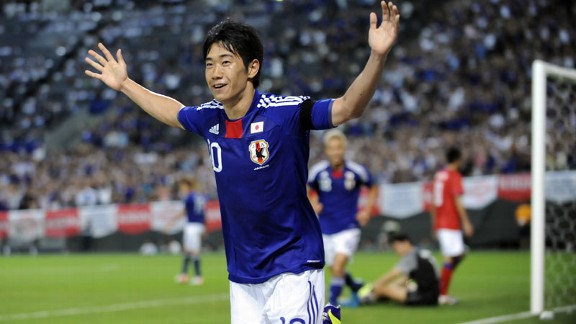 GettyImagesAsian nations, big and small, would benefit from a greater representation at the World Cup.
It would make it easier to produce more South Koreas and Japans (and also allow this pair to progress in the back of higher standards in their own region) yet these two Asian giants struggled in their early appearances. Back in 1954, Korea conceded 16 and scored none in their two games -- though it should be said that these Taeguk Warriors travelled for almost 48 hours on a military transport from their war-ravaged homeland to arrive a day before a 9-0 thrashing at the hands of the Mighty Magyars of Hungary. Japan's debut in 1998 was a forgettable one. Both are now regular participants on the global stage and have improved. The World Cup is not the only reason but has been, and continues to be, a vital part of the long-term development programs set up in both countries.

And the same could happen elswhere but only with expansion. It's depressing when talking to officials in countries like India, Bangladesh and Thailand as they unveil their plans for qualify for the 2022 World Cup -- a tournament which has become the public target for lots of Asian federations -- and outline all the benefits it would bring. In public, there are smiles, nods and promises but in private most admit that the chances are almost non-existent.

It is not just about being there but the hope of being there. Perhaps two-thirds of Europe and almost all of South America start qualification with genuine hopes of success. The vast majority of Asia does not. The world's biggest sporting tournament feels remote from its largest continent.

If Jordan lose to Uruguay later this month in their intercontinental play-off, many will see it as the right result in football terms and a two-time winner with world famous stars will be welcomed to Brazil. Yet if the South Americans lose, they will be back at some point, probably in 2018. For Jordan, it is much more difficult.

Expanding the World Cup may lower the standard a little in the short-term but it would be a major boost to the development of football in Asia (and elsewhere) and with the continent home to more than half the planet's population, this can only be ultimately good for the tournament in the long run.