Passing down of leadership a secret to Uruguay's success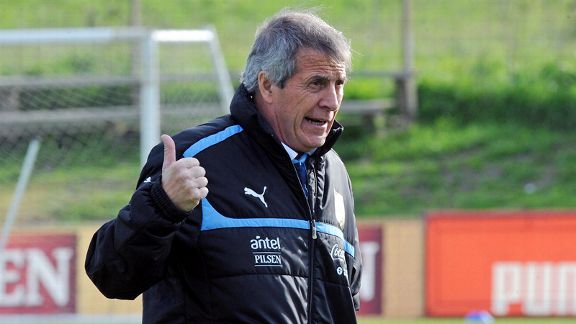 MIGUEL ROJO/AFP/Getty ImagesOscar Tabarez has counted on a core group of players ever since his 2007 start as Uruguayan national team head coach.
Sebastian Eguren is a midfielder with Palmeiras in Brazil's second division. He is usually on the substitutes' bench for his club. Despite that, he has been named once more in Uruguay's squad, this time for the World Cup playoff, a home and away against Jordan for one of the final places in next year's tournament.

Eguren is always there, though he rarely plays. Over the course of South America's marathon qualification campaign, with the teams playing 16 matches over more than two years, Eguren was not once in Uruguay's starting lineup. But he was always there, available for selection if needed. He made four brief appearances off the bench, and even managed a stoppage time goal at home to Peru.

But Eguren's main contribution is not made on the pitch. It comes in the dressing room, on the training ground and in the hotel. He is seen as one of the leaders of the group, a strong personality with an imposing voice who is looked up to by the other players. His presence is considered important to the group.

This is a concept close to the heart of most coaches, and especially to that of Uruguay boss Oscar Washington Tabarez. "It's our national team, and not a club of friends," he argued after his side had won the 2011 Copa America. But the question only arose because, from the outside at least, the atmosphere in the Uruguayan camp appears so harmonious, with the players pulling together through thick and thin ever since Tabarez started to form the current group during the previous Copa back in 2007.

That is now more than six years ago -- an eternity in football terms. But still the same group is together; Fernando Muslera in goal, defenders Diego Lugano, Diego Godin, Andres Scotti, Maxi Pereira and Jorge Fucile, Diego Perez, Walter Gargano and Cristian Rodriguez in midfield, Diego Forlan up front were all in that 2007 squad -- soon afterward joined by Eguren, Alvaro Pereira and Arevalo Rios, plus the key players promoted from that year's Under-20 side -- Luis Suarez, Edinson Cavani and Martin Caceres. This is a collection of players who have clocked up the air miles together.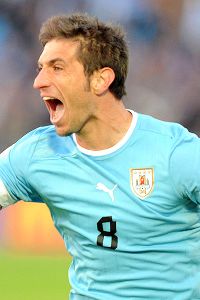 Miguel Rojo/AFP/GettyImagesSebastian Eguren is one of the Uruguay veterans who helps instill harmony in the locker room.
For many of them -- including Eguren -- the journey will end with this World Cup campaign -- either in a couple of weeks if they lose to Jordan, or in Brazil next year if, as expected, they make their way successfully through the playoff.

Whatever happens, Uruguay soon have a rebuilding process to carry out. Tabarez has been thinking about this for years. Indeed, under his command, Uruguay give huge emphasis to their youth sides, seeking to identify youngsters with long-term potential, develop them and win them over to the cause before they are transferred abroad -- an inevitable reality given that, with a population little over three million, Uruguay's limited market gives its clubs no chance of holding on to their best players.

Eighteen-year-old centre-back Jose Maria Gimenez, for example, was snapped up by Atletico Madrid even before he game to global attention with his excellent displays in this year's Under-20 World Cup, when Uruguay lost to France in the final. He made his debut for Danubio of Montevideo last November, and within six months he had already been sold to Spain.

He was so impressive during the Under-20 World Cup campaign that when Liverpool centre-back Sebastian Coates picked up a long-term injury, Gimenez was fast tracked into the senior squad. Then, back in September, Uruguay found their defensive resources severely stretched when Lugano and Godin, the first choice centre-back partnership, were both suspended for the game at home against Colombia.

With Coates, as we have seen, already absent, Tabarez had to send out a patched-up defence to take on the dangerous Colombians -- 37-year-old Andres Scotti, who in the Confederations Cup managed to get himself sent off against Tahiti, and 18-year-old Gimenez.

Incredibly, it worked. Radamel Falcao and Co. were kept at bay, and a couple of late goals gave Uruguay a 2-0 win. So well had Gimenez played that he stayed in the side for the next game, away to Ecuador, forming a three-man defensive unit alongside Lugano and Godin. And in the next game, the final round against Argentina, he came off the bench for the closing stages in a successful bid to ensure that Uruguay held onto their 3-2 lead.

Gimenez, then, has scaled Everest the hard way; he has managed to force his way into the tightly knit group of Tabarez. Now in the dressing room and in the hotel, Eguren will talk and Gimenez will listen, but the future belongs to the youngster.

In a few years, perhaps it will be Gimenez who rallies the troops and inspires his team-mates with the force of his leadership.