Extraordinary Diego Costa saga set for finale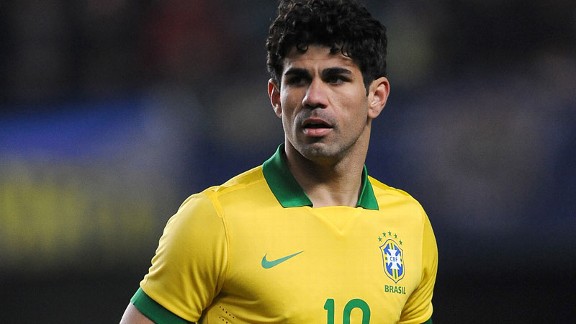 GettyImagesDiego Costa can choose to play for whichever side calls him up.
A big week is coming up in the tug-of-war between Brazil and Spain over Atletico Madrid striker Diego Costa.

Brazil coach Luiz Felipe Scolari picked him back in March for friendlies against Italy and Russia, gave him a few minutes off the bench and then discarded him. Not being given a fair crack of the whip may have left Costa feeling more Spanish than Brazilian. He is eligible for both countries -- he qualifies for Spain through residence and is in the process of being granted citizenship. The fact that he only represented Brazil in friendlies means that he is still free to play for Spain -- which, it appears, is now his preference. So we are confronted by the extremely rare prospect of a Brazilian rejecting an offer to play for the land of his birth to throw in his lot with another nation.

- Costa decides on international future

There have been cases of players refusing a Brazil call-up. Defender Mario Fernandes, now with CSKA in Russia, turned down the chance to play for Brazil in 2011. This, though, was due to personal problems rather than any desire to represent another country. And there have been plenty of cases of Brazilians representing other countries, from Japan to Poland, calling in at Tunisia, Togo, Italy, Croatia, Spain and Portugal. But none of them -- at the time they were called up -- was in the frame to play for Brazil. Even Marcos Senna, so effective for Spain in Euro 2008, was not remotely on the radar of the Brazilian national team at the time. No one in Brazil realised just how good Deco was when he became Portuguese.

Going back a few decades there are cases such as that of a centre-forward from Brazil's first World Cup-winning campaign of 1958. Known in his homeland by the nickname of Mazzola, he reverted to his surname of Altafini when he later moved to Italian football, where he ended up playing for the Azzurri. In those days FIFA regulations allowed players to change their nationality in this way. Also, back then Brazil simply did not pick players based abroad -- a practice only definitively ditched in the 1980s. So when Mazzola/Altafini played for Italy, he did so at a time when it was not possible for him to represent Brazil.

This, then, is what makes the Diego Costa situation so striking, and so new. And Brazil coach Scolari may have discarded the striker last season, but he has now made it clear that he intends to include the player in his next squad -- a point made public last week, when, tricked into thinking he was speaking to the president of Atletico Madrid, Scolari instead broadcast his plans to a Spanish radio station.

Perhaps Costa maintains the belief that deep down Scolari is not counting on him, and that the main aim of the Brazil coach is to stop him playing for Spain. Because it would seem he is preparing to throw in his lot with his adopted country, where he has already told the local media that he would have no problems celebrating a goal he scored for Spain against Brazil in a World Cup final.

This is likely to put the player in an awkward position with the Brazilian fans should he come to the World Cup next year in a Spain shirt. Costa is likely to be singled out for special treatment by fans who think he has been disloyal to the land of his birth. This feeling is likely to be exacerbated by events over the next few days.

Both Brazil and Spain have friendly matches planned for the November FIFA dates. But the difference is that Brazil will name their squad first -- this emerges from the fact that foreign-based players must be called up with two weeks' notice. Spain are in the custom of making public their squad much closer to the date of the matches. Brazil, then, announce their squad to face Honduras and Chile on Thursday, and Scolari has already let it out of the bag that Costa will be included.

The player, then, will have to turn down Brazil in order to choose Spain, if that is indeed his preference. In public relations terms, this will clearly have repercussions with Brazilian fans. In the past there has frequently been an air of pride in Brazil at the fact that they are capable of producing players for other national teams. The Costa affair is playing out to a very different mood; some are indignant that he could be considered Spanish. Others point to an inconsistency in bureaucratic thinking; friendlies count towards the FIFA rankings, so important to this December's World Cup draw, but they are not considered sufficiently serious to determine a player's sporting nationality.

The man at the centre of the storm is known for the occasional on-field behavioural excess. The temperament of Costa will be placed right under the microscope during next year's World Cup if he really does decide to turn down Brazil to play for Spain.