Sky proves the limit for World Cup travellers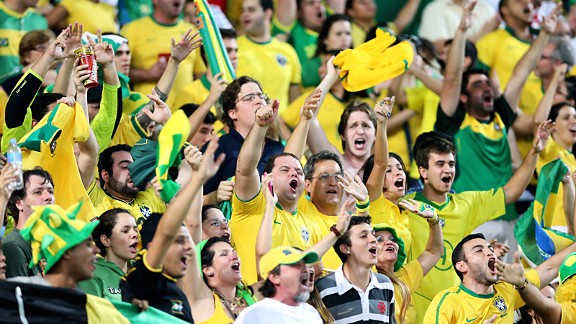 Jasper Juinen/Getty ImagesFollowing Brazil during the World Cup could be tough for locals.
I took a few flights around Brazil during the Confederations Cup, with not the slightest problem. This was encouraging. Lack of airport capacity has always been seen as the Achilles heel of the 2014 World Cup, but I suffered no delays or other headaches.

But during the course of the competition I did come across one cause for alarm -- the fares seemed to be going up. There was one flight I intended to catch -- from Rio de Janeiro to Belo Horizonte -- for the semi-final. But the cost was prohibitive. I can't remember exactly how much now, but it was several hundred dollars, far more than the usual price for the trip between these two cities which are only a 50 minute flight apart.

In this case, Rio and Belo Horizonte are close enough for the bus to be an option -- overnight, without getting snared up in city traffic, it takes about six hours, and so that is what I did. But Brazil is so huge that air travel is the only viable option between some of the World Cup host venues.

At that point I started to worry about this aspect of the 2014 tournament. The reason that the trip to Belo Horizonte had become so expensive was that Brazil were playing in the semi-final, and thus demand was high. But there is a huge difference in scale between the Confederations Cup and the World Cup. In this year's tournament, something between 2 and 3% of tickets were sold to non-Brazilians. Next June and July there will be hundreds of thousands of foreign supporters attempting to navigate their way round this giant country. Demand will be high for lots of flights. A 'what the market will bear' pricing policy for internal flights could end up causing huge problems and immense ill will.

These fears seem to have been confirmed. The Brazilian media reported last week on the price of a flight from Rio to Sao Paulo on the opening day of the World Cup -- over $1100, almost as much as a trip to New York. And this is a 40 minute flight between cities linked by a frequent service.

Embratur, the state's tourist agency, is more than concerned. After all, the main legacy of the 2014 project is supposed to be the long term gains for Brazil's tourist industry -- there is precious little other justification for the inclusion of cities such as Manaus, Cuiaba and perhaps Natal among the host cities.

But this legacy will be severely jeopardised if internal flights are so expensive that either people abandon their travel plans or go home with the unpleasant feeling that they have been ripped off.
There is a state agency which supposedly regulates internal flights -- Anac. But it is a relatively toothless organisation.

It has promised to 'monitor' the situation -- not a word likely to instill confidence in potential passengers. The hope is that an increased supply of planes will lead to a market-led solution where prices will automatically come down.

Embratur are not so sure. "The worst of all worlds," said organisation president Flavio Dino recently, "is a monopolised market with freedom to raise prices, and that's what we have in Brazil. If the sky is the limit for prices, then we are on our way to hell."