Chile's loss Wigan's gain as Henriquez joins on loan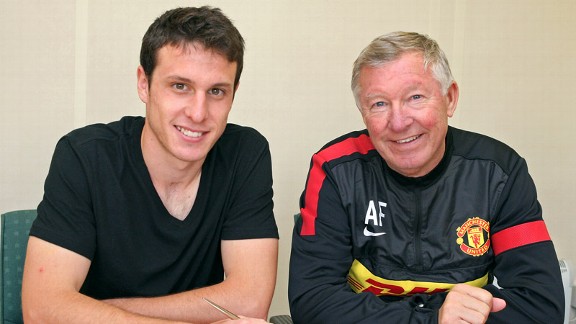 Matthew Peters/Man Utd/Getty ImagesAngelo Henriquez is off to Wigan with Sir Alex Ferguson's blessing
News sources have confirmed the arrival of Chilean international Angelo Henriquez at Wigan on loan from Manchester United.

The 18-year-old's arrival is intended to supply cover for Arouna Kone while the Ivorian takes part in the African Cup of Nations the next few weeks. Henriquez has yet to make an appearance for Manchester United, but it has been suggested that Sir Alex was keen to get him Premier League experience as soon as possible.

Indeed, it has been reported Ferguson approached Wigan manager Roberto Martinez about the possibility of the loan upon learning that Wigan would have a void to fill -- possibly a benefit of Tom Cleverley's well-documented spell at the club.

Interestingly, Chileans are not too pleased as Henriquez was to star in the South American Under-20 championship but blocked from traveling by United. Henriquez has an outstanding goal-scoring record at all levels for Chile - 14 in 10 matches for the U-20s, and one in his lone senior appearance. It should be noted that youth tournaments of the sort are highly valued in South America and his absence will be big news.

Chile's loss is Wigan's gain, and the fixture list could not have been kinder. Saturday's FA Cup fixture against third-tier Bournemouth provides an excellent opportunity for the lad to get a first appearance under his belt, familiarize himself with his surroundings, and show his new club what he can do.

Countryman Jean Beausejour and the legion of South Americans should aide his transition -- not least Franco Di Santo, who was plucked from the Chilean league at a similar age as Henriquez five years ago.

All things considered, Henriquez looks a decent loan signing. In addition to his international debut goal from a substitute appearance, he scored 11 in 17 Chilean league matches at age 17. His goal-scoring record suggests more of a centre-forward or poacher type of player, allowing Di Santo to continue in his slightly more withdrawn playmaking striker role.

His arrival does, however, pose a number of questions. Will he leapfrog Mauro Boselli in the pecking order, given Boselli probably been eagerly awaiting Kone's sabbatical for his chance? Will Roberto keep his formation intact with the use of two traditional forwards, or instead opt for Jordi Gomez or Callum McManaman in behind Di Santo?

I suspect much hinges on the Chilean's debut -- and the performances of his aforementioned teammates and competitors -- against Bournemouth Saturday.