Martinez impresses with Espinoza capture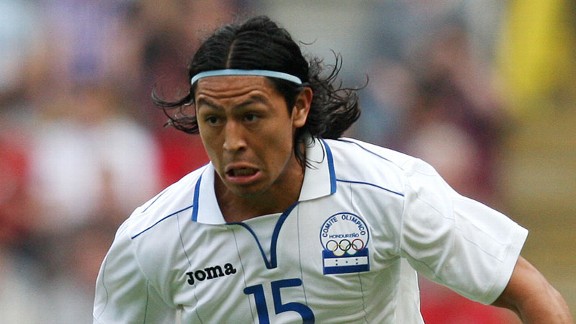 PA PhotosRoger Espinoza joined Wigan in the January window
Roberto Martinez has always had a global approach to the game of football. Speak with former team-mates at Swansea, and they will tell you how he would often produce betting slips marked with fixtures from far flung leagues - such was his passion to ingest the game from a variety of sources.

- The inside scoop on Roger Espinoza
- Espinoza receives permit to join Wigan

Endorsements of his knowledge come from those he has played with and managed, which in Leon Britton's case is both: "When his name was mentioned as manager [for Swansea], the lads who had played with him knew he had the right approach and there was never any doubt of his knowledge of the game because he pretty much lived it."

Such an eclectic coaching mantra goes someway to explaining why the club announced the signing of Roger Espinoza this week, making him the fourth man from Honduras to represent the Latics. While Major League Soccer is not quite as far flung as his earlier gambling forays, Martinez admits to having identified Espinoza sometime before his move was eventually given approval by the Football Association. "He is a player we have been following closely since 16th of June 2010, when he made his debut in the World Cup versus Chile," he told the club's official website this week.

An astute signing on the surface, Espinoza has already sampled the experience of football in England. The excitement at the prospect of Brazil playing at St James Park was long building in Newcastle. Yet when they faced Honduras it was not a member of A Selecao earning the plaudits, it was Espinoza. Given a standing ovation by just over forty thousand people as he made his way from the pitch after being sent off - he had clearly made an impression. His tireless display disrupting Brazil's attacks was an impressive sight, as Honduras battled with only ten-man after Wilmer Cristado was sent off mid-way through the first half.

Now set to play in England on a permanent basis, Espinoza described his move as a dream. For dreams to come to fruition an element of serendipity is often required. Take for example the fact he was provided the stage of the Olympics in the same year his contract was coming to its close with Sporting KC. A free transfer is the ideal low risk for a manager in Martinez's situation.

Trace the dots back further and Espinoza has had other moments of kind fortune that lead him to England. A steady left midfielder or fullback, his departure to the Gold Cup in 2011 saw him replaced in the Sporting KC line-up by Seth Sinovic - who performed with considerable aplomb. As Espinoza plied himself in the middle of the park for Honduras, coach Peter Vermes recognised that a central role would enhance the 25-year-old's career. Which it has.

A vital component of the Sporting Kansas City side that secured a play-off berth last season, even upon deciding to leave the club he received a glowing character reference from Vermes: "I told him I really appreciated his commitment to the club," Vermes said. "He's been a great guy on and off the field for us for several years. His growth as a player has been tremendous. I told him we're happy for him, but that the doors are open if things change in the future."

While both Vermes and Martinez have noted his progression, it should be remembered he is not yet complete. His high intensity style will give a steel and defensive strength to the Wigan midfield that is not present with James McArthur and James McCarthy - making his talents a considerable benefit to a team in Wigan's situation. In his final MLS season he finished in the top eight for successful tackles (ESPN stats). A feat made more impressive when you consider six of the seven players ahead of him played more games during the season.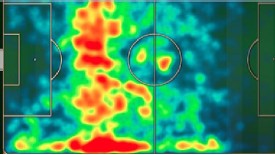 SoccernetRoger Espinoza's heat map from ESPN stats
His passing accuracy however, must improve. A rate of 73% for Sporting KC (ESPN stats) is far behind the 87% and 89% McArthur and McCarthy have recorded this season (WhoScored.com). Staying on the right side of the finite disciplinary line will also be vital for Espinoza.

Having previously earned the affectionate nickname "Roger the Red" after he collected successive dismissals during games against Columbus Crew and Toronto FC in his debut season - finding the line of acceptability in the Premier League will be important for him in the opening throes of his Wigan career. An achievable task when you consider it is a facet of his game that has already shown signs of improvement as his career has progressed, with just five yellow and one red card last season for Sporting KC.

As the heat-map denotes, his realms of operation are those often associated with a defensive midfielder. Although for Martinez, it is his flexibility that seems to appeal most. "Having someone with such a good left foot gives a balance to the squad because most players are primarily right-footed," he said, before adding: "He's developed his tactical awareness and has learned how to play in different systems. Roger can play in any position in the midfield and can even play out in a wide left position, so we are delighted to capture a player with such versatility and stature."

Considering that the Wigan manager this week lamented the number of injuries thrust upon the club, an opportunity to add someone with versatility makes sense. A player steeped in humility, having compatriot Maynor Figueroa at the club should also ease Espinoza's transition into the Premier League. As will his ability to speak both English and Spanish fluently - a by-product of moving to the US aged twelve.

A graduate of business management Martinez is aware that for Wigan, frugality is an ever present requirement. Unable to draw in the big crowds that could go a way to supplementing larger deals, players are often bought with the intention of eventually being sold.

Accordingly, he must seek out the deals skirt under the radar. Invariably hits will be taken. Mauro Boselli still looks some way from justifying his £6 million outlay - but in his latest parsimonious recruit, the signs are there to suggest that Martinez has unearthed a potential diamond, much like a former Honduran midfielder once at Wigan, Wilson Palacios