What happened to Wigan? Ten thoughts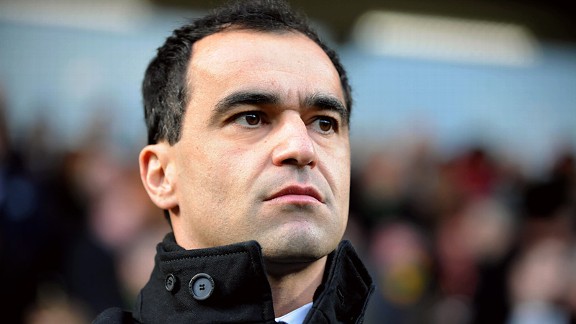 Olly Greenwood/AFP/Getty ImagesWigan manager Roberto Martinez heads into 2013 with many unanswered questions.
1. The current defensive injury crisis is extreme, but nothing new.

This is the third year running that Antolin Alcaraz has missed substantial match time to injury in the first half of the season. In previous years, he had participated in a full World Cup and Copa America respectively, with little recovery time. On both occasions, he eventually returned to fitness around this time of the year to play a key role. His understanding with Gary Caldwell and his aerial ability is crucial to the solidity that Latics' positive results have been built on.

- Espinoza cleared to join Latics
- McCarthy set for spell on sidelines

Meanwhile, Caldwell has missed less match time but is prone to rushing back before fully fit -- probably in part to his role as skipper. He was clearly not at the races in the Newcastle fixture several matches back and prolonged his absence by tweaking the injury before it had fully healed.

Then there are Ivan Ramis and Adrian Lopez -- neither with a history of injuries in their Wigan careers -- but owners of hamstrings with a bad sense of timing.

2. We've missed Victor Moses more than we care to admit.

Many Wiganers are quick to point to Moses' often-frustrating final pass or finish, but he gave the team a lot more than that. One of his most important contributions was to relieve pressure by holding the ball up, dribbling and drawing people into fouls while his teammates regained their shape. The penalties and free-kicks have dried up in his absence. Aside from Jordi Gomez, who unfortunately lacks pace to be a consistent attacking threat, there are few players in the starting XI capable, or willing to take on their man and unlock a defence.

3. Roger Espinoza can't arrive soon enough.

If our Sporting Kansas City friends are to be believed, our new Honduran signing is nothing if not committed. More important than skill, he should inject an element of urgency and fight into the squad. I wouldn't be surprised if we saw his first appearances in the right wing-back position, though he is destined to fill one of the defensive midfield slots. Injuries may force his inclusion sooner than anticipated.

4. Ali Al-Habsi desperately needs a clean sheet.

The Omani international has been the club's most consistent performer over the past two seasons. But a couple mistakes have seen a huge dip in confidence. The fact that there is a different set of defenders in front of him each week can't be helping, but it's clear he needs a clean sheet, a penalty save or similar, to get his head back where it was.

5. Arouna Kone's participation in the African Cup of Nations could be disastrous, or a blessing in disguise.

The Ivorian is clearly a quality player but hasn't quite got fully going. Scored a couple then missed a couple; he is now suffering from a dip in form along with his teammates. While his absence will be problematic, a good tournament could see the return of a confident in-form international striker. If Roberto Martinez can plug the hole with a January window signing, or by giving Mauro Boselli an extended run in the team, it may be a blessing in disguise. There are other options, albeit with some adjustment to the team's attacking shape -- Gomez and Shaun Maloney both have goals in them but do best when the other one isn't on the pitch. Ryo Miyaichi still has a big role to play this season. Callum McManaman is waiting for his chance. Is a Nouha Dicko return from Blackpool a possibility?

6. Would it be worth a loan-move for Wilson Palacios in January?

If everyone's fit, it would be hard to argue against the Jimmy Mac axis in centre midfield. But with the glut of injuries at present, surely it would be worth a gamble. Stuck out in the wilderness at Stoke, he would likely jump at the chance to be re-united with a set of supporters that loved him, two fellow Hondurans, and a system that would very much play to his strengths. One could easily see a James McArthur-Palacios defensive midfield, allowing James McCarthy a bit more license to push forward, with Maloney in behind Franco Di Santo.

7. Boselli's success depends on the form of the wingbacks.

Finally given an opportunity to start against Norwich, Boselli was let down by poor performances by both Jean Beausejour and Ronnie Stam. He is a very different type of striker to either Di Santo or Arouna Kone -- a poacher who needs service into the box. The only decent delivery against Norwich came from Maloney. Give Boselli three of those a match and he'll score goals.

8. Emmerson Boyce looks a bit tired.

In the wingback role, he was failing to get forward as he did to such great effect last season. As a centre-back, he has done admirably, but is starting to look a little jaded. The defensive injury crisis has meant a lot of football. A young right wingback must surely be a priority on Martinez's shopping list.

9. Will Di Santo sign a new contract?

The Argentine started the season in scintillating form, suffered a couple minor injuries, and has been used sparingly in recent matches. It would not be surprising to see his head turned after a first international appearance alongside Leo Messi, Sergio Aguero and Gonzalo Higuain. But the hope in the Wigan camp is that Martinez has been restricting his appearances to keep him fresh for the period of time Kone is away -- rather than using him sparingly with the knowledge he plans to leave in the summer as did Hugo Rodallega and Mohamed Diame.

10. It's an interesting league table this year.

QPR are starting to get results under Harry Redknapp, as one would expect. With the talent in their squad, and half a season to run, they should be able to escape. Reading look doomed. Southampton don't have much to work with, especially with the recent injury to the excellent Adam Lallana. But the third relegation birth is very difficult to call. Sunderland have been very poor, but it's hard to imagine a Martin O'Neill team being relegated. Newcastle have far too much quality in their squad, surely. Aston Villa have started to look impressive, if reliant on striker Christian Benteke. It's hard to see many teams above them slipping too far. Wigan needs to improve.